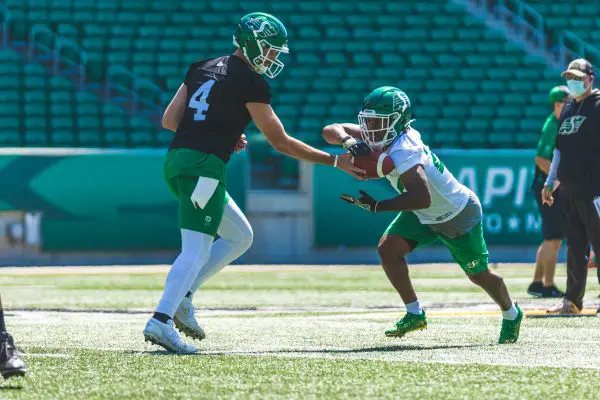 Paxton Lynch entered the NFL as a 1st round pick for the Denver Broncos in 2016, and following a stagnant NFL career, found himself signing with the CFL's Saskatchewan Roughriders in late June of 2021. He made his CFL training camp debut on Monday at Mosaic Stadium in Saskatchewan.
The transition from 4 down football to 3 down football is a challenge for the majority of quarterbacks, and the 27-year-old University of Memphis Alumni is no exception. When asked about the transition to the Canadian game by John Hodge of 3downnation.com, Lynch replied,
"It's been difficult. A lot of the pre-snap stuff has been a big adjustment for me. When you break it all down and get down to the core of it, it's really football — it's the same, just different terminology and things like that concept-wise."
The Roughriders initially contacted Lynch last October after putting him on the team's exclusive negotiation list in September. He was waiting for another shot in the NFL, but following the 2020 season, no more NFL opportunities presented themselves, leading to Lynch signing with Saskatchewan in June.
Saskatchewan wide receiver Joe Craig Jr. commented about his team's quarterback situation, stating,
"I believe in the starting quarterback that Saskatchewan has right now, but it's going to be a battle. If [Lynch] ends up getting the spot, I can see him staying there and leading Saskatchewan to a championship. I hate to throw it out like that, but he's going to feel that he shouldn't be there, and that's the attitude that will get him to a championship."
The starting quarterback for the Roughriders is currently the dual-threat Cody Fajardo, who is coming off a phenomenal season in which he earned the honor of West Divisions Most Outstanding Player, meaning Lynch will likely hold the backup quarterback role in his 1st season unless he exceeds expectations. Quarterback Isaac Harker is also on the roster, who accumulated 467 yards and 3 touchdowns during his rookie season in 2019.
Lynch was asked if he is hoping to make a return to the NFL one day, and he replied,
"Absolutely, It's always been my dream. As a kid, you dream of winning the Super Bowl and that fire inside of me to accomplish that is still there and it's very strong. It hasn't wavered at all, but I don't want to get that confused with how I feel about being here because I'm very excited to be here. I've heard a lot of good things about this team, I've heard a lot of good things about this community and how much they love this team. I'm excited to get the opportunity to be here and play here and help contribute to this team."
Roughriders head coach Craig Dickenson has been impressed so far with Lynch, stating,
"You don't want a guy that comes up here thinking he's going to dominate and gets a dose of reality, but that's not Paxton, he knows he's going to have to work, prepare and play well to compete against these guys."
There has never been a former NFL 1st round pick who dominated the CFL and earned another shot in the NFL, but Lynch is determined to make history.
"I'm in the CFL and I'm focused on that and I'm not worried about anything else. I've been blessed in so many ways to even just get the opportunity to play in the NFL and I would like to continue to play in the NFL."
Subscribe to our
CFL News Hub YouTube Channel
. Get breaking news and the latest CFL news. Plus the CFL Week In Review Podcast.
---