TORONTO (October 13, 2021) – Andrew Harris, Dexter McCoil Sr. and Ka'Deem Carey were named the CFL Top Performers of the Week for Week 10 of the CFL's 2021 season.
The three players were chosen by a panel of judges made up of former CFL players Matt Dunigan and Duane Forde of TSN, as well as Pierre Vercheval of RDS, who independently send their selections to the CFL head office.
RB | ANDREW HARRIS | WINNIPEG BLUE BOMBERS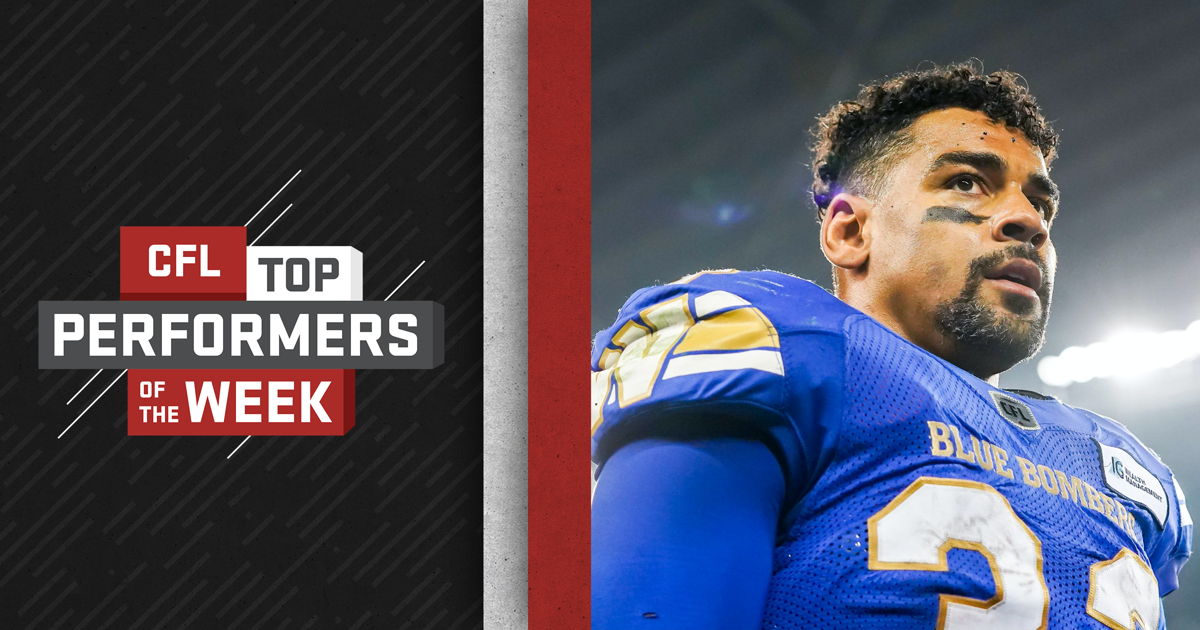 Andrew Harris recorded his first 100+ rushing yard game of the season as Winnipeg extended its winning streak to six games, following a decisive 30-3 victory over Edmonton.
Harris rushed for 150 yards on 24 carries (6.3 yards per rush), scored two touchdowns and added a reception for 24 yards.
Midway through the fourth quarter, the Winnipeg native scored from 13-yards out to give the Bombers a 23-3 advantage. The rush put Harris over 100 yards on the night, marking the 27th time in his career that he has reached the milestone. On the next series, the Bombers handed the ball off to Harris four times for 42 yards, culminating in a two-yard touchdown.
This season, Harris has totaled 584 rushing yards, 111 receiving yards and three touchdowns. In each of his six games, the Blue Bombers have emerged victorious.
LB | DEXTER MCCOIL SR. | TORONTO ARGONAUTS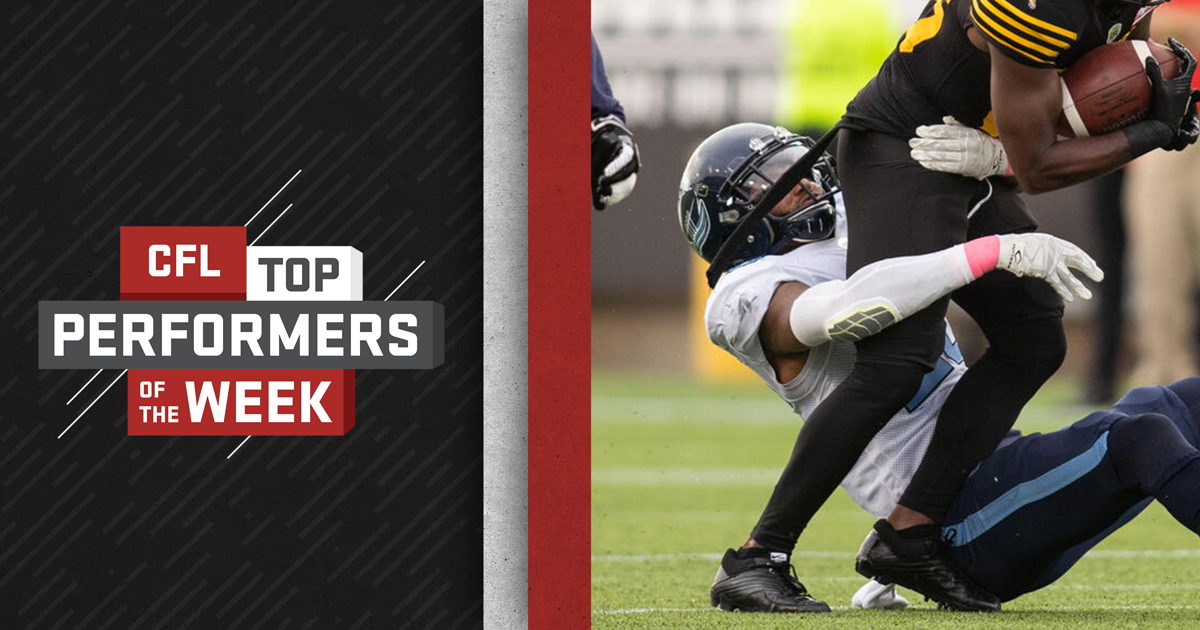 Dexter McCoil Sr. was a defensive force in Toronto's 24-23 come-from-behind victory against the Tiger-Cats.
McCoil Sr. racked up a career-high 12 tackles, a sack, a tackle for a loss and a pass knockdown at Tim Hortons Field on Monday afternoon.
In the second quarter, the former Tulsa Golden Hurricane brought down Ticats quarterback Jeremiah Masoli to register his first sack of the season and the seventh of his career.
In nine games this season, McCoil Sr. has recorded 53 defensive tackles, five special teams tackles, two interceptions, one touchdown and a sack.
RB | KA'DEEM CAREY | CALGARY STAMPEDERS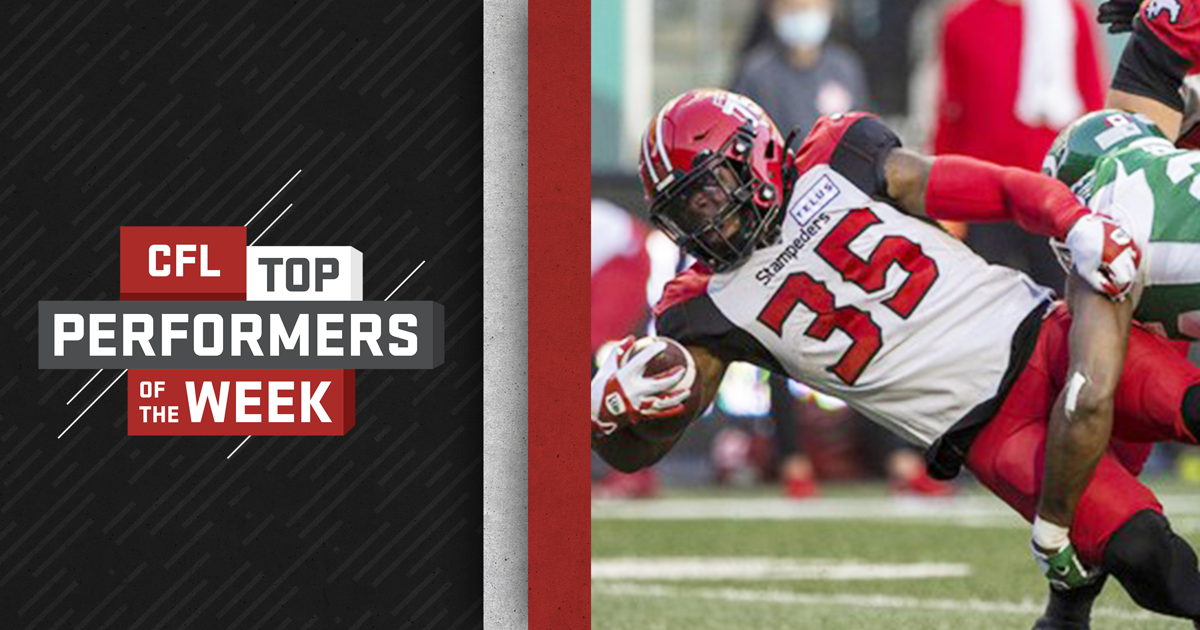 Ka'Deem Carey accumulated 178 all-purpose yards to power the Stampeders to a 22-19 victory over Saskatchewan.
Carey rushed the ball on 20 occasions for 109 yards, while registering five rushes of 10+ yards. It marked the second time in his career that he has eclipsed the century mark. He also added five catches for a personal-best 69 yards, including three second-down conversion receptions.
This season, Carey has averaged 5.2 yards per carry en route to 552 rushing yards and four touchdowns, while adding 19 receptions for 157 yards.
Fans' Choice of the Week!
Zach Collaros won Week 9 of Fans' Choice of the Week and collected 10 bonus points.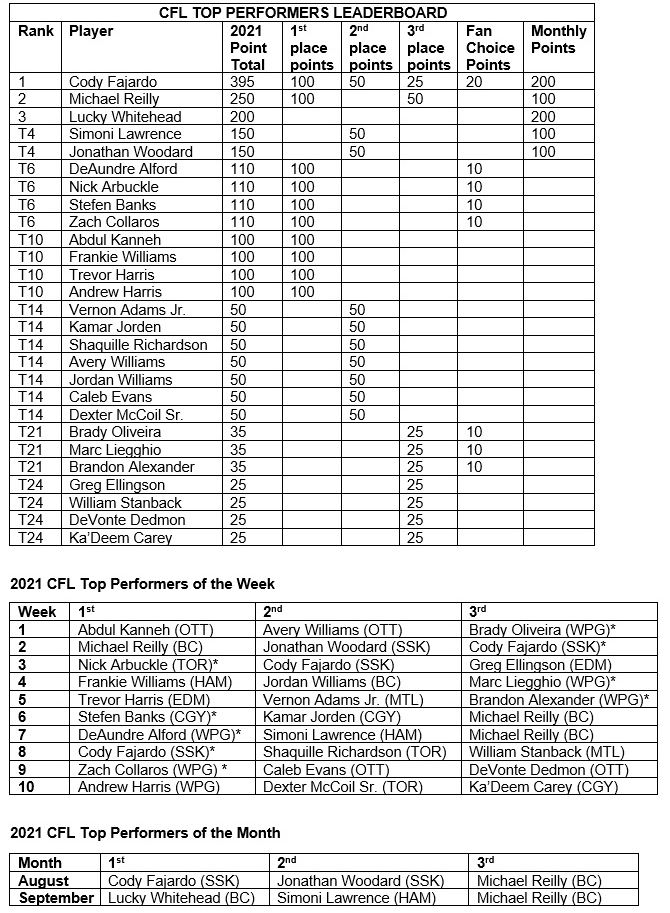 Subscribe to our
CFL News Hub YouTube Channel
. Get breaking news and the latest CFL news. Plus the CFL Week In Review Podcast.
---