CFL TOP PERFORMERS – WEEK 14
Law, Bighill and Leonard named Top Performers
TORONTO (November 9, 2021) – Cordarro Law, Adam Bighill and A.C. Leonard were named the CFL Top Performers of the Week for Week 14 of the CFL's 2021 season.
The three players were chosen by a panel of judges made up of former CFL players Matt Dunigan and Duane Forde of TSN, as well as Pierre Vercheval of RDS, who independently send their selections to the CFL head office.
DL | CORDARRO LAW | TORONTO ARGONAUTS
Cordarro Law was a defensive force as the Argonauts claimed a 23-20 victory over the Ottawa REDBLACKS on Saturday afternoon. The six-year veteran filled out the stat sheet, recording five tackles, two sacks, a tackle for a loss, a forced fumble and a pass knockdown.
With the game on the line, Law notched his first two sacks of the year on Ottawa's final series. On first down with under two minutes to play, Law brought down Delvin Hodges for a three-yard loss. His sack for a six-yard loss on third down helped preserve the win.
In four games this season, Law has registered nine tackles, two sacks and a forced fumble.
LB | ADAM BIGHILL | WINNIPEG BLUE BOMBERS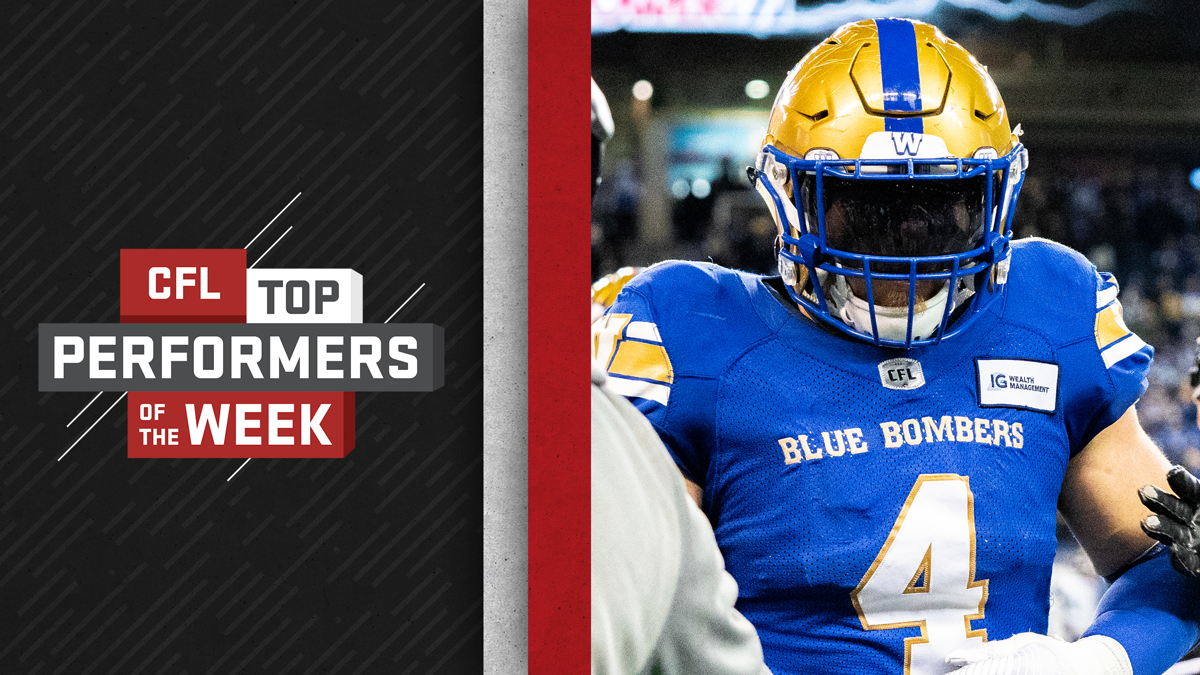 Adam Bighill collected eight tackles and an interception in the Blue Bombers' 31-21 victory over the Montreal Alouettes. Bighill's eight tackles tied a season-high.
With Winnipeg ahead by seven points late in the fourth quarter and the Alouettes threatening, Bighill intercepted Trevor Harris's overthrown ball intended for Quan Bray. The turnover led to a Sergio Castillo field goal, which made it a two-possession game for the home side with under two minutes to play.
In his ninth CFL season, the former Central Washington Wildcat has 65 tackles, two sacks, a pair of interceptions and a touchdown.
DL | A.C. LEONARD | SASKATCHEWAN ROUGHRIDERS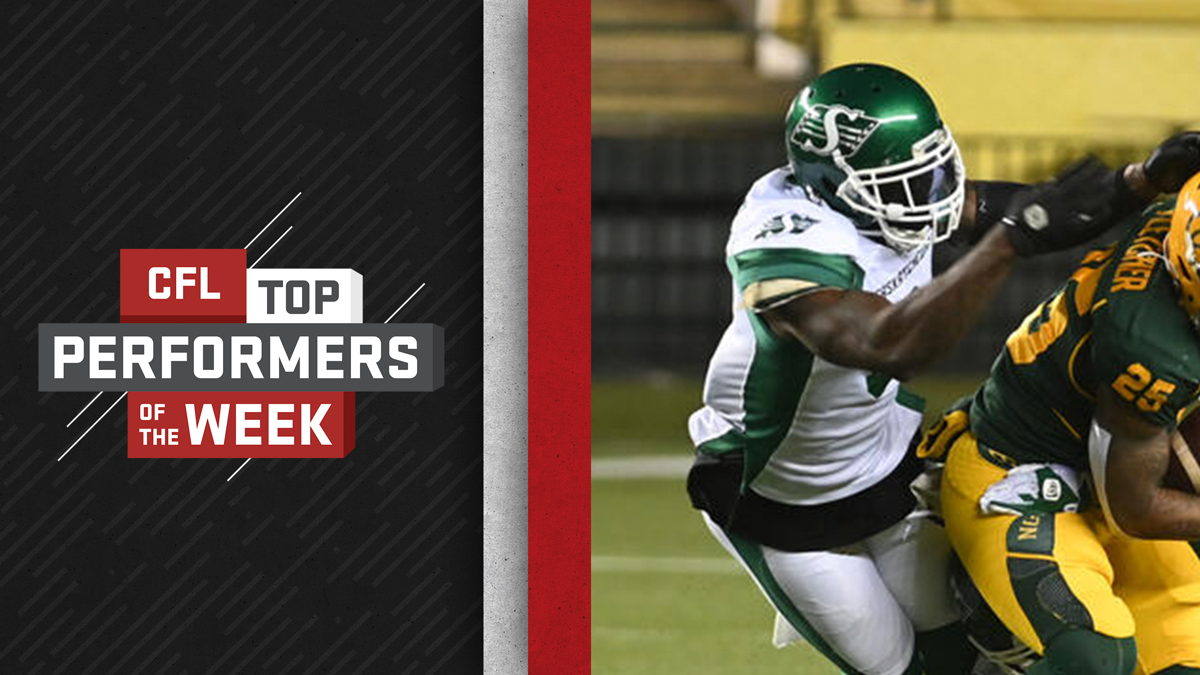 For the second straight week, A.C. Leonard's defensive prowess has resulted in a CFL Top Performer honour. Leonard was an integral part of the Roughriders' narrow 19-17 road win over the Edmonton Elks on Friday Night.
Leonard recorded three tackles, two sacks, a tackle for a loss and a forced fumble in the game. The Tennessee State alum brought down Taylor Cornelius twice in the second quarter, resulting in a total of seven yards lost, as the visitors ended the first half with a 10-3 advantage.
The six-year CFL veteran has nine sacks in nine games this year to sit tied for second, as well as 34 tackles, an interception and a forced fumble.
Fans' Choice of the Week!
Boris Bede won Week 13 of Fans' Choice of the Week and collected 10 bonus points.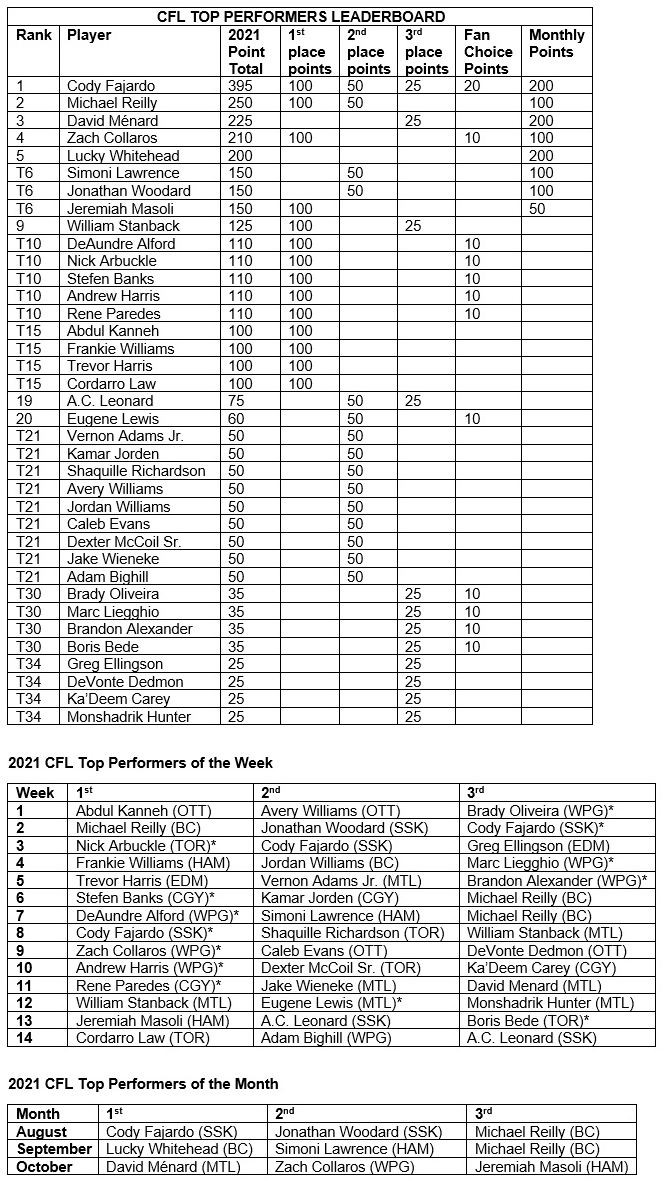 Subscribe to our
CFL News Hub YouTube Channel
. Get breaking news and the latest CFL news. Plus the CFL Week In Review Podcast.
---