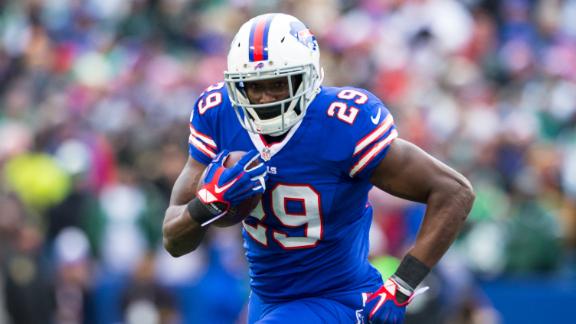 RB Karlos Williams was a bruising runner, and a hard hitting safety out of Florida State. A 5th-round pick in the 2015 NFL draft by the Bills, Williams earned his time on the field, starting 3 games for Buffalo that season, and tying a rookie record for most consecutive games with a TD.
His career was not without trials, though. After his rookie year, Williams reportedly showed up to camp out of shape, and would later be suspended for violating the league's substance abuse policy. He was waived following the 2016 season.
He later signed with the Steelers, but he violated the policy twice more, and receive a 10-game suspension, and then a year out of the league.
He made the decision to sign with the CFL's Toronto Argonauts in 2020, but after the season was canceled due to the pandemic, and the delay of the start of the 2021 season, Williams has decided to hang up the cleats, but he's not fading off into the sunset.
Williams has big plans.
When asked how it was to play for FSU, the NFL, and be signed to a CFL team, this was what he said:
"It was everything a kid from Polk County (FL) can dream it could be. I always wanted to play in the NFL, it was short, but it was sweet. On the field, every time I touched the ball I performed. There was never a time when I was playing that I felt I wasn't performing at a high level."

Karlos Williams
Which is true. Williams averaged 5.6 ypc as a rookie, gaining 517 yards on 93 carries, and reaching the endzone 7 times.
Williams was open about his bad choices as a young man in pro sports, even after being required to sit for 2 years, and complete the NFL's program, he was reinstated in 2018, and could have signed. Learning from mistakes, and maturing through the process.
"I was being a knucklehead. I wish I was making better decisions but now, being where I'm looking forward to the future, there's a story to tell to young men. Just look at my example, while I had success on the field, I should have had success off the field too."

Williams
He signed a futures deal in 2019, and was set to play in 2020 before the pandemic ruined everything football related, this is what he said about making the decision to retire:
"We knew there were going to delays. With the pandemic, coming from another country there were quarantine rules, and for us that was 28 days. But we knew that reporting in mid-May was not gonna happen. You can apply for as many jobs as you want to, but when they ask if you're gonna leave to go play football, they can't hire you. I decided to retire, and start my own entity, and give back to the community like I really want to.
Karlos has started his own training business, getting guys trained at every level, and creating film in the process. Since he has played both sides of the ball, he's not just training RBs, but also DBs, speed training, weights, everything needed to upgrade your skill level, Williams is doing it.
It all started kind of like a fluke. As a High School Coach at his alma mater, a player was recruited by Georgia Military College, and as it turned out, Karlos' for RBs Graduate Assistant at FSU, was a coach at GMC. And that's when it really hit him. He was able to help this young man get a scholarship, and felt like he could do it for others:
"We'll work out, we'll grind it out this summer, and we'll take your film and send it out to some schools, and see what happens. From that point on, I felt like I really can help kids change their lives."
He's starting small, he's funding it himself, buying the equipment necessary to fulfill his dream of helping others reach theirs. You can find out more information by visiting Karlos Williams Performance.
Life after football, Unfortunately many CFL player are having to find out what that means this year. Karlos has a plan, and we wish him all the best. Thanks for talking with us.
Subscribe to our
CFL News Hub YouTube Channel
. Get breaking news and the latest CFL news. Plus the CFL Week In Review Podcast.
---