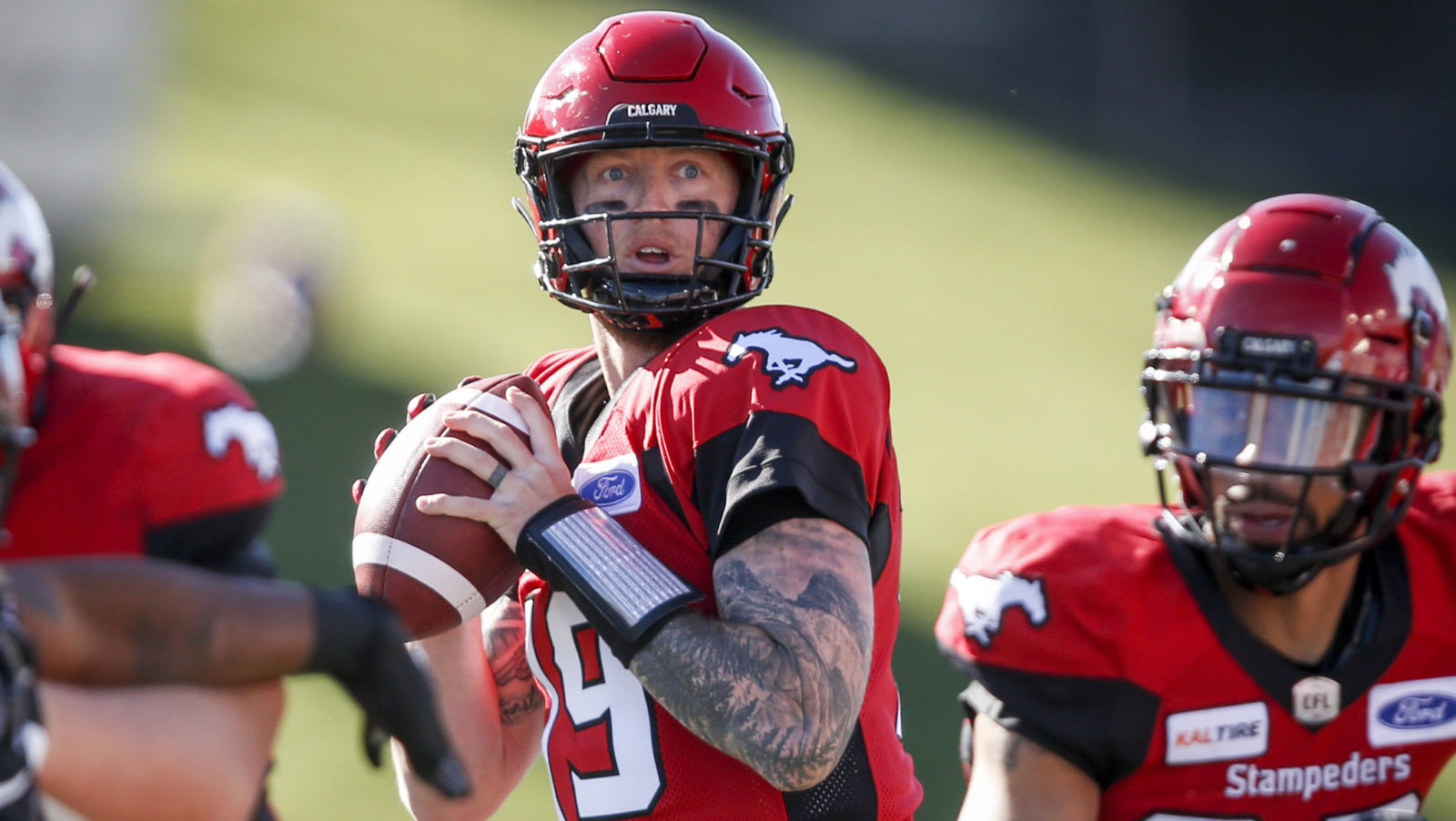 Arguably, the best player in the CFL, Calgary Stampeders QB Bo Levi Mitchell, says he favors a merger between the CFL and XFL. He talked about the situation on an episode of The Bob McCown podcast.
Before they get into the CFL/XFL talk, Mitchell talked about how he never heard of the CFL until college. After playing for June Jones at SMU and getting hurt, he transferred to Eastern Washington University. 
"My head coach, Bob Baldwin, we had an alumni dinner. He said, Hey, man, I know you have your sights on the NFL and have you done some great things, but you're just six feet tall. 

You're not playing against great competition. They're going to talk about your competition, you transferring. So I think CFL will be a great place for you to start. It's a great game for you."
On Later Loving The CFL Game
"is this game I'm falling in love with and I don't want to leave"
On If He Could Ever See Himself In The NFL
"No, I think that's kind of gone past at this age. Age plays a big factor in that. I would still be considered a rookie quarterback by anybody's means down there. No matter what I've done up here, it's a lot different than corner or a linebacker."
 On Playing For June Jones
"he's one of the smartest guys ever learn from. And he definitely brought me out of my shell as a quarterback."
On The Same Ball Used In The NFL Is Used In The CFL
"nowadays we use the exact same football. It's called the Duke. We're not allowed to call it the Duke, but it is the exact same football now. The only difference is we still use the composite Canadian laces. So if you were to measure, it seems bigger, but it's actually the exact same ball."
At this point, the two speakers start talking about the CFL and XFL merger talk. The speaker got it wrong saying The Rock tried to buy into the CFL and called it 'the whole USFL'. 
Mitchell Has A Whole Different Take On The Idea Of Merger
"I got to tell you, I think a lot differently than everybody else does. I saw a lot of negative reviews on that and the idea of it. I don't want the history of the Canadian game to go away. I'd never I would never want that to happen. I don't want the Canadian to change. But if we want the Canadian game to grow, I think the merger would be an absolutely phenomenal thing. 

And this is why the NFL came about from two different leagues joining which created the AFC, the NFC in the NFL that we as we see it, if you could have nine teams in the in Canada, nine teams in America, you're now creating an international game that is going to be looked at cross country viewing."
On The Importance Of Gambling To Football
"If I'm going to bet on the Super Bowl of the CFL/XFL, I got to know something about those CFL teams. So now I've got to be watching those games, like when Calgary plays Houston. I've got to go to watch these games. I got to find out how good Houston is because, let's be honest, gambling drives a lot of sports."
On The CFL Rules Staying
"I want to see the game grow. I really do. I don't want to see the game change. I don't want to see the downs change. But we'd obviously have to either convert to the smaller field. So to compensate for XFL field because they're not going to go out and create CFL fields. But hopefully, we can keep the CFL rules, and I think that'll be a really good thing to happen."
When asked about 3 down football on a 100 yard field Mitchell said "Yep" 
On If A Merger With The XFL And CFL Would Work
"I do. I really do…. If you tie The Rock to anything, if The Rock is part of the XFL, and then, he's got some big friends, maybe he gets Drake to buy in on the CFL side, and you get this game a little bit younger. 

No offense to the older viewers, but to be honest with you, when I drive around, I don't see a lot of 16 to 21 year olds With Stamp stickers on their cars, but I see a lot of 45 to 50 year olds.

So our problem is there's a generation there that we're missing, and we need to find a way to gain back before we lose the game. 

That's my personal opinion. It's probably not very popular opinion, but hey, I'm just speaking the truth of what I see in my own eyes."
Mitchell On Why Things Need To Change For The CFL
"we are trying to say that our game is 100 years old and we had no reason to change it… And I love this game with all of my heart. But things have to change if we want this game to grow. If not, it is going to die the way it is."
Mitchell goes into talking about how to reach the younger demo, getting flack from CFL fans for posting about different footballs, changing to 4 down football, and more. A great listen by someone who loves the CFL game and is speaking honestly.
Subscribe to our
CFL News Hub YouTube Channel
. Get breaking news and the latest CFL news. Plus the CFL Week In Review Podcast.
---