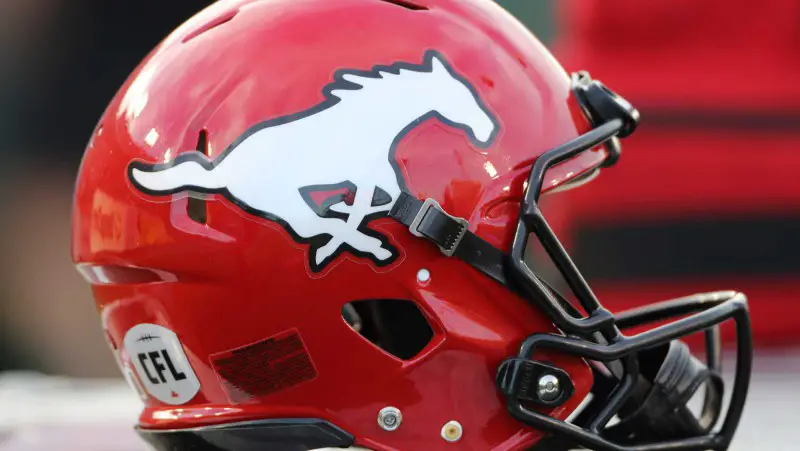 The Calgary Stampeders have announced the signing of ten new players, including eight Canadians and six members of their 2023 CFL Draft class.
Here is a brief overview of the players signed:
Kwadwo Boahen, Defensive Lineman: Drafted in the third round (22nd overall), Boahen played at the University of Alberta, registering 21 tackles and one sack in the 2022 season.
Clark Barnes, Receiver: Picked in the third round (24th overall), Barnes played for Guelph, amassing 38 catches for 516 yards and six touchdowns in 14 regular-season games.
Alexandre Marcoux, Offensive Lineman: Selected in the fourth round (33rd overall), Marcoux played 35 games for McGill, starting in 25 of them.
Ryan Leder, Defensive Lineman: Chosen in the fifth round (42nd overall), Leder played for McMaster, recording 86 total tackles, 5.5 sacks, and 13 tackles for loss in 31 games.
Campbell Fair, Kicker: Drafted in the sixth round (51st overall), Fair played for the University of Ottawa, scoring a total of 213 points with a 37.7-yard average on punts.
Lucas Robertson, Fullback: Picked in the eighth round (69th overall), Robertson played for UBC, making 21 catches for 173 yards and one touchdown in 19 games.
Jacob Biggs, Defensive Back: Signed as an undrafted free agent, Biggs played for the University of Calgary, registering 98 career tackles and three interceptions in 32 games.
Marc-Sullivan Andzang, Defensive Back: Added as a territorial exemption, Andzang played for the Calgary Colts, earning a Prairie Football Conference all-star nomination in 2022.
Silas Fagnan, Quarterback: Fagnan will attend training camp as part of the CFL's quarterback internship program, following a season where he led the Atlantic University Sport with 1,935 passing yards.
Sebastian Howard, Tight End: Drafted in the sixth round (49th overall), Howard played for Saint Mary's, recording seven catches for 69 yards in 11 games.
Lino Schröter, Global Linebacker: Selected in the second round (15th overall) of the global draft, Schröter played for the Cologne Crocodiles in the German Football League, registering 59 tackles and five sacks in 11 games.
The Stampeders have significantly strengthened their roster with these additions and look forward to the upcoming season.
List of signed players:
Kwadwo Boahen, DL, University of Alberta
Clark Barnes, WR, University of Guelph
Alexandre Marcoux, OL, McGill University
Ryan Leder, DL, McMaster University
Campbell Fair, K, University of Ottawa
Lucas Robertson, FB, University of British Columbia
Jacob Biggs, DB, University of Calgary
Marc-Sullivan Andzang, DB, Calgary Colts
Silas Fagnan, QB, St. Francis Xavier University (CFL QB Internship Program)
Sebastian Howard, TE, Saint Mary's University
Lino Schröter, LB, Cologne Crocodiles (Global)
Subscribe to our
CFL News Hub YouTube Channel
. Get breaking news and the latest CFL news. Plus the CFL Week In Review Podcast.
---