The CFL released its list of nominees for their 2021 Year-End Awards. The 9-5 East-leading Toronto Argonauts have several viable nominees up for consideration.
The CFL has announced six-team award winners from each club who will advance to the next stage of voting in the lead-up to the 2021 CFL Awards.
The winners were selected by their respective CFL city's voting members of the Football Reporters of Canada (FRC) and their team's head coach.
Voters were tasked with selecting players whose on-field performances best represent the team's Most Outstanding Player, Most Outstanding Canadian, Most Outstanding Defensive Player, Most Outstanding Offensive Lineman, Most Outstanding Rookie, and Most Outstanding Special Teams Player.
The East and West Division finalists for the 2021 CFL Awards will be announced on Thursday, November 25.
You can find the full list for each CFL team here.
Here is the press release from the Toronto Argonauts and the full list of players on the Boatmen who are up for consideration.
Strong arguments can be made for Peter Nicastro as Most Oustanding Rookie and Offensive Linemen. It can also be argued that Boris Bede is not only the special teams player of the year but individually as MOP for Toronto. Tough call between CFL rookie Shawn Oakman and CFL veteran LB Dexter McCoil for Most outstanding defensive player. Both players had phenomenal seasons.
ARGOS NOMINEES FOR 2021 CFL AWARDS ANNOUNCED
TORONTO – The Canadian Football League announced today the team winners for the 2021 CFL Awards. The players were selected by voting members of the Football Reporters of Canada (FRC) and CFL head coaches.
East and West Division winners will be announced on Thursday, November 25, 2021.
The 2021 CFL Awards will be handed out Friday, December 10, 2021, in Hamilton during Grey Cup week.
Toronto's nominees include:
Most Outstanding Player: McLeod Bethel-Thompson
Bethel-Thompson has suited up for 14 games in 2021, starting nine, while going 203-for-306 for 2,303 yards and 12 touchdowns. The 2019 CFL passing touchdown leader (26) was 7-2 as a starter and helped guide the Argos to nine wins this season and first place in the East for the first time since 2017. The California native and four-year Argo became the seventh-leading passer in Boatmen history this season and has thrown for over 8,500 career yards.
Most Outstanding Offensive Lineman and Most Outstanding Rookie: Peter Nicastro
Nicastro, Toronto's first-round pick (seventh overall) during the 2021 CFL Draft, was forced into action early in his CFL career and played like a seasoned veteran from day one. The Calgary native started at left guard week one and held that position for four games before an injury to starting centre Phil Blake forced Nicastro into snapping duties. The 6'2, 305-pound lineman started the next seven games at centre before an injury ended his rookie regular season. Starting 11 games your rookie season at two different positions for a first-place team is quite an impressive feat for the 22-year-old.
Most Outstanding Canadian: Kurleigh Gittens Jr.
Gittens Jr., Toronto's 23rd overall selection in the 2019 CFL Draft, truly broke out in 2021 hauling in 50 catches for 605 yards and four touchdowns. The Wilfrid Laurier product currently sits 12th in CFL receiving yards and second amongst Canadian pass catchers. The Ottawa native leads the Argos in touchdown catches and is second in yards behind Ricky Collins Jr. The 5'11, 191lb receiver had only one catch in 2019 but stayed dedicated to his craft during the canceled 2020 season and his hard work paid off this season.
Most Outstanding Defensive Player: Dexter McCoil Sr.
McCoil Sr. has been a force for the Argos D all season long, posting 60 defensive tackles, nine special teams tackles, two sacks, and two interceptions, including a 71-yard return for a touchdown. The Louisiana native and four-year CFL veteran sits ninth in total tackles in the league this season after only 11 games played due to an injury sustained in week 13. McCoil Sr. was a CFL Top Performer in Week 10 after a 12-tackle and one sack performance in a win against the rival Hamilton Tiger-Cats.
Most Outstanding Special Teams Player: Boris Bede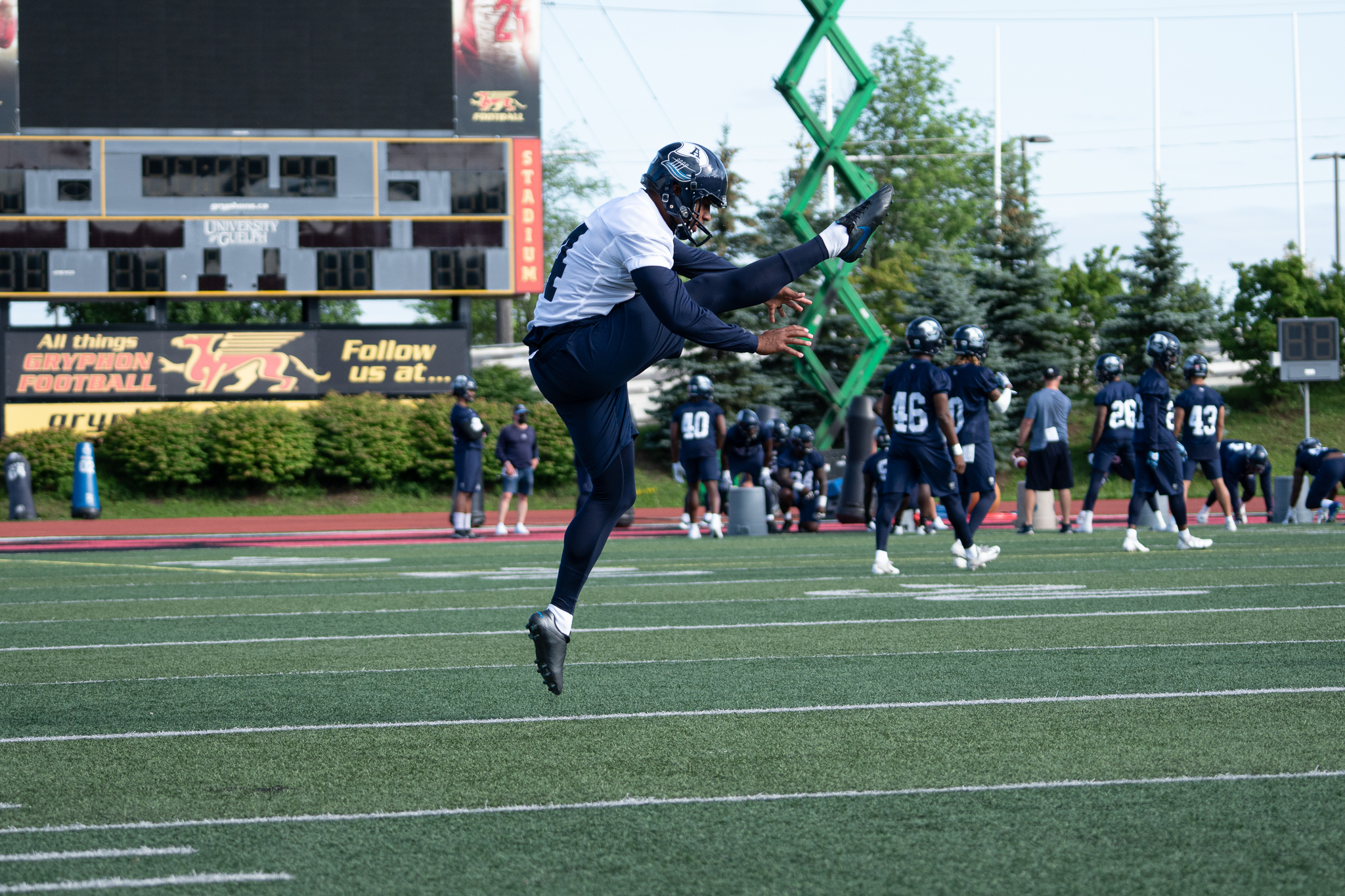 Bede, the six-year CFLer, had a sensational season in 2021 making 28-of-33 field goals (85%), including six from 50+ yards, three better than any other kicker in the league this season and two off the all-time record. The CFL's all-time leader in kickoff average once again led the league in that category with an average of 67.4, including one 95 yard boot. The Laval product's most iconic moment in 2021 came in week 10 when he launched a 51-yard bomb right down the middle of the uprights as time expired in a 24-23 Argos win at Tim Hortons Field against Hamilton. Bede was named a Top Performer in Week 13 after kicking five field goals including two from 50+ in a win vs. B.C.
2021 CFL Awards Info
The 2021 CFL Awards will take place on Friday, December 10, at the Hamilton Convention Centre. Beginning at 6 p.m. ET, the evening is one of this year's Grey Cup Week highlights. Since its inception, the CFL Awards will be free and open to the public for the first time. Seating will be limited, and fans are invited to reserve their spots now at greycupfestival.ca.
Several free fan events highlight the 2021 edition of Grey Cup Week, including the Grey Cup Arrival delivered by Canada Drives, the Commissioner's Fan State of the League address, and much more. Additional details and registration information can be found at greycupfestival.ca.
The 108th Grey Cup will be played at Hamilton's Tim Hortons Field on Sunday, December 12, featuring Arkells in the Twisted Tea Grey Cup Halftime Show. A limited number of tickets are still available at ticketmaster.ca/greycup.
Subscribe to our
CFL News Hub YouTube Channel
. Get breaking news and the latest CFL news. Plus the CFL Week In Review Podcast.
---