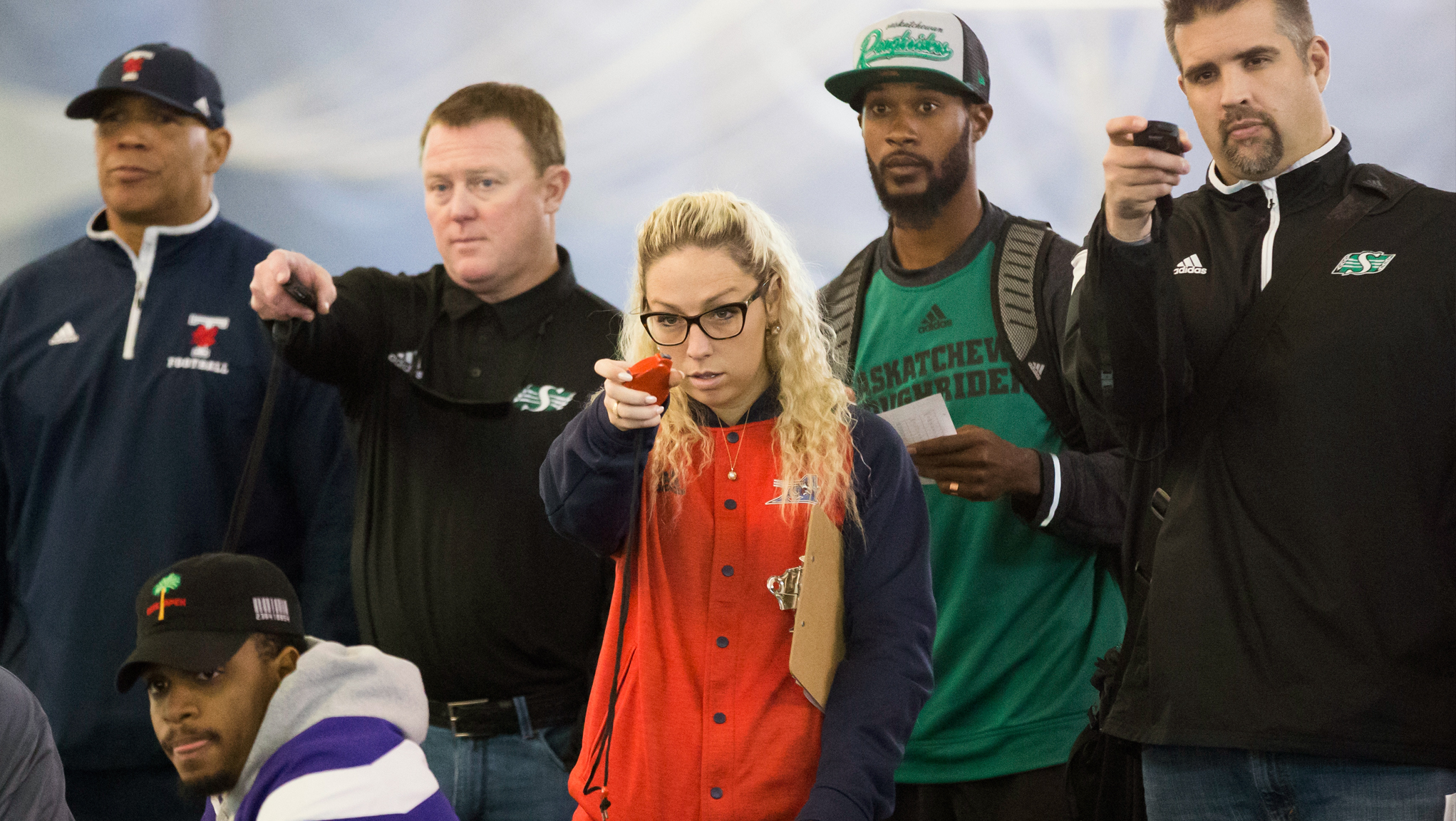 Canadian born Catherine Raîche was recently named VP of Football Operations for the Philadelphia Eagles franchise, making her the highest-ranking woman in the sport – for the second time.
Raîche also spent time in front offices of CFL clubs; the Toronto Argonauts and the Montreal Alouettes.
She began he professional career in corporate law. But soon decided to follow in her mother's foot steps, and went after her passion for football. According to a recent interview, Catherine's mom coached her brother's youth team, so football is in the Raîche DNA.
Raîche easy hired in 2015 as an unpaid intern for the Alouettes by then-GM Jim Popp, who after just one season promoted her to coordinator of football administration.
In 2017 she was again promoted to assistant GM by Kavis Reed, who replaced Popp as the Alouettes' GM, making her at the time, the highest-ranking woman in the CFL.
She wasn't the highest in league history though. That position was held by former Ottawa Rough Rider GM Jo-Anne Polak, who had a lot of praise upon hearing the news.
In an interview with 980 CJME's The Green Zone, Polak shared this about time he4 and Catherine spent together:
"Catherine brings a skill to the game. This isn't just somebody who wanted to be in football. She has a law degree, she understands what corporate law is all about, which is hugely important in the business of football."

Jo-Anne Polak
After her time in Montreal, Catherine went to the Toronto Argonauts, hired by the man who gave her the chance with the Alouettes, Jim Popp. As director of football administration, she handled everything from player contracts, to salary cap management.
More dots get connected here, as Raîche left the job in Toronto to join the front office for the Tampa Bay Vipers in an upstart league – the XFL.
From there, like many who were with the US alternative league, she took an executive position with the NFL's Philadelphia Eagles. From July of 2019 until just last week, Raîche was the football operations coordinator. And now she takes over the position that was last held by Andrew Berry; who is now the GM for the Cleveland Browns.
Since being with the Eagles, Raîche has had responsibilities in player evaluation, player development, contract management, football administration and football research.
Her other duties included determining which prospects would best fit the Eagles under the new coaching staff. Raiche wrote 115 reports on prospects from 17 schools leading up to the 2021 NFL draft. Raîche also led the ranking and evaluation of free agents as she assessed the Eagles' needs.
She's fully earned the spot she currently has in the NFL, and we believe she's not finished there. Catherine is showing women across the world what they can do with passion and dedication. As a father of daughters, she's definitely someone i have shown my girls to once again prove that they never need to feel inferior.
"She also embraces the fact she's in a different position and she knows there are other young women watching her the way she watched her heroes when she was a kid."

Jo-Anne Polak
Raîche had this to say in an interview with USA Today about the path she took to get where she is:
"I had a solid plan B to be strategic and confident with my plan A," Raiche told USA Today Sports over Zoom earlier this month. "My plan B was law, and my plan A was football."

Catherine Raîche with USA Today, linked above.
We congratulate her on everything she's accomplished, and root for to reach all of her dreams.
Subscribe to our
CFL News Hub YouTube Channel
. Get breaking news and the latest CFL news. Plus the CFL Week In Review Podcast.
---