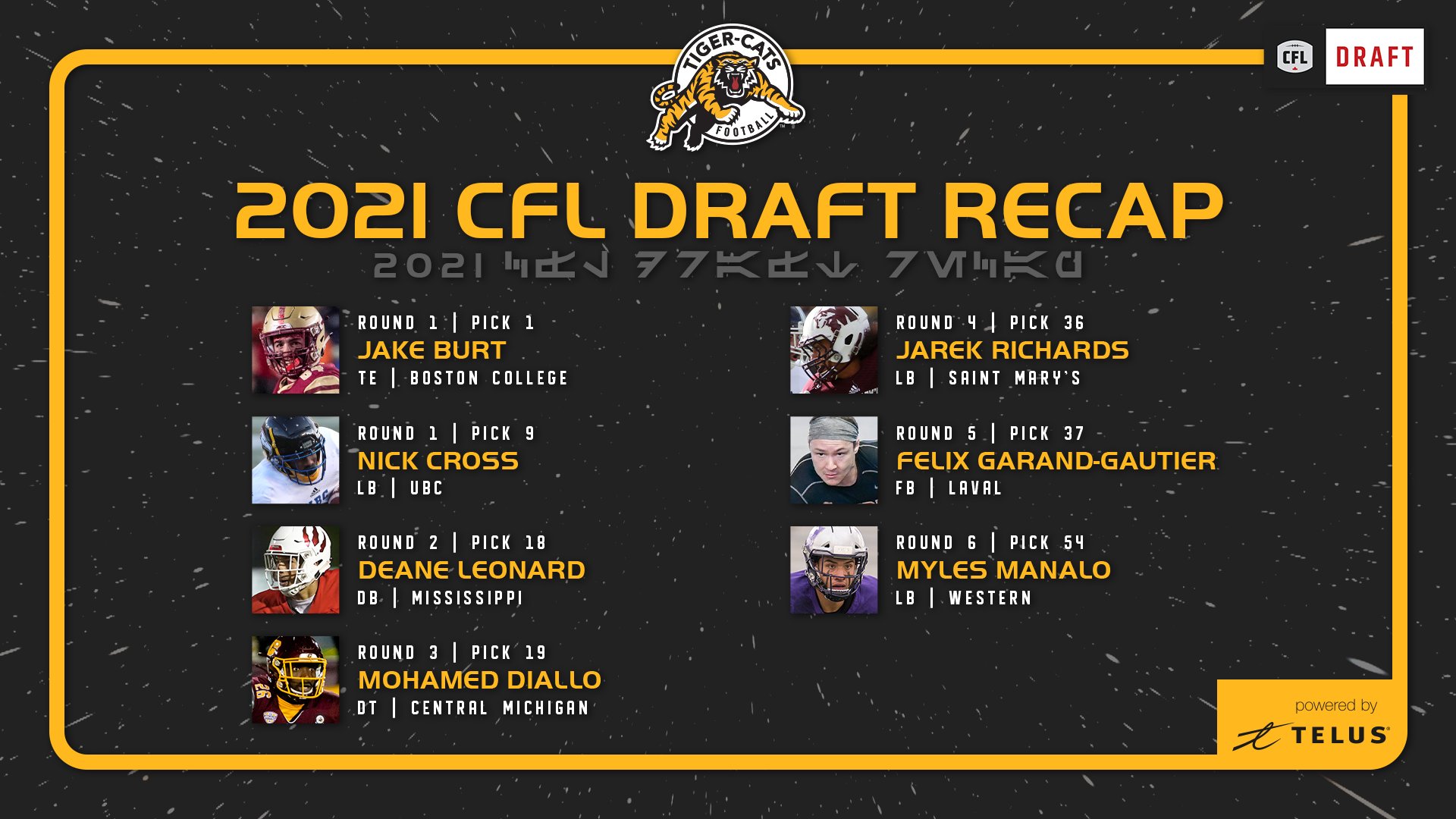 The 2021 CFL Draft was conducted on May 4th, 2021. The Hamilton Tiger-Cats had 7 picks, including two first round picks. Here are the selections, and the breakdown of each selection:
Round 1, 1st Pick (1st Overall)
Jake Burt – TE – (6'3″/260lbs) – Boston College
Burt is the first TE selected #1 in the CFL Draft since 1989 when Gerald Wilcox was selected. He bring some versatility to the Tiger-Cat offense with his ability to line up at TE, WR, and H-back. His size at 6'3″ makes him a tough cover when lined up as a TE, and being 260lbs he is able to be a punishing run blocker. He had a short stint in the NFL with the New England Patriots out of college as an undrafted free agent.
Round 1, 9th Pick (9th Overall)
Nick Cross – LB – (6'0″/200lbs) – University of British Columbia
Nick Cross is a linebacker out of the University of British Columbia, selected with the Tiger-Cat's second first round pick. He is a bit undersized to play linebacker at only 200lbs, but he makes up for the lack of size with elite speed and quickness. He has a nose for the football, in 2019 he averaged just over 9 tackles per game and the ability to tackle the ball carrier behind the line of scrimmage with 5 tfls in 2019.
Round 2, 18th Pick (2nd Overall)
Deane Leonard – DB – (6'2″/195lbs) – The University of Mississippi(Ole Miss)
Leonard was selected 18th overall out of Ole Miss. Leonard had limited playing time in college, but he was able to get some action in the 2020 season playing in 8 games. In those 8 games Leonard was able to total 14 tackles, 4 pass breakups, and 1 fumble recovery. While he may not have had a ton of playing time in college he is a very long defensive back at 6'2″ that has had experience covering some of the best athletes in the world in the SEC.
Round 3, 19th Pick (19th Overall)
Mohamed Diallo – DL – (6'4″/305) – Central Michigan University
Diallo was selected 19th overall by the Tiger-Cats. Diallo played two seasons at Central Michigan University. In those two seasons he played in 11 games in which he totaled 26 tackles, 12 tfls, 3 sacks, 1 forced fumble, and 1 fumble recovery. While Diallo may not have gotten much playing time in college he has the size at 6'4″ 305lbs to be a disruptive force on the defensive line.
Round 4, 36th Pick (36th Overall)
Jarek Richards – LB – (5'11″/185lbs) – St. Mary's University
Richards was selected 36th overall out of St. Mary's University. Similar to their earlier pick with Nick Cross, Richards is slightly undersized to be playing linebacker. He is very fast and quick which shows that Hamilton is looking to get more athletic on defense and he has a nose for the football. In his three seasons at St. Mary's he played in 22 games totaling 106.5 tackles, 7.5 tfls, and 1 sack.
Round 5, 37th Pick (37th Overall)
Felix Garand-Gauthier – REC – (6'2″/225lbs) – Laval University
Garand-Gauthier was selected 37th overall. He is a tough football player and it shows on his film. He played fullback in college and is not afraid of delivering blows to defenders. With the 1st pick Hamilton selected a very physical tight end and they go with Garand-Gauthier at 37, looks like they are going to become a very physical offense in the future.
Round 6, 54th Pick (54th Overall)
Myles Manalo – LB – (6'3″/230) – Western University
Manalo was selected 54th overall by the Tiger-Cats. He is a much bigger linebacker than the other linebackers that Hamilton selected in this draft. Manalo will be able to give them depth at the position as well as solid play up the middle. In the 2020 season at Western, Manalo was able to total 60 tackles and 4 tackles for loss in 10 games.
Subscribe to our
CFL News Hub YouTube Channel
. Get breaking news and the latest CFL news. Plus the CFL Week In Review Podcast.
---