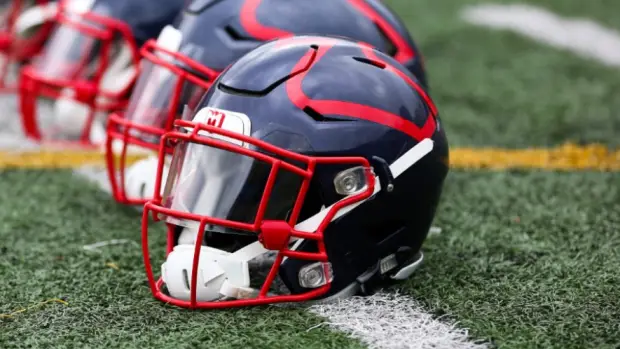 A lot of questions are still needing answers, but since there's no reason to stop progress as if the season will begin on August 5th, the Canadian Football League had their annual draft.
This year's selection ceremony was different from recent ones, due to not playing last year. Usually, the draft is 9 rounds, this time it would be 6. This draft will also be in a snake pattern, where the team that picks last in the odd-numbered rounds, picks first in the even-numbered rounds.
The Alouettes had the fewest picks in the 6 round draft with 5, lacking a 1st rounder because of a trade with the Tiger-Cats.
Their first selection – second-round – OL Pier-Olivier Lestage, is a highly-touted guy out of Montreal-Carabins. There is a snag, though. Lestage has been signed by the NFL's Seattle Seahawks. Can play guard or center, he had this to say about being selected in the second round of the CFL Draft:
"It's a great feeling. I grew up watching the Montreal Alouettes on TV and I've been to games at Percival Molson Stadium. It definitely will be a special feeling to go back home if it doesn't work out with Seattle."Pier-Olivier Lestage
Their third-round pick was another OL, Chris Fournier, out of Lehigh University. Originally from Ontario, Fournier will compete to be on the front line immediately. At Lehigh, he started every game from his sophomore season, usually playing the LT spot.
Their fourth-round pick, was another OL, Patrick Davis out of Syracuse. Native of Quebec, he is talented enough to play the inside or outside of the offensive line. A big upside for Davis is he also contributes on Special Teams.
His NFL chances dashed early in the Syracuse season, as he suffered an injury that kept him from playing the rest of the year. Going in the fourth-round, he does have some work, but is expected to make the team and contribute immediately.
Their final pick was K David Cote, out of Laval University. He can kick and punt, which is big in the Canadian game, as Specialists get a lot of work in that facet. He had this to say about what he sees himself as:
"I think my best quality as a player is that I am never showing my emotions on a football field. No matter what is the situation I'm in, I stay calm and focused. I think it helps my teammates to stay confident."David Cote
He will compete with others on the roster, most notably to fans in the state, Matt Mengel, who we saw in The Spring League last season.
The next step in training camp, which at this point is scheduled for July. We hope they make it, It's a great style of game they play in Canada.
Subscribe to our
CFL News Hub YouTube Channel
. Get breaking news and the latest CFL news. Plus the CFL Week In Review Podcast.
---