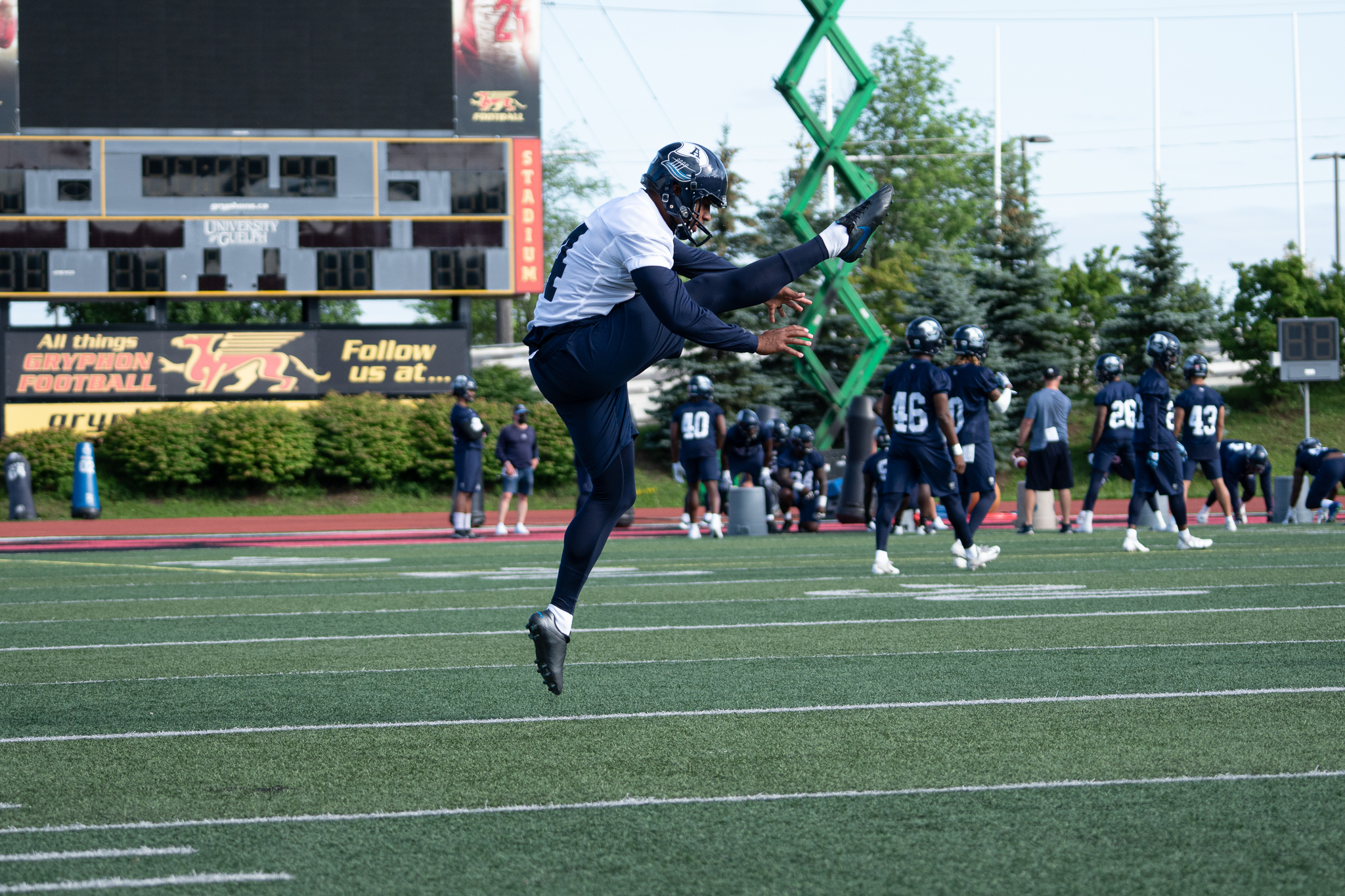 The Toronto Argonauts are 16 days away from kicking off their regular season on Saturday, August 7th in Calgary. The new-look Argos are speeding up the learning curve in training camp as they get closer to setting their sights on the Stampeders.
The team stayed busy on the transaction wire today, bringing back some familiar faces.
The Toronto Argonauts announced today the team has signed American WR Rodney Smith, American QB Kelly Bryant, and American OL Brandon Smith.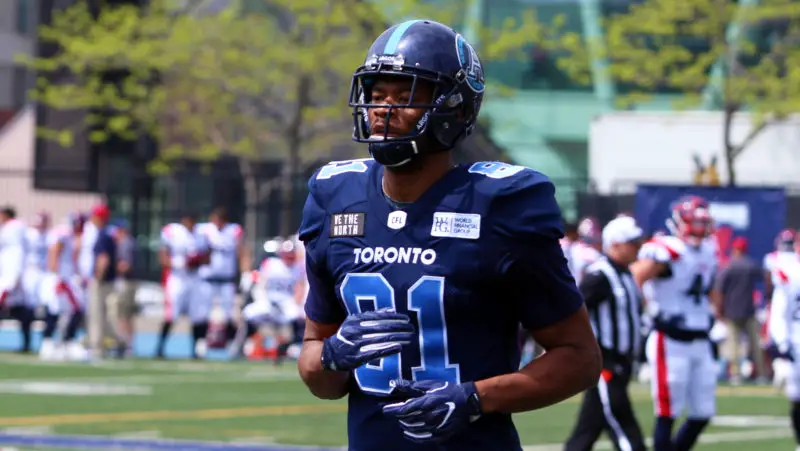 Rodney Smith, 31, spent the last two CFL seasons with the Argos, hauling in 74 receptions for 903 yards and five touchdowns over 23 games. The former Boatmen receiver signed with Edmonton in March of 2020 but was released this week by the Elks.
Kelly Bryant, 24, was with the Argonauts earlier this year before being released. Bryant played four seasons at the University of Clemson (2015-2018), where he led the Tigers to the 2017 ACC Championship, capturing the game's MVP award and a spot in the College Football Playoff. The 6'4, 220-pound QB started his Clemson career as the backup to Deshaun Watson and helped his school win the National Championship in 2016.
Brandon Smith, 26, The 6'8 327lb lineman most recently spent time with the Carolina Cobras of the National Arena League. Smith also spent time with the Jacksonville Jaguars in 2018. Smith played four seasons (2014-2017) and 41 games at East Carolina University.
The return of Rodney Smith to the Argos receiving corps only further bolsters a very deep stable of receivers.
After Thursday's practice at the University of Guelph, Toronto Argonauts Head Coach Ryan Dinwiddie, in the media scrum, touched on several different topics as he preps his team for the final phase of training camp.
The Drive Towards The Argos 45
On 7/30, the Toronto Argonauts will have their final roster cuts in a little over a week. Paring the teams' roster down to 45 players will not be easy, but the newly-minted head coach has a strong idea of what his final roster will look like.
"I feel pretty good with where we are at; I kind of have an idea of how our roster is going to shake out. We've had those discussions with the personnel department as well. There are going to be some tough decisions. There are about five or six spots that are going to be hard decisions for us."– Ryan Dinwiddie to the Toronto Sun's Frank Zicarelli.
Ryan Dinwiddie mentioned that he is entertaining the possibility of carrying three quarterbacks when the season starts. In Nick Arbuckle, McLeod Bethel-Thompson, and Antonio Pipkin. With the idea of having added insurance when the season arrives. All three quarterbacks have continued to receive reps in camp, and the Argos plan on continuing that rotation in the days ahead.
Toronto has three signal-callers with starting experience in the CFL. A luxury that benefitted the defending CFL champs, the Winnipeg Blue Bombers in 2019, and one that Dinwiddie experienced himself with Calgary when Nick Arbuckle efficiently helped ease the loss of superstar quarterback Bo Levi Mitchell.
Two players, potentially on the fringe of making Toronto's roster, that Ryan Dinwiddie mentioned while discussing the team's talented receiver group were Daniel Braverman and Damion Jeanpiere. "Braverman is a younger kid who has really made some significant steps for us on offense." On Jeanpiere, "He's a burner, he can return too, he's got a little wiggle there… he's being playing well and has done some really good things". Players like Braverman and Jeanpiere are in an uphill battle to stick on the final roster, but they definitely have turned some heads and impressed in camp.
The area that Coach identified as the most challenging to pare down on the roster will be the teams' defensive side. In 2019, Toronto's D gave up 562 points; all indications thus far have been that not only will that side of the ball improved, but that the Argos defence might end up being one of the very best in the league.
No Doubling Down On The Double Blue Game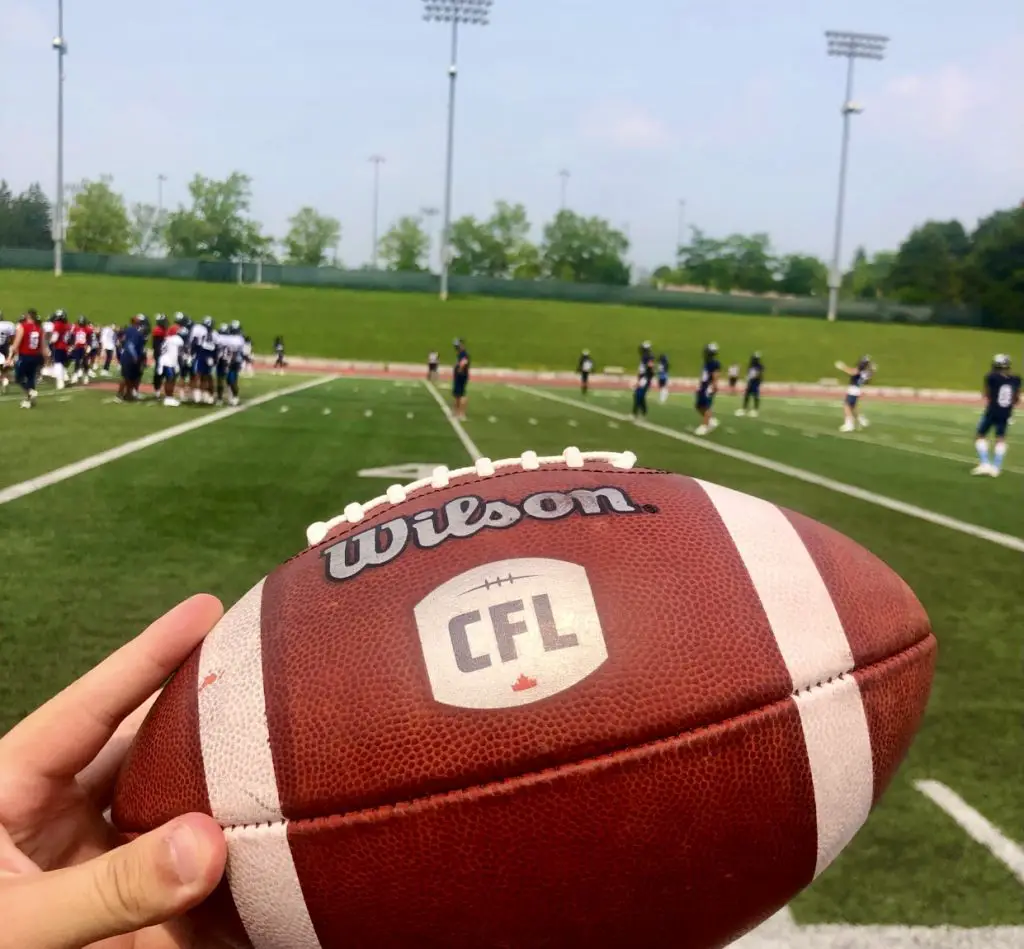 When asked today about when the Argonauts would be staging their second Double Blue scrimmage. Coach Ryan Dinwiddie told CFL NewsHub;
"We are probably not going to do one. We did the one at this stage. I feel good where we are at. I feel good where we are in the schemes. We are hitting a lot of the scenarios that you get in a game, in practice… We're practicing three-minute offense, take a safety, and kill six. All the game situations that we need to do, we are getting in practice. I feel good where we are at. And I am just not comfortable with going through a whole game and losing guys at the end of camp."
All Purpose GM Michael Pinball Clemons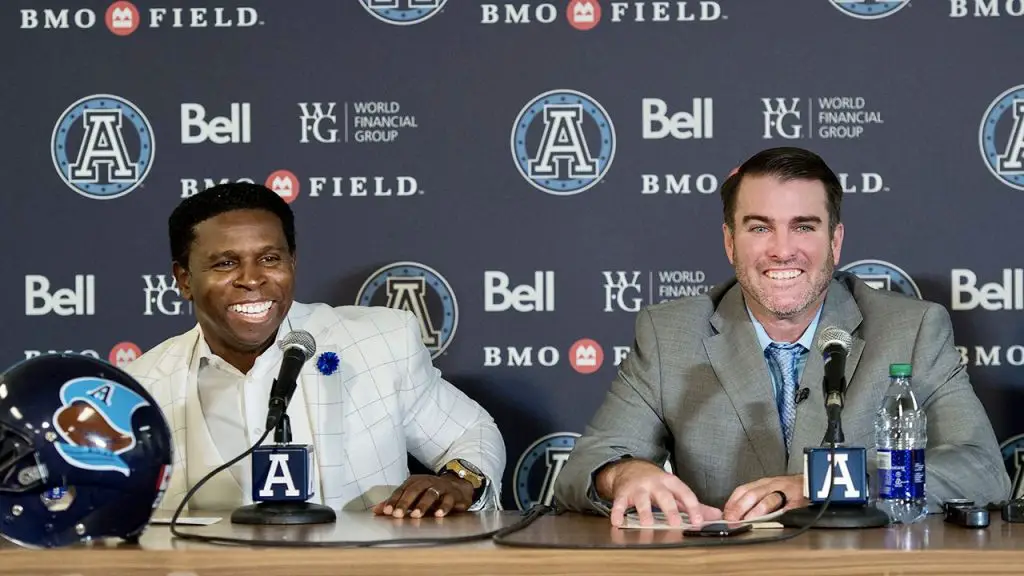 Legendary CFL Player/Coach/Executive Michael 'Pinball' Clemons has served many roles on the Toronto Argonauts. Clemons is not your typical general manager. To go along with his front office duties, During training camp, Clemons has been multi-tasking assisting the assistant coaches, interacting and instructing players on the field and off, and playing a mentor/right-hand man role to first-time head coach Ryan Dinwiddie.
Clemons, a former Grey Cup-winning head coach, himself for the Double Blue, is one of the greatest all-purpose players in CFL history. But this time, he is wearing many hats for the team without a football in his hands. Although at times, in practice, 'Pinball' has looked ready to get back into the action at a moment's notice.
"We always have discussions each day. His office is right next to mine. I'd be a fool to not run things by 'Pinball' and not take his light and experience and his advice. Most of the time, he just lets me go and tells me that I am on the right track…… but I like to run things by Pinball. He's a successful person and very intelligent, and I like to run things by him and get his ear." – Ryan Dinwiddie to CFL Newshub on his working relationship with Argos GM Michael 'Pinball' Clemons
The Present State Of The Toronto Argonauts
Coach Ryan Dinwiddie is pleased with how his team is progressing. However, he admits that it's tough to evaluate players without the benefit of preseason games. The team has picked up its pace and energy in recent days, and Dinwiddie, who has described himself as a drill sergeant during practices, is happy with how the players have responded to his demanding ways.
The Argonauts' offensive staff has been putting more on their players' plate from a mental aspect in recent days. The team is ramping up its offensive installs and practicing specific game situations. After Monday's scrimmage, which saw some communication and alignment issues, Dinwiddie expects his younger players on offence to continue battling and for the game to slow down for them as camp winds down.
The area of the team that has received constant praise from Dinwiddie is his team's defence. The Argos talented and experienced defensive front has been pushing Toronto's offensive line to the limit. During the Double Blue's scrimmage on Monday, the Argonauts dominated the trenches, and the offence struggled to make any headway in the ground game. The coaching staff, like defensive coordinator, Glen Young has been pleased with the veteran leadership displayed by the likes of Henoc Muamba and others.
At the receiver position, Dinwiddie raved about the team's depth and the advantages of having players like Juwan Brescasin, Eric Rogers, and DaVaris Daniels, with whom he has worked in the past. Dinwiddie said that these players are ahead of the game because of their knowledge of his system. Dinwiddie also went out of his way to praise Ricky Collins Jr. for his hard work during camp. The coaching staff has Collins playing multiple receiver positions.
Additional Camp Notes
Offensive Linemen Cody Speller, who many projected as being the Argos starting centre, is still away from the team, dealing with personal issues, and there is no timetable set on his return. Speller's absence increases the likelihood that rookie Peter Nicastro will be starting in his stead. The Argos 2021 1st-round draft pick is being thrown to the wolves and has responded nicely thus far. As a fallback option, if Nicastro isn't ready to start in week one. Veteran Philip Blake has also been taking reps as Toronto's pivot man in practice.
No update on the status of no-show Martavis Bryant. Coach Dinwiddie told Dan Ralph of the Canadian Press that he is happy and ready to win with the group he has at receiver moving forward. And that Bryant, if he does show up, is way behind everyone else in his chances of being a part of the team.
When camp opened, Coach Dinwiddie talked about the possibility of resting veterans and decreasing their reps as the team got closer to the regular season. Today, he mentioned the delicate balance of getting certain veterans reps who have missed practice and sitting those who have practiced several days in a row in their absence. The coaching staff plans on dealing with that on an individual basis, rather than a complete veteran shutdown of football activities. The word of everyday in camp has been caution. The Argos don't want to jeopardize their season by jeopadizing their most valuable players health.
Subscribe to our
CFL News Hub YouTube Channel
. Get breaking news and the latest CFL news. Plus the CFL Week In Review Podcast.
---