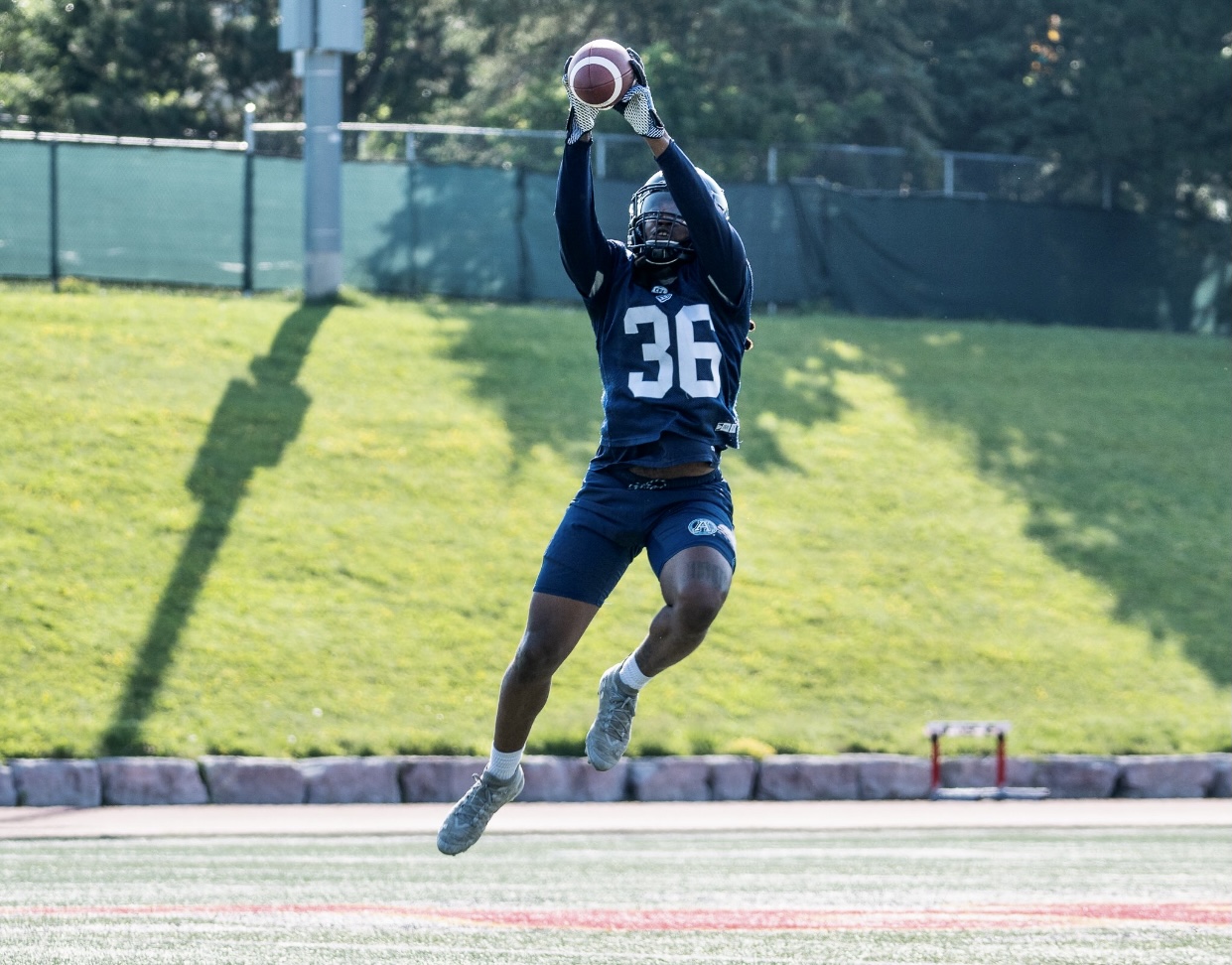 LIVE CFL DRAFT COVERAGE 2023
Toronto Argonauts training camp is in its last days. A week from now, the team will be in full prep mode for their week one opponent, the Calgary Stampeders.
Getting to week one in one piece with your QB1
The Argonauts have taken a different approach than other CFL teams in the last few days. After staging its first double blue game last weekend, the Argos opted to cancel their follow-up scrimmage. On Saturday, Toronto gave most of their players the day off; this past week, the team also had a day off on Tuesday.
Coach Ryan Dinwiddie has cut several practices short since camp began two weeks ago. By his actions at this point, it's pretty clear that the newly minted Argos head coach doesn't want his team limping to the starting gate when the season arrives.
While the Argonauts haven't had any significant injuries to this point, it's worth noting that players like projected starting quarterback Nick Arbuckle missed the team's scrimmage due to a hamstring injury and then tweaked the injury a couple of days after returning to practice. The Argos have been playing things safe with Arbuckle and the rest of the team ever since.
In contrast to the Argonauts, CFL teams like the Calgary Stampeders had an intrasquad scrimmage over the weekend. However, just like the Boatmen, the Stamps are also dealing with an injury to their starting signal-caller and are erring on the side of caution with their quarterback Bo Levi Mitchell.
Stampeders head coach Dave Dickenson told Daniel Austin of the Calgary Sun that Bo Levi Mitchell has a minor groin injury. He wants to make sure that he is 100 percent going into the regular-season opener at home versus Toronto. "I'm probably not going to let him (Mitchell) practice for a while." Stamps coach Dickenson was also quoted as saying, "I know what I've got with Bo."
The question is, Do the Argonauts know what they've got with Nick Arbuckle? Fans and skeptics are unsure, but for better or for worse, Toronto's front office is confident in Arbuckle, as is his former QB coach with the Stamps and current Argos head coach Ryan Dinwiddie. But while Calgary can afford to shut down Bo Levi Mitchell until the regular season potentially. The truth is that the Argonauts need Arbuckle to get back healthy and practice with the first team to prepare them for the Stamps defence in 12 days. In less than two weeks, Arbuckle will get a chance to reward his team's faith and patience in him.
The coming days of training camp, which ends next Saturday, will be crucial for many of the Argos players to make one last pitch to earn themselves a roster spot. It's also a pivotal week for Toronto's coaching staff in evaluating who will make their final 45-man roster. But the challenge as the team gets into the next week will be amping up the team's stamina to prepare the players for playing a complete game in week one and transitioning the team to start mentally preparing for their weekly regular-season routine. It's all coming, and the next phase will need Nick Arbuckle captaining the ship as they head in that direction.
Additional Toronto Argonauts Training Camp Notes
The Boatmen were back on the field on Sunday, practicing in the heat at the University of Guelph's Alumni Stadium. According to Argonauts.Ca writer Mike Hogan, Sunday's practice was a high-paced affair, which saw the team work towards getting as much work done possible before allowing the elements to wear them down.
The Argos defence continues to get rave reviews in camp. Ryan Dinwiddie and the teams coaches have continued to talk up their defensive line and front seven overall. The elite combination of Glen Young and Rich Stubler have been coaching the defence up to regular season form. There might be some questions about the readiness of Toronto's offence at this stage of the process but the defensive side of the ball has left very little doubt about its prowess in camp.
One of the players who had a big day on Sunday was defensive back Andrew Soroh. The former Florida Atlantic standout is seen as a longshot to make the roster because of the teams depth and his CFL rookie status but Soroh continues to make big plays in practice. Soroh delivered another one on Sunday causing a big fumble that riled up his defensive teamates. Players like Soroh, who is a big-hitting linebacker/safety hybrid, could've benefitted from preseason games this summer. No matter what happens, he's going out swinging.
Safety Davontae Merriweather, the former Indoor Football League defensive player of the year, has also been making a ton of big plays in camp. He recovered a fumble caused by Soroh in practice. Like Soroh, Merriweather is a long shot, but he has done enough to warrant a second look down the road, that's if this first look doesn't get him in the door.
Days after the team signed him. Former Argos wide receiver Rodney Smith officially made his on-field return for the Double Blue at Sunday's practice. Wearing #13, Smith is trying to catch up with his former teamates and ultimately catch on to the Argos active roster when camp ends. Smith developed a good chemistry with quarterback McLeod Bethel-Thompson in 2019. Repeating that in the last week of camp could help his chances.
Another player debuting for Toronto at practice on Sunday was former Arizona Cardinals running back D.J. Foster. The Arizona State standout has time working against him, but he quickly put his skills on display at practice, showing his quick feet and soft hands catching the football. Foster has been very proactive in speeding up the process. He booked an immediate flight to get to his new team, presented them with a negative COVID test and made his way through quarantine in rapid fashion. Foster is fighting against the clock, so he's looking to make the most of the time he has to impress. Sunday saw him get off to a flying start.
Subscribe to our
CFL News Hub YouTube Channel
. Get breaking news and the latest CFL news. Plus the CFL Week In Review Podcast.
---