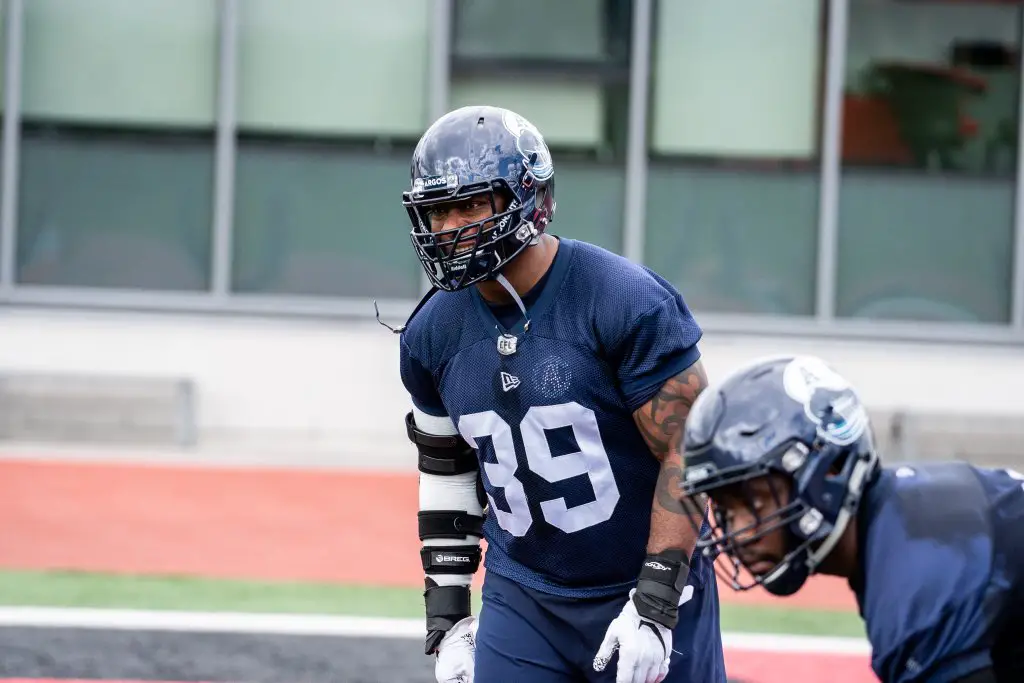 The Toronto Argonauts and the CFL are officially back on the field. After nearly two years away, the Canadian Football League and their teams opened training camp on Saturday. Day One of training camp at the University of Guelph for the new-look 2021 Toronto Argonauts is in the books, and there was plenty of news and notes from the day's events as the Double Blue embarks upon what should be a season like no other in the history of the CFL.
Before the day started, the Toronto Argonauts had to pare down their roster to 100 for training camp. Some of the American players listed on the Argos training camp roster helped management by making that decision for them by not showing up or retiring like veteran RB Bishop Sankey. The team announced several other transactions early on Saturday that brought them to the team limit.
In the case of Canadian players Nelkas Kwemo, Nick Shortill, and Robert Woodson. The door has been left open for them to return later on down the line possibly.
The door is also open for former Pittsburgh Steelers and Raiders Wide Receiver Martavis Bryant, who has passport issues and is hoping to join the team later. The enigmatic receiver will have an uphill battle of making Toronto's roster with no preseason games and little time to spare with the season less than a month away.
The coaching staff led by Ryan Dinwiddie will also have their work cut out for them as they try to speed up the learning curve for their players in preparation for the team's season opener at Calgary on August 7th. Toronto has an entirely new coaching staff that has experienced even more change in the last few days with the return of defensive strategist Rich Stubler and the exit of defensive assistant Mike Davis.
The multiple-time Grey-Cup winning Stubler will assist Argos DC Glen Young, most likely with the teams' defensive line. Stubler can't get to work immediately at camp until he spends two more days in quarantine. A sign of the times and evidence of how unique the CFL universe will be this season.
Another high-profile acquisition by Toronto, reigning CFL MOP Henoc Muamba, also couldn't participate on Day One because of quarantine rules. Muamba told the media on Saturday that he is anxious to get out there with his teammates and get to work towards winning a championship with the Argonauts. Muamba feels that Toronto was the right destination for him to accomplish his goal of winning a Grey Cup.
Saturday was Ryan Dinwiddie's first official workday on the field as a first-time head coach, and during his zoom presser after practice, he admitted to the media that he was nervous heading into day one.
"I didn't sleep well last night," "I was a little bit nervous. I wanted to make sure practice was crisp. You don't want to have a sloppy practice so I woke up about every 15 minutes with something different on my mind." Just anxious to get back out there and get going"
Some notes from Ryan Dinwiddie's zoom call with the media after practice: Dinwiddie told reporters about the difficulties of using practice time to split up reps evenly among players. His staff will rely upon analytics, film, and intangibles to make crucial roster decisions when camp ends. The new head coach talked about the challenges of having so many players working together for the first time but feels that the team has a good mix of veterans who have played with each other. Many of the team's coaches have also worked together in the past. So Dinwiddie is hoping that it helps smooth the transition in what will be a truncated process.
Dinwiddie also told reporters that he is breaking up reps into two ten-day sections for veterans and less experienced players with the idea of resting veterans at the tail end of camp to save them from injuries as the team gets closer to the regular season. When asked about what he thought of the Argos quarterbacks, Dinwiddie said he is very comfortable with McLeod Bethel-Thompson and Nick Arbuckle. The coach confirmed that they are in a competition, and he was pleased with how crisp both players looked on the first day of practice.
For his part, Nick Arbuckle told the media on Saturday how excited he was to be taking first-team reps at quarterback for the first time since 2015. Arbuckle was extremely pleased with his performance in practice and was happy to be at the controls of the Argos offence. Arbuckle discussed the advantages of working in this offense in the past and with head coach Ryan Dinwiddie in Calgary and how it will help him in a shortened camp with no preseason games.
Many of the Argonauts like Nick Arbuckle came away from day one with a great feeling of being back in action playing again. The business of football in Canada is officially back. Normally, the first day of training camp comes and goes with very little fanfare. Still, I think that under the circumstances of how everyone arrived at this point, even Allen Iverson would say that Saturday was more than just talking about practice.
Subscribe to our
CFL News Hub YouTube Channel
. Get breaking news and the latest CFL news. Plus the CFL Week In Review Podcast.
---