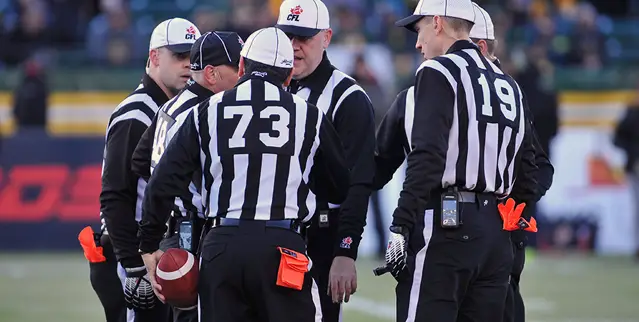 Per Mark Schultz of 'FootballZebras.com,' the NFL-CFL officiating exchange will not occur for the 2021 season due to the US-Canada border still being closed. Even if the border was to open as soon as tomorrow, it is too late to figure out the logistics of the exchange for the coming season of both leagues.
The NFL-CFL Officiating Development Program has helped give NFL and CFL refs more experience since 2016. The program has allowed several NFL officials to work CFL games late in the summer, while allowing CFL officials to observe and receive training from NFL officials and even work NFL preseason games. In 2017, CFL officials also had a hand in the NFL's experiment of adding a "middle judge."
Relative to other sports like basketball, baseball, and hockey, football has a significantly low number of games in a season, meaning refs have very few games to work and get hands-on experience. To give officials of both leagues more experience, the NFL-CFL officiating exchange was created.
Currently there is no official word if the program will continue in 2022 or not.
NFL officials who worked CFL games
Alan Eck – 2016
Jabir Walker – 2016
David Meslow – 2016
Dale Shaw – 2016
Alex Kemp – 2017
Brad Rogers – 2017
John Jenkins – 2017
Jim Quirk – 2017
Land Clark – 2018
Ryan Dickson – 2018
Mearl Robinson – 2018
Don Willard – 2018
Nate Jones – 2019
Keith Washington – 2019
Jimmy Russell – 2019
CFL officials who worked NFL games
Dave Foxcroft
Dave Hawkshaw
Justin McInnes
Brian Chrupalo
Rob Hand
Jason Maggio
Tom Vallesi
Rob Skaggs
Blair Brown
Tim Kroeker
Subscribe to our
CFL News Hub YouTube Channel
. Get breaking news and the latest CFL news. Plus the CFL Week In Review Podcast.
---