TORONTO (October 19, 2021) – Rene Paredes, Jake Wieneke and David Menard were named the CFL Top Performers of the Week for Week 11 of the CFL's 2021 season.
The three players were chosen by a panel of judges made up of former CFL players Matt Dunigan and Duane Forde of TSN, as well as Pierre Vercheval of RDS, who independently send their selections to the CFL head office.
K | RENE PAREDES | CALGARY STAMPEDERS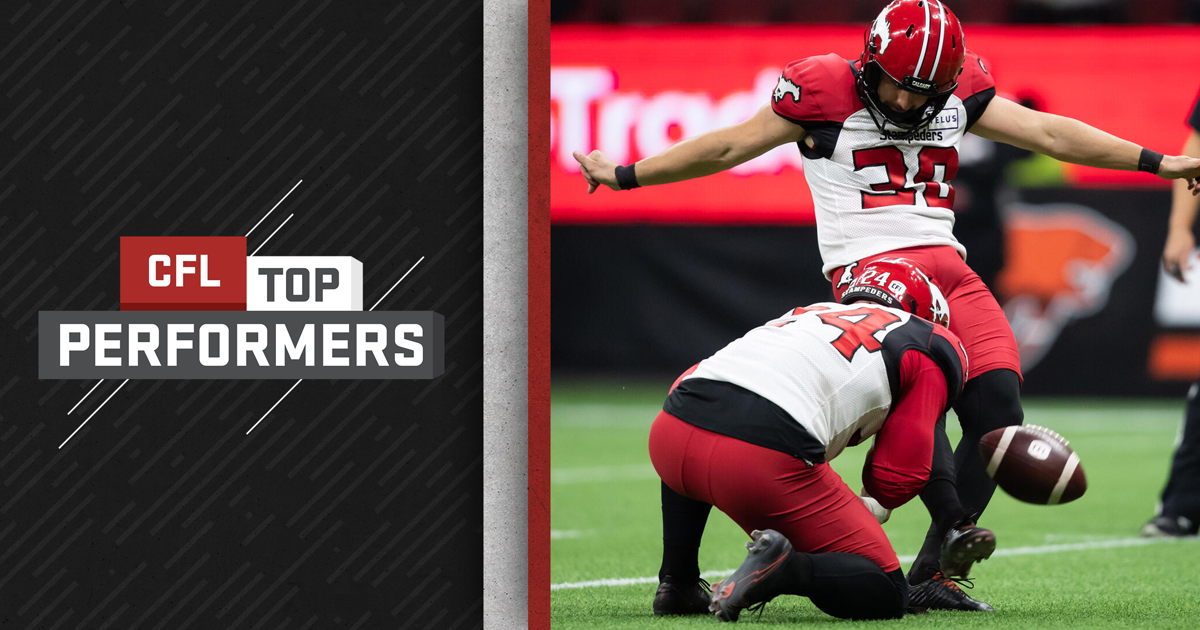 Rene Paredes scored 21 points as Calgary claimed a convincing 39-10 road win over the BC Lions.
The former Concordia Stinger matched a career-high by hitting all six of his field goal attempts, with makes from 17, 18, 28, 39, 42 and 45 yards away. The 10-year CFL veteran also added three converts, while averaging 61.7 yards on six kickoffs.
This season, Paredes has successfully kicked 35 of 39 field goals (90 per cent), while hitting all 15 of his convert attempts.
WR | JAKE WIENEKE | MONTREAL ALOUETTES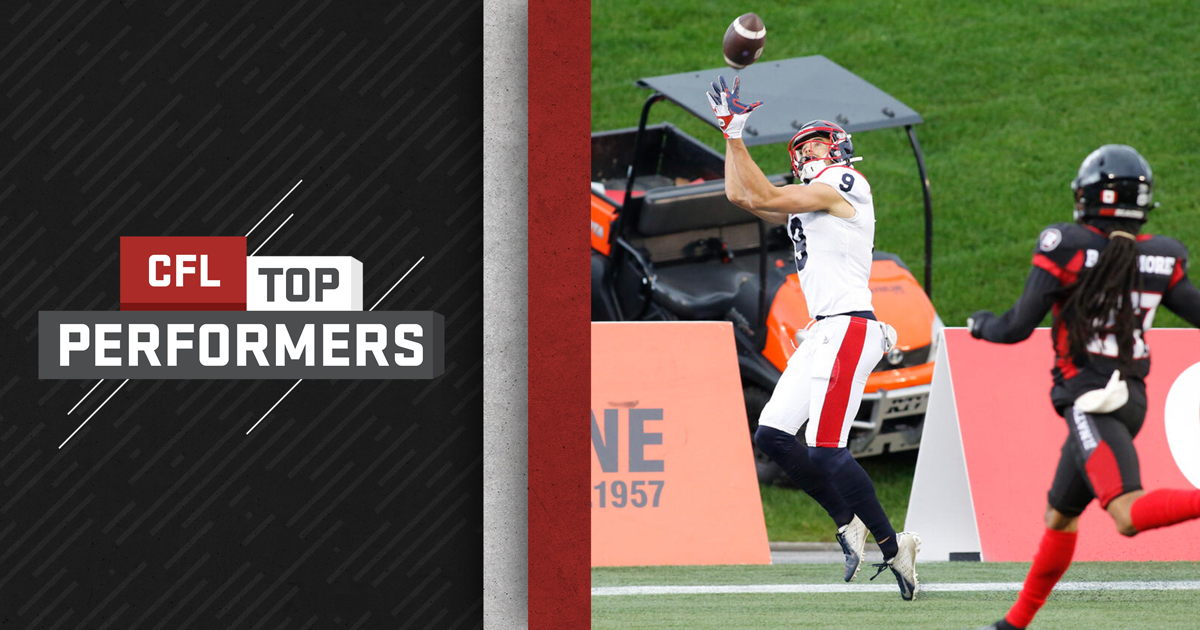 Jake Wieneke recorded seven receptions for 114 yards and scored a touchdown in Montreal's 27-16 victory over the REDBLACKS. It was his fourth game this season with 100+ receiving yards.
Matthew Shiltz connected with Wieneke for a 50-yard touchdown in the second quarter to extend the Alouettes' lead to 21-10. In nine games this year, the South Dakota State product has 44 receptions for 705 yards (16 yards per reception).
Wieneke leads the league with eight receiving touchdowns, and is on pace for his first 1,000-yard campaign in his second season in the CFL.
DL | DAVID MENARD | MONTREAL ALOUETTES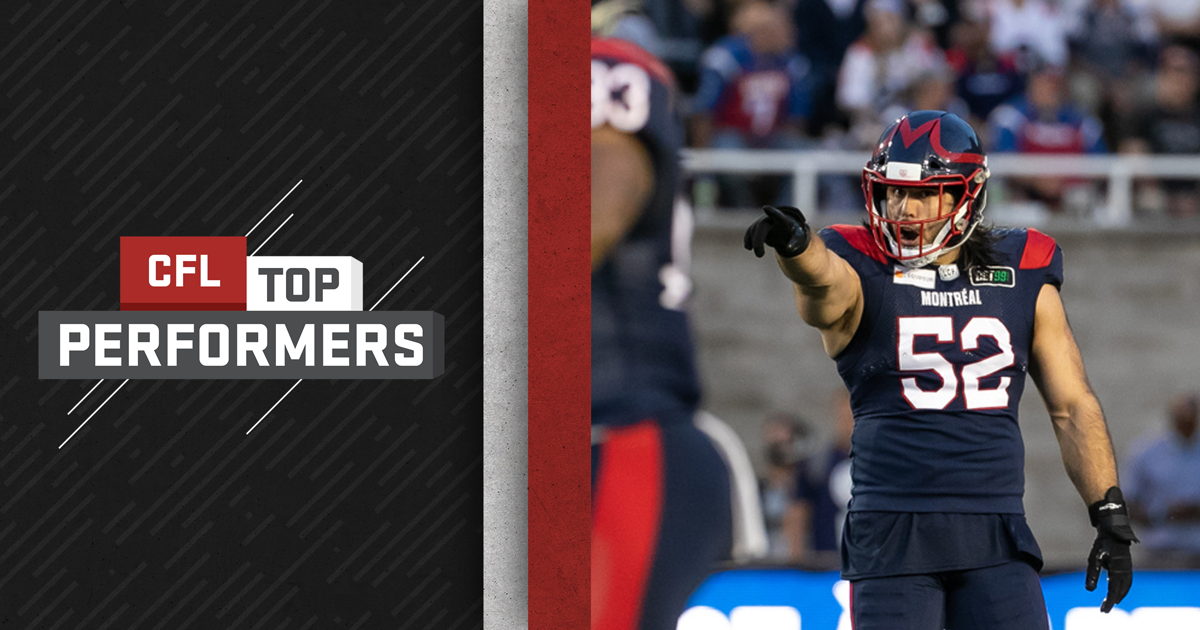 David Menard recorded two sacks, two tackles and a forced fumble as the Alouettes extended their winning streak to three.
In the second quarter, the former Montreal Carabin brought down Ottawa quarterback Caleb Evans; the ensuing forced fumble led to an Alouettes field goal, which put the away side comfortably ahead 25-10.
With the pair of sacks, the Chicoutimi, Que., native tied his career-high of six, established in 2015. The seven-year veteran has 11 defensive tackles on the year and needs one more to match his personal best.  
Fans' Choice of the Week!
Andrew Harris won Week 10 of Fans' Choice of the Week and collected 10 bonus points.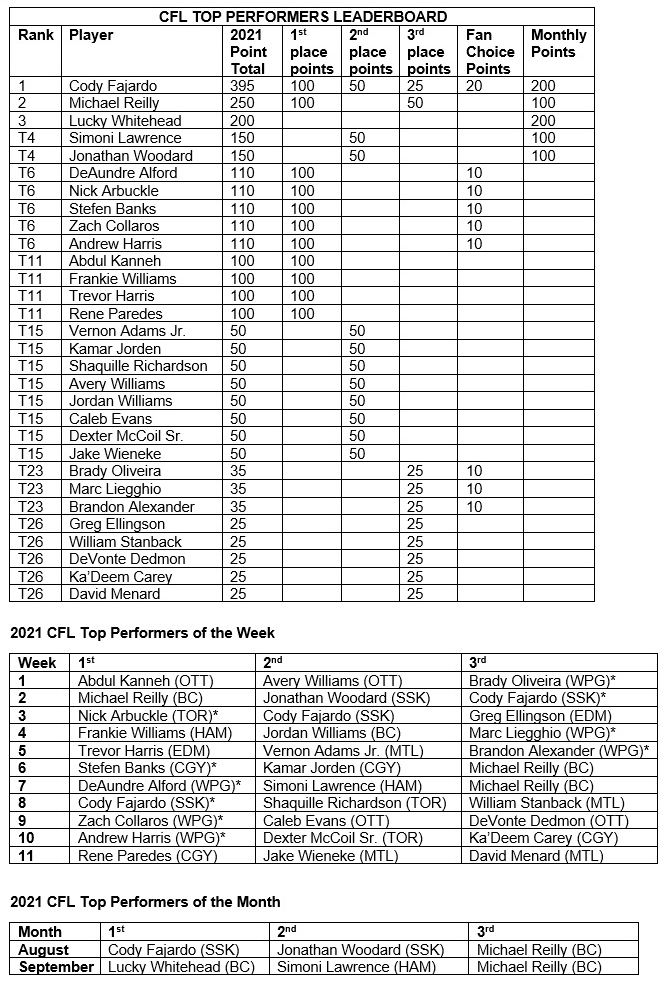 Subscribe to our
CFL News Hub YouTube Channel
. Get breaking news and the latest CFL news. Plus the CFL Week In Review Podcast.
---