Nick Arbuckle, Cody Fajardo and Greg Ellingson named CFL Top Performers
TORONTO (August 24, 2021) — Nick Arbuckle, Cody Fajardo and Greg Ellingson were named the CFL Top Performers of the Week for Week 3 of the CFL's 2021 season.
The three players were chosen by a panel of judges comprised of former CFL players Matt Dunigan and Duane Forde of TSN, as well as Pierre Vercheval of RDS, who independently send their selections to the CFL head office.
QB | NICK ARBUCKLE | TORONTO ARGONAUTS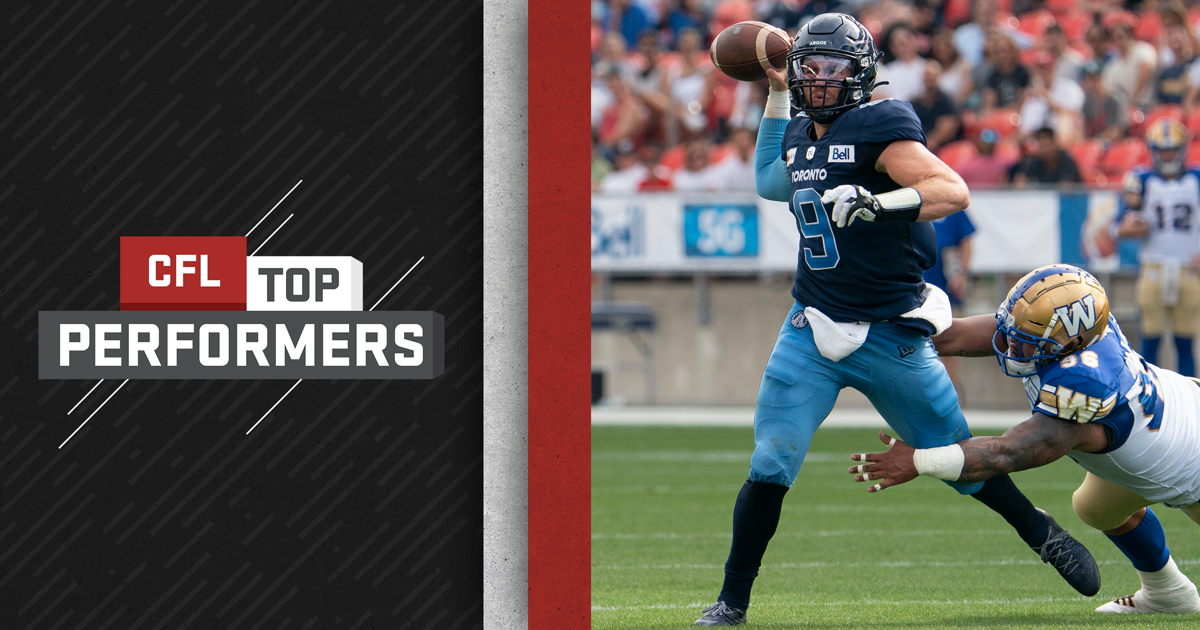 Nick Arbuckle passed for more than 300 yards in his first start as a Toronto Argonaut to help the team secure a victory in their home opener at BMO Field on Saturday afternoon.
Arbuckle completed 23 of 32 passes (71.9%), passed for 310 yards and scored two touchdowns (one pass and one rush) in the Argonauts' 30-23 victory over the Winnipeg Blue Bombers.
Arbuckle connected for his first passing touchdown as an Argonaut late in the first half when he connected with Davaris Daniels for the 35-yard strike to give the home side a 22-14 lead into the half.
The Georgia State alum, scored on a one-yard plunge midway through the third quarter to give the Argonauts a 28-15 lead. 
In what was his eighth start in the CFL, it was his fourth time passing for 300+ yards in a game.
QB | CODY FAJARDO | SASKATCHEWAN ROUGHRIDERS
Saskatchewan Roughriders quarterback Cody Fajardo made it back-to-back weeks being named as a CFL Top Performer.
Fajardo passed for 321 yards, completing 85.7% of his passes to help Saskatchewan become the lone team in the CFL that's still undefeated. It marked the first occasion in 2021 that he has passed for more than 300 yards.
Fajardo showed off his running ability in the game by rushing for 47 yards on nine rushes and scored a touchdown from two yards out in the third frame.
Through three games, Fajardo has passed for 773 yards, completed 78.9% of his passes and has scored six touchdowns (four pass, two rush).
WR | GREG ELLINGSON | EDMONTON ELKS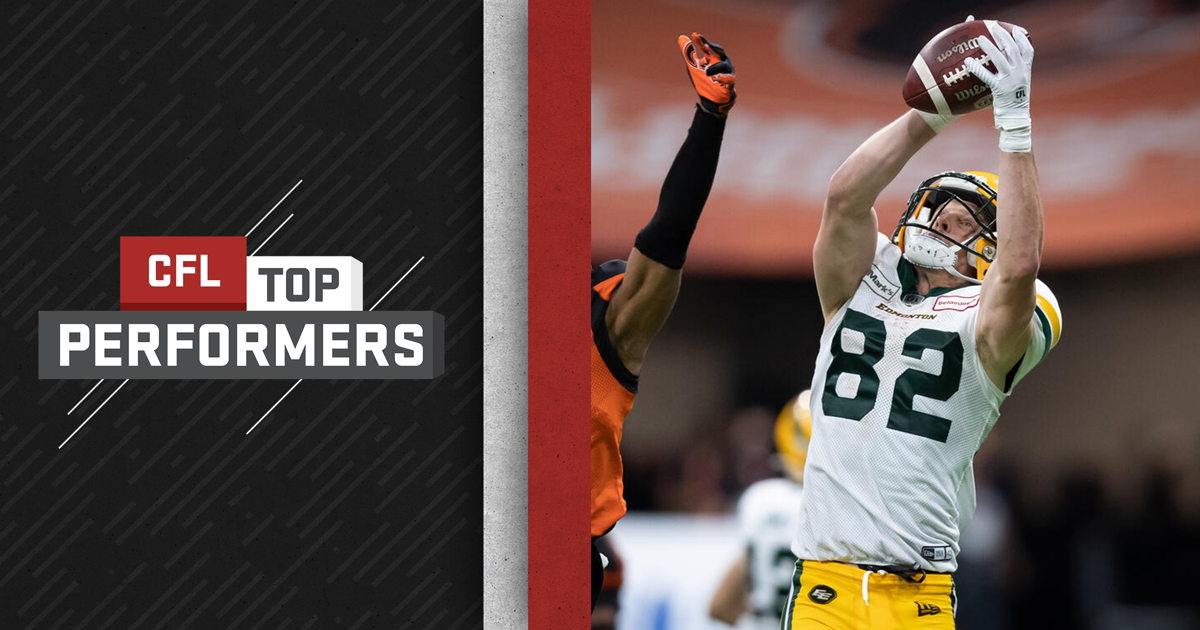 Edmonton Elks' wide receiver Greg Ellingson recorded his 24th career 100+ yard game to help Edmonton get their first victory of the season in BC.
Ellingson had an impressive game recording nine receptions for 148 yards including a highlight reel catch that went for 37 yards.
In the game Ellingson caught three passes on second downs that continued the series and added 44 yards after the catch.
On the season, Ellingson has 15 receptions for 201 yards. He is also the current active leader in receiving yards in the CFL with 7,466. 
Fans' Choice of the Week!
Cody Fajardo won Week 2 of Fans' Choice of the Week and collected 10 bonus points.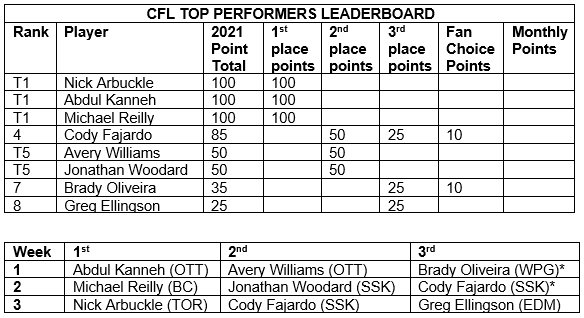 Subscribe to our
CFL News Hub YouTube Channel
. Get breaking news and the latest CFL news. Plus the CFL Week In Review Podcast.
---