CFL TOP PERFORMERS – OCTOBER
Ménard, Collaros and Masoli named CFL Top Performers
TORONTO (November 3, 2021) – David Ménard, Zach Collaros and Jeremiah Masoli were named the CFL Top Performers of the month for October of the CFL's 2021 season. The selections include all appearances from Weeks 9 to 13.
The three players were chosen by a panel of judges made up of former CFL players Matt Dunigan and Duane Forde of TSN, as well as Pierre Vercheval of RDS, who independently send their selections to the CFL head office.
DL | DAVID MÉNARD | MONTREAL ALOUETTES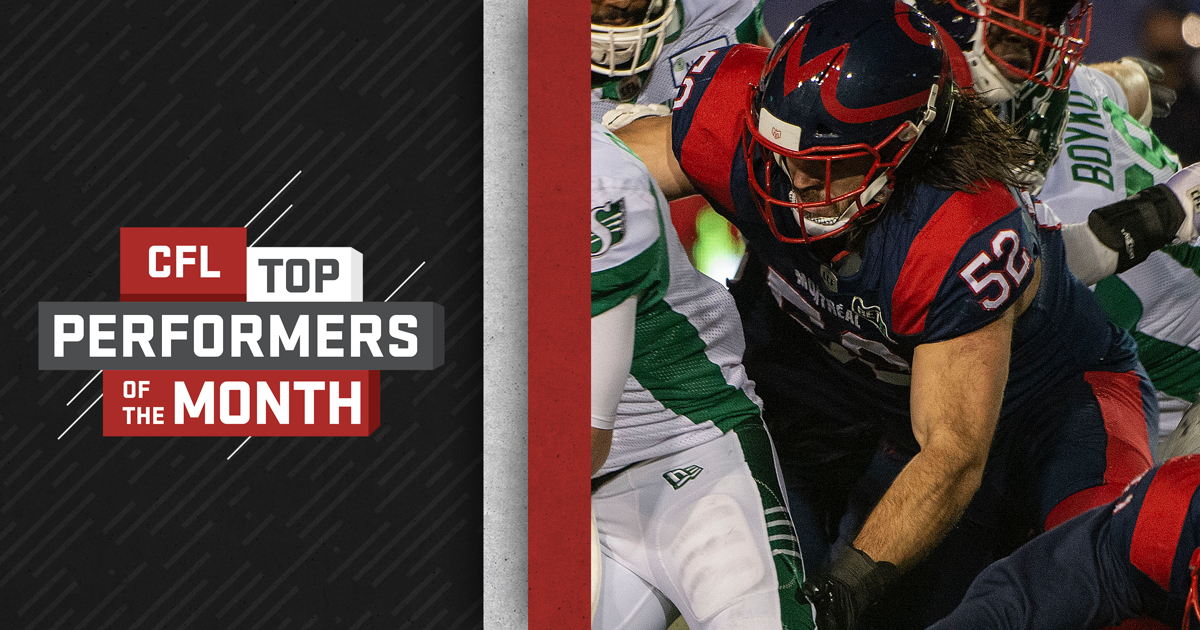 David Ménard totaled six sacks, nine tackles and two forced fumbles across five October contests as Montreal went 4-1. He collected at least one sack in each game this past month.
The Chicoutimi, Que., native was named a CFL Top Performer in Week 11 after notching two sacks, two tackles and a forced fumble in the Alouettes' 27-16 victory over the Ottawa REDBLACKS.
Through 11 games this season, Ménard has established new personal bests in sacks (eight) and defensive tackles (13).
QB | ZACH COLLAROS | WINNIPEG BLUE BOMBERS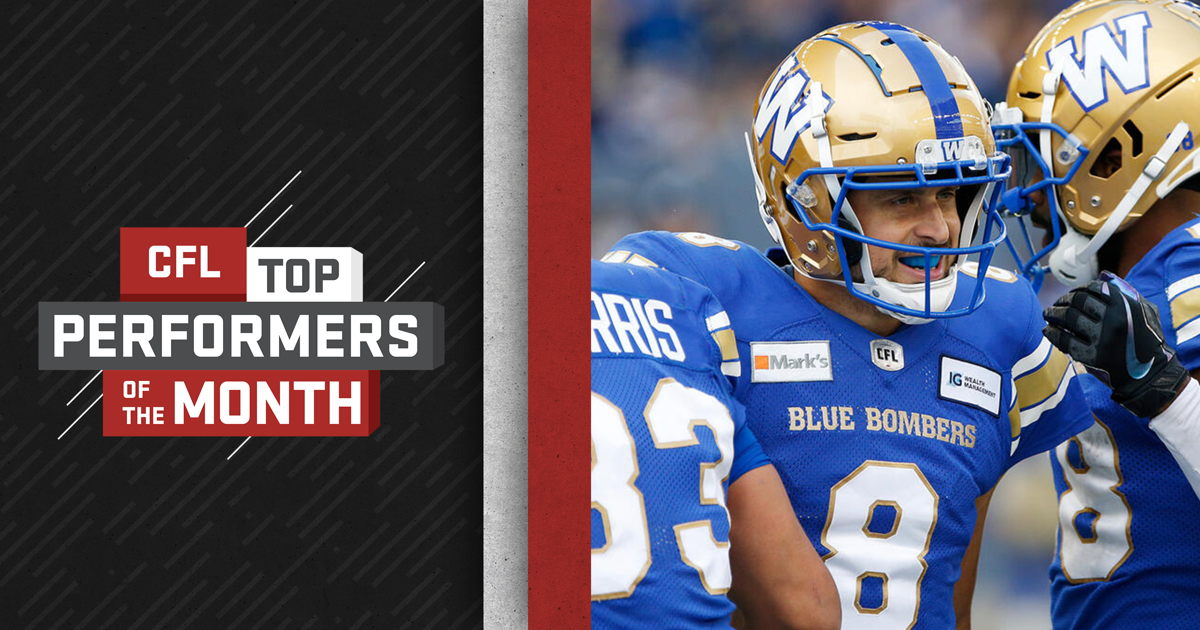 Zach Collaros led Winnipeg to a perfect 4-0 mark this past month as Winnipeg clinched first place in the West Division. The former Cincinnati Bearcat completed 72.1 per cent of his passes for 1,101 yards and eight touchdowns in October.
Collaros earned a Top Performer nod in Week 9 after recording the second 400+ passing yard game of his career with a 28-for-33 showing and a CFL season-high 417 yards. In Week 12, he completed 80 per cent of his passes en route to 267 yards and a trio of touchdowns as Winnipeg posted a dominating 45-0 shutout over BC.
This season, Collaros leads the league in completion percentage (71 per cent), passing yards (2,832) and passing touchdowns (18).
QB | JEREMIAH MASOLI | HAMILTON TIGER-CATS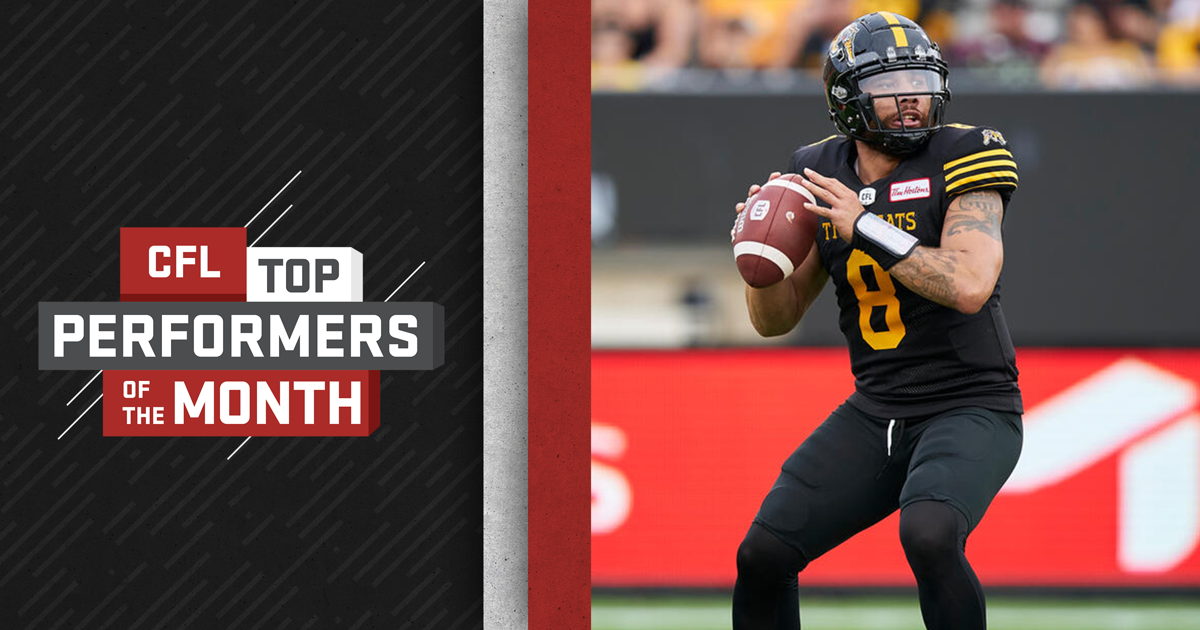 Jeremiah Masoli led Hamilton to a 2-2 record in October and the Tiger-Cats now sit one win away from clinching a playoff spot.
In four games this past month, Masoli went 89-of-118 (75.4 per cent) for 1,261 passing yards and seven touchdowns, including a stretch of three consecutive matches with over 300 yards through the air. He also added 99 rushing yards in October.
In Week 10, he passed for 361 yards and two touchdowns in a narrow 24-23 defeat at the hands of the Toronto Argonauts. He concluded the month with a 17-of-24 performance (70.8 per cent) for 357 passing yards and three touchdowns, while registering a perfect 158.3 efficiency rating. That Week 13 showing garnered him a Top Performer of the Week honour.
In nine games this season, Masoli has recorded 1,638 passing yards, 126 yards on the ground and nine touchdowns (eight pass and one rush).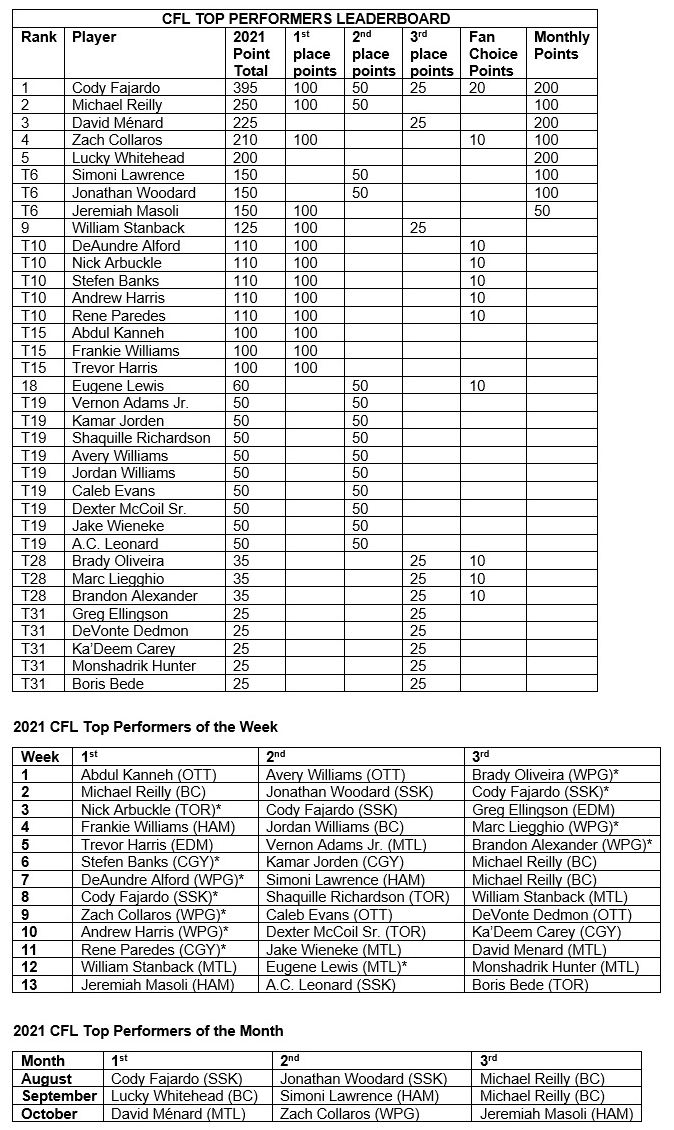 Subscribe to our
CFL News Hub YouTube Channel
. Get breaking news and the latest CFL news. Plus the CFL Week In Review Podcast.
---