BC at Hamilton will be on TSN, RDS, ESPN+, BT Sport 3 and Yare.
Saskatchewan at Edmonton will be on TSN, ESPN+, BT Sport 3 and Yare.
Toronto at Ottawa will be on TSN, RDS2, ESPN+ and Yare.
Montreal at Winnipeg will be on TSN, RDS, ESPN+, BT Sport 3 and Yare.
PLAYOFF SCENARIOS
West Division
No team can clinch a playoff spot this week
East Division
Montreal WIN or BC LOSS = Montreal clinches a playoff spot
Hamilton WIN or TIE = Hamilton clinches a playoff spot
REMAINING SCHEDULES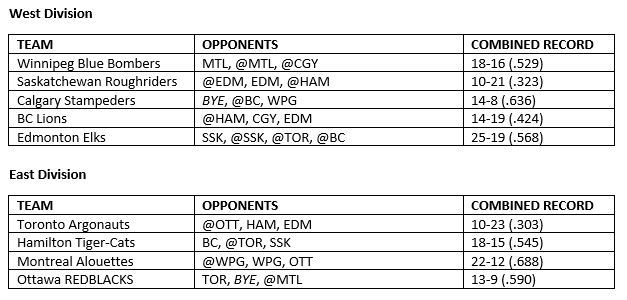 MR. PERFECT
Jeremiah Masoli recorded a perfect 158.3 efficiency rating last week against Edmonton, finishing with 357 yards on 17-of-24 passing and three touchdowns.
It was the second time in his career that he has notched a perfect rating in a game with the first coming on Sept. 8, 2018 versus Toronto.
Masoli became the fourth quarterback this seasontops to accomplish the feat:

Zach Collaros on Oct. 23 vs. BC: 16-for-20 – 267 passing yards – 3 TDs
Michael Reilly on Sept. 11 vs. OTT: 22-for-26 – 319 passing yards – 4 TDs – 1 INT
Vernon Adams Jr. on Sept. 3 vs. OTT: 18-for-23 – 288 passing yards – 4 TDs

In 2019, the only player to achieve a perfect game was Reilly.
SHOWDOWN AT IG FIELD
The top two offences will square off in Winnipeg this week with the Alouettes in town. The two teams sit first or second in the following offensive categories:

Trevor Harris will be making a start for his fourth CFL club. As a starter against Winnipeg, he is 2-5 with 10 touchdown passes to only 2 interceptions.
Zach Collaros leads the league in passing yards (2,832), completion percentage (71 per cent) and touchdowns (18). He is looking to become the first Blue Bomber to top the league in passing since Kevin Glenn in 2007. Collaros owns a record of 4-6 in 10 career starts against Montreal.
Against the Alouettes, Collaros has 10 touchdowns and 11 interceptions.
Zach Collaros (19,811) is 189 yards shy of 20,000 in his career.
QUICK SLANTS
Edmonton starts a back-to-back set with Saskatchewan this week. The Elks need to win their remaining games to keep their playoff hopes alive, but they haven't won two games against the Roughriders in consecutive weeks since 1957.
Saskatchewan will be looking for its second three-game win streak of the season. A win will ensure they finish above BC this season.
Saskatchewan has only two turnovers in its last three games and is +9 over that stretch.
BC is 3-3 on the road this season, while Hamilton is 3-2 at Tim Hortons Field. As starters, Michael Reilly owns a career record of 6-7 against Hamilton, and Jeremiah Masoli is 2-2 versus BC.
In 2019, Hamilton swept the series against BC, however they were close one- and three-point victories.
Masoli has not thrown an interception in his last 118 pass attempts – the second longest streak of the season. Michael Reilly reached 127 attempts before throwing an interception.
With 252 passing yards, Masoli can reach 15,000 in his career. He needs 317 yards to surpass Don Jonas (15,064) for No. 50 on the all-time list.
Toronto has won its last four games against Ottawa and seven of its last eight. McLeod Bethel Thompson is a perfect 5-0 against the REDBLACKS in his career.
Calgary kicker, Rene Paredes has made 40 field goals for the sixth consecutive season.
Montreal's William Stanback (960) is 40 yards away from his second 1,000 rushing yard season in the CFL. Teammate, Eugene Lewis (869), is 131 yards away from his second career 1,000 receiving yard season.
Last week, Greg Ellingson recorded his third 100+ receiving yard game of the season, and the 26th of his career. This season, he has 687 yards and is looking to make it six-straight seasons with 1,000+ receiving yards.
Boris Bede leads the league with five 50+ yard field goals on the season, after adding two more last week against the BC Lions. Sean Whyte and Lewis Ward are the only other players to have multiple 50+ yard field goals in a game this season.
BC's Stefan Flintoft leads the league in punting average with 48.8 yards per punt. Ottawa's Richie Leone leads the league in net punting with a 41.4 yard per punt average.
DeVonte Dedmon leads the league with 1,914 combined yards. Second is Toronto's Chandler Worthy with 1,133.
Last week, Montreal recorded its third game of the season with five or more players registering a sack. In Week 11 against Ottawa, the Alouettes set a club record with 10 sacks in a game. They have had at least four sacks in each of the past five games, and a total of 28 on the season.
Calgary's Darnell Sankey (77) leads Ottawa's Avery Williams by two defensive tackles for the league lead. Sankey tops the CFL in defensive plays with 85.
Ottawa's Lewis Ward has made his past 14 field goal attempts – the longest active streak in the league. Last week, he moved above the 90 per cent mark for made field goals, joining Paredes (90.9 per cent).
Subscribe to our
CFL News Hub YouTube Channel
. Get breaking news and the latest CFL news. Plus the CFL Week In Review Podcast.
---