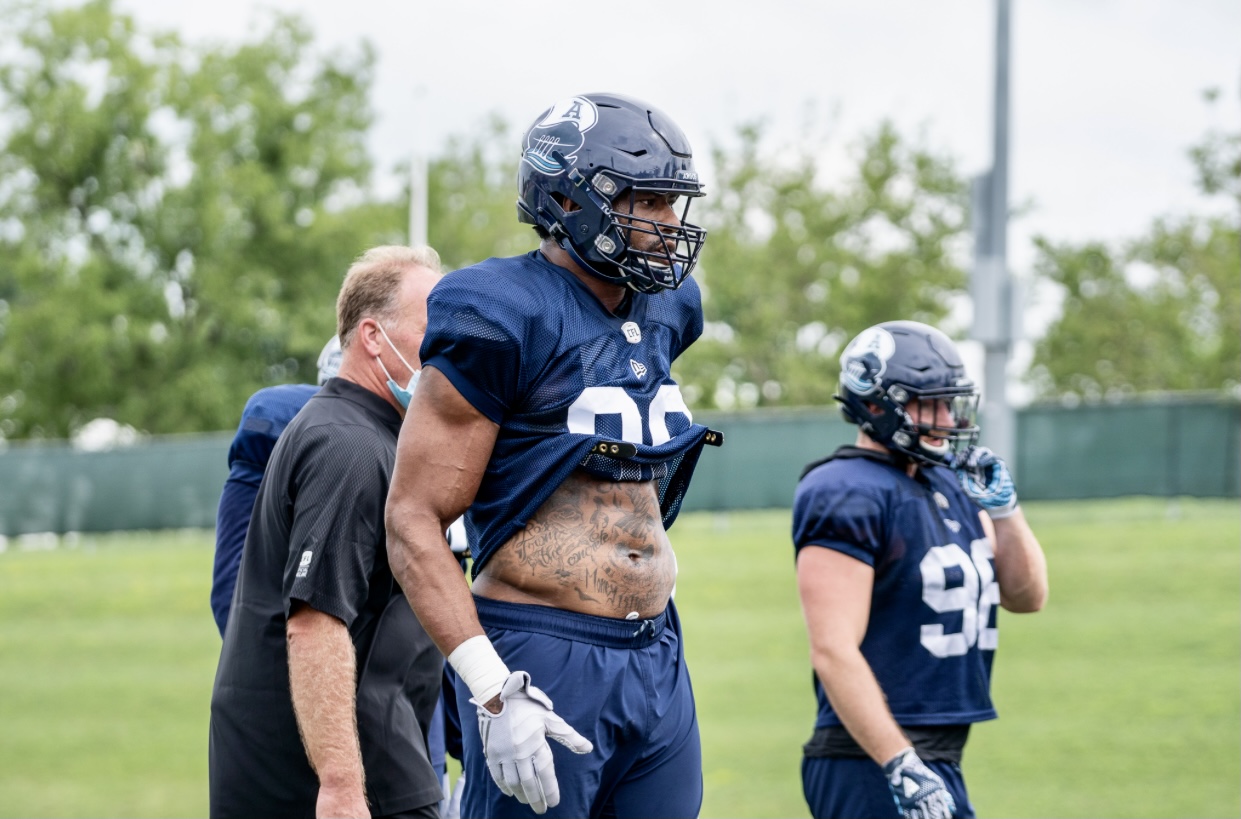 Day 3 of training camp for the Toronto Argonauts is in the books, and for the second day in a row, it was the Double Blue's defence that continued to shine. Argos head coach Ryan Dinwiddie told the media after Monday's practice that the team's defence took it to their offence on Sunday and started really fast on Monday, flying around on all three levels and "had a hell of a day today."
The Boatmen had some serious reinforcements on the defensive side of the ball, come off of quarantine, and make their training camp debuts in the last two days. Starting with the CFL's reigning Most Outstanding Player Henoc Muamba, but two high-profile American players made their presence known at practice today in former Denver Broncos first-round pick edge rusher Shane Ray and Baylor standout defensive linemen Shawn Oakman.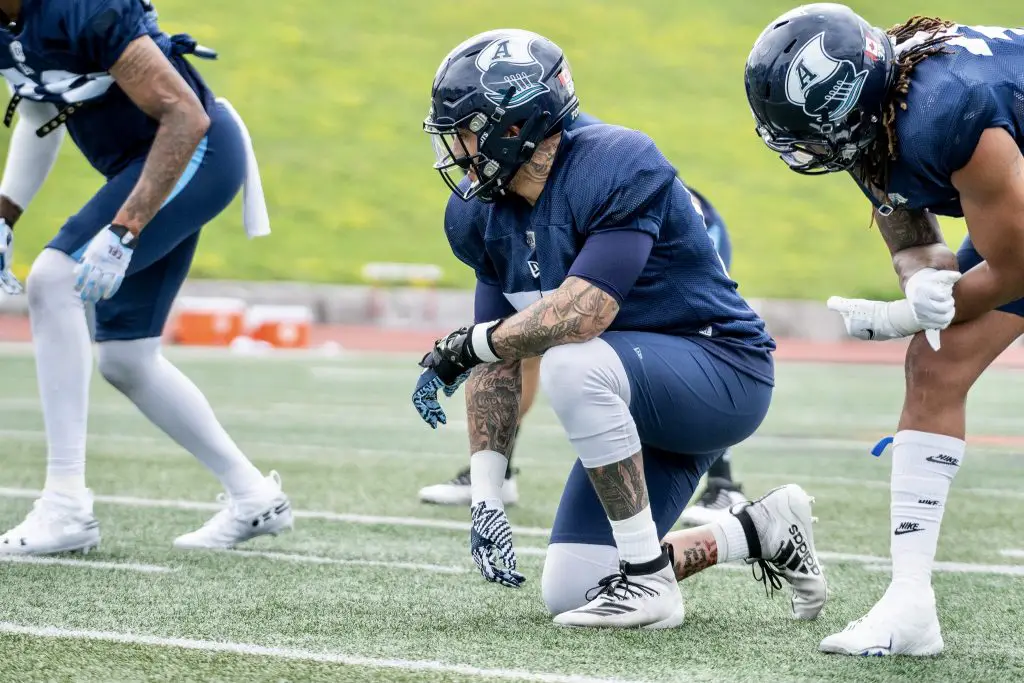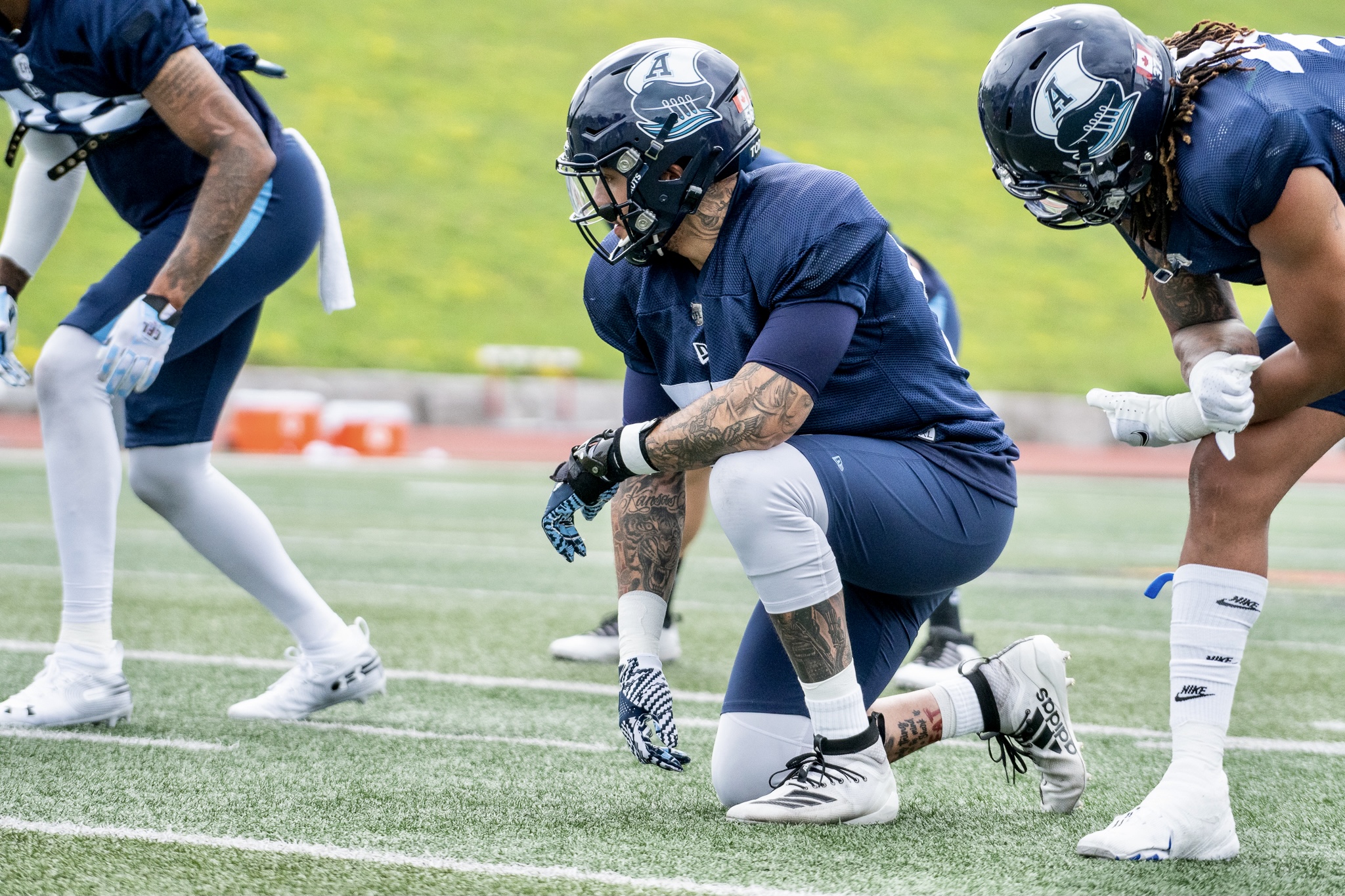 According to Argonauts writer Mike Hogan, Shawn Oakman returned a fumble for a touchdown during one of the group sessions, and Shane Ray was dominant in one-on-one drills against the Argos offensive line. Toronto has incredible depth on their defensive front with Charleston Hughes and Cordarro Law, projected as starters at DE, and Drake Nevis on the interior at DT. But Shane Ray and Shawn Oakman's talents are difficult to ignore.
Most American newcomers have an uphill battle, adjusting to the Canadian game, and beating the odds and the ratio to make a roster. And with no preseason games this year, players like Shane Ray and Shawn Oakman have to bring their very best in practice and put on a show to find their way onto the team. In the case of Ray, who did not live up to his billing in the states, he is still only 28 years old and did flash enough in the NFL (an 8 sack season) that he's fully capable of realizing his potential north of the border. Shawn Oakman has position flexibility, and at 6'8 280, could play on the inside at defensive tackle if needed.
Another American player who has an impressive NFL resume, wide receiver Kendall Wright, had his status updated today by HC Ryan Dinwiddie during Monday's zoom scrum. When asked by Ben Grant of X's and O's about Wright's status on the suspended list. Dinwiddie left the door open for Wright to make his way into camp. The former Tennessee Titans first-round pick is having passport issues, and the Argos coach admitted that a late arrival to camp by Wright could hinder his chances of making the roster.
Toronto Argonauts HC Ryan Dinwiddie was also asked about the team's starting quarterback on day one and if the job belongs to Nick Arbuckle, based on their experience together. Dinwiddie says that he told both Nick Arbuckle and McLeod Bethel-Thompson, "I'm going to play the best quarterback." The Argos head coach loves the teams' depth at the position and the assurance that if they lose a quarterback, it won't ruin their season.
Both of the Argos quarterbacks made strong statements off the field on Monday. Nick Arbuckle raved about his experience three days into camp, telling the media, "We have a great team, there are so many talented players, but this is the best locker room environment that I've been a part of in my years of playing."
McLeod Bethel Thompson, who made arguably the best play of camp so far with a 45-yard touchdown pass to Llevi Noel on Monday, spoke so confidently to the press about where he is as a person and player at this stage of his career.  "I'm excited for my future. I'm throwing the ball better. I'm seeing the game better, and I'm focused on getting better every day. When I meet my future self, that's my true self. I'm still building myself as a human and as a football player."
Subscribe to our
CFL News Hub YouTube Channel
. Get breaking news and the latest CFL news. Plus the CFL Week In Review Podcast.
---