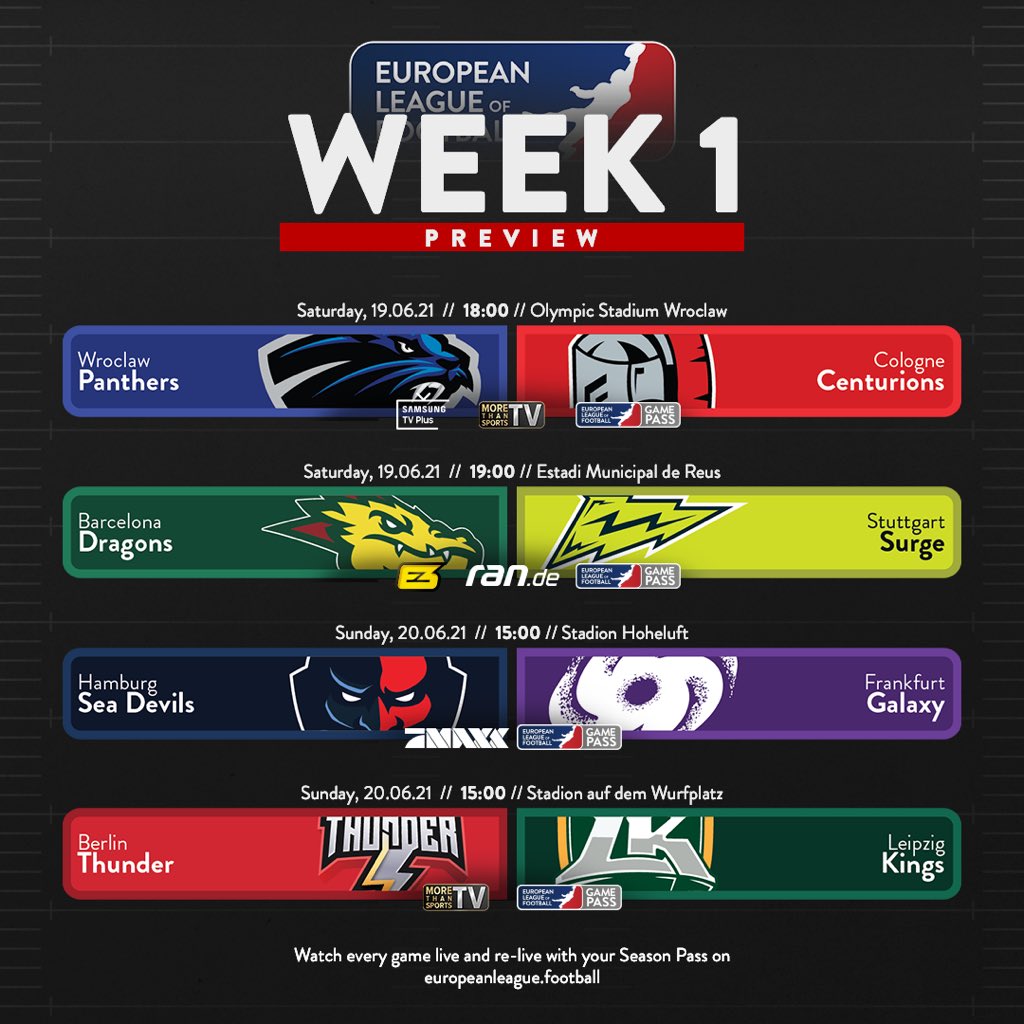 It's finally here! The European League of Football begins its inaugural season Saturday June 19th with two must-watch games.
You'll need to sign up for their package, which offers everything from full season setups at $118 US, to individual team packages at $47, and single game access at $5 per game.
The first day of Week 1 puts the Panthers Wroclaw vs the Cologne Centurions. The familiar players to watch here are former TSL and FCF RB Madre London (Centurions), CB Darius Robinson, former University of Washington WR Quinton Pounds, and former Gator RB Mark Herndon (Panthers).
The second game in Saturday is the Barcelona Dragons vs the Stuttgart Surge. You'll remember a lot of these names from the old NFL Europe league.
Players to watch for this game are former FCF TE David Meza (Surge) and former DIII star QB Zach Edwards (Dragons).
Sunday's games feature a rematch of the 2007 World Bowl, between the Hamburg Sea Devils and the Frankfurt Galaxy. This time, though, it'll just be for bragging rights, and who will end Week 1 with a W.
Players to watch for in that game are former UTEP CB Justin Rogers (Sea Devils), and CB Desmond Cooper (Galaxy).
The final game for Week 1 has the Berlin Thunder vs the Leipzig Kings. Players to watch I'm that game are former TSL DB Daniel Docal, and QB Michael Birdsong (Kings).
This begins another season of alternative/international football that will display high level talent. Hopes are high for this, at is it a brand new league, and promotion for it has been abundant.
The times for the games are listed below, in US ET:
Saturday
Panthers vs Centurions noon ET
Dragons vs Surge 1pm ET
Sunday
Sea Devils vs Galaxy 9am ET
Thunder vs Kings 9am ET
Subscribe to our
CFL News Hub YouTube Channel
. Get breaking news and the latest CFL news. Plus the CFL Week In Review Podcast.
---