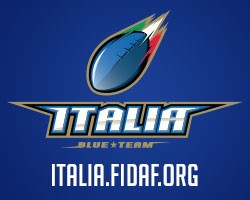 American Football International reported that last week the governing body of Italy's American Football (FIDAF) has issued a ban on European League of Football players.
This stems from a FIDAF rule set in place that says:
"The members have the duty not to participate in events or American Football competitions in all its specialties, disciplines and variants not organized, authorized nor approved by Fidaf or by the international organizations (IFAF) to which it belongs."
The report says that the ELF is not an approved league, and therefore players from that league are not permitted to play for the Italian national team, nor in any leagues based in Italy.
"The newly-formed European League of Football has never requested to be recognized either by FIDAF or by the International Federation of American Football, IFAF, and, therefore, any player registered in Italy for our Federation who decides to compete in the tournament organized by that League, will incur the sanction of disqualification."
While other contractual issues would bar players from jumping leagues in the offseason, players who are in the ELF but also were chosen to play for their native countries could fall under this rule.
The ELF had no comment, just to say that their mission is to "bring more joy to Europe" by playing football, but this could end up being something that we see other countries following.
Subscribe to our
CFL News Hub YouTube Channel
. Get breaking news and the latest CFL news. Plus the CFL Week In Review Podcast.
---