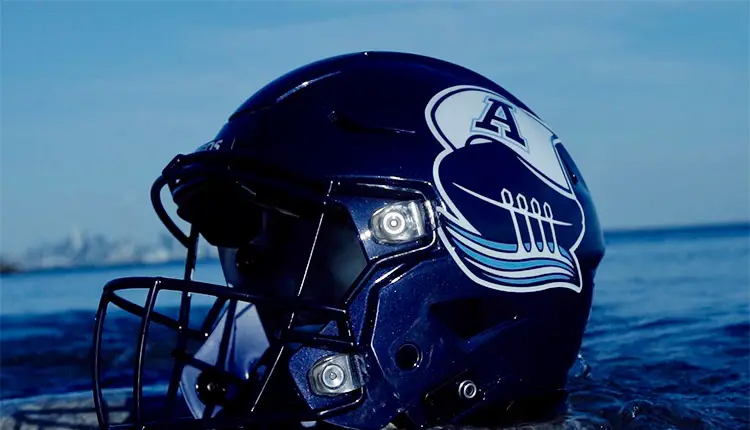 The Toronto Argonauts have added over 70 new players since they last played in 2019 and the 2021 CFL draft figures to add more key pieces to their overhaul.
Toronto Argonauts Team Overview
It's been two years since the Toronto Argonauts have played a game, and no team in pro sports has undergone as many changes as they have. On the field and off. Sports fans are accustomed to seeing teams have a lot of turnover from year to year, particularly when franchises come off losing seasons. But the Toronto Argonauts transformation is an unprecedented one, and it all started at the tail end of their 4-14 2019 season when the team brought back CFL and Argos legend Michael "Pinball" Clemons to take over as GM.
The boat is indeed back, but it's got a whole new cast of Argonauts on board. Starting with Ryan Dinwiddie, named the team's "new" head coach back in December of 2019. It must seem like a lifetime ago for the former Calgary Stampeders QB coach, who helped guide the career of one of the CFL's best quarterbacks, Bo Levi Mitchell.
Dinwiddie and his coaching staff are itching to get to work with their new players. The Argos "new" staff has Winnipeg Blue Bombers defensive assistant and former Argos player Glenn Young as defensive coordinator and former BC Lions Offensive Coordinator/QB coach Jarius Jackson at the controls of Toronto's offense. There will be no time to waste for the coaches and players to get up to speed with one another in what has been a very unique and extended offseason.
The Toronto Argonauts have an astonishing number of new players on their roster. Over 70, which doesn't include the over 30 who signed last season and were subsequently released. The two-year delay in play has played a considerable role in their roster transformation. There's no denying that, but, setting aside, Expansion and first-year league teams, no established pro sports team franchise has ever seen the amount of roster activity that the Argos have.
The Argos, who have had a long history of adding notable NFL names over the years, have followed that trend in recent months with the signing of players like former Carolina Panthers second-round pick DL Kony Ealy, LB Reshard Cliett, DL Shawn Oakman, WR Kendall Wright, and many others but their most significant additions have come through the ratio.
Toronto's most impactful pickups in the offseason were CFL All-Star WR Eric Rogers and two outstanding linebackers in Henoc Muamba and Cameron Judge. The experience and knowledge of Eric Rogers with Ryan Dinwiddie in Calgary could prove to be a great asset on the boundary in Toronto's new offense, especially since many of the Argos players will be playing in the system for the first time. Muamba and Judge are two of the CFL's very best defensive players who should vastly improve the Double Blue's defense. The CFL's top Canadian in 2019, Muamba, took a massive pay cut to play for his hometown Argos, And he is the type of player and person who can turn around the Argos losing culture.
Toronto Argonauts 2021 CFL Draft Preview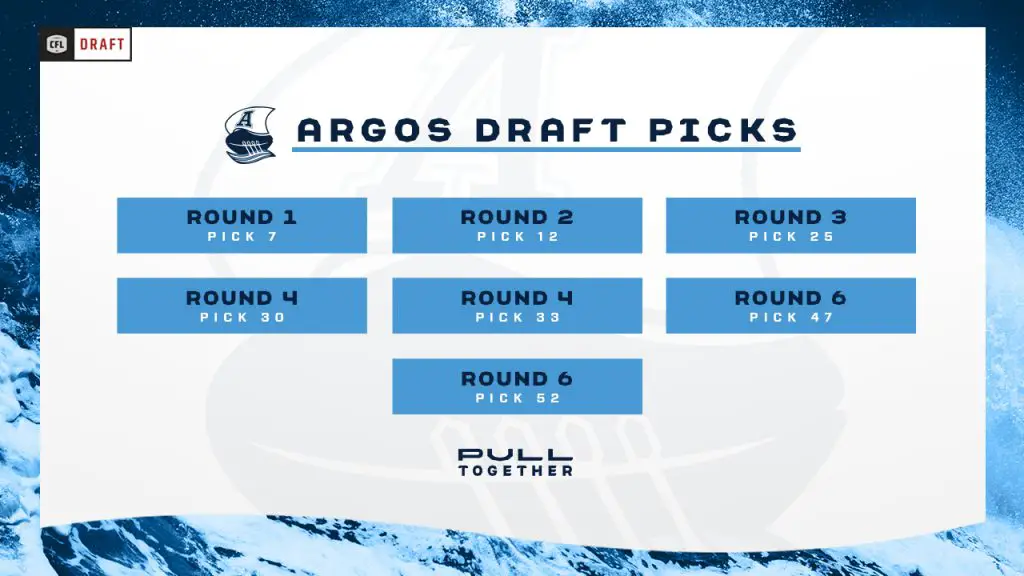 The Toronto Argonauts pick seventh and 12th in the 2021 CFL Draft, on a team that still has many key needs to fill, it's a good position to be in.
The unprecedented nature of the CFL's extended break from action is prevalent in the way teams will be unveiling two different draft classes in the same season, a "double cohort" of rookies are in play for 2021, and the Argos hope that they have a special player in receiver Dejon Brissett, a player they took second overall a year ago.
Because of the unique nature of the 2021 CFL Draft, the Toronto Argonauts are picking later in round one then normal due to a random draw. It's a position typically reserved for winning franchises that the Argos hope to be in for years to come. For that to become a reality, Toronto needs to find cornerstone players in the draft. For too long, the franchise has relied on quick fixes to their roster in free agency.
On defense, The Argos' main areas to address are their pass rush and the secondary. On the defensive line, Toronto signed several veterans upfront in recent months, but there is a need for youth. The linebacker position has become a strong point, but the Double Blue might not be done adding there. Adding more competition and talent in the back end of the Argonauts defense has to be a priority.
On offense, the Argos are asking Nick Arbuckle to captain the ship at Quarterback. Arbuckle's success will hinge on the supporting cast around him. Since the end of the 2019 season, the Argonauts have made several moves to bolster themselves up-front on the offensive line and wide receiver. Toronto could still look for more help on offense, but their defense appears to be the area that should be a major focus in the 2021 CFL Draft.
With that in mind, Here are some players that could be on the Argos radar in the draft.
DT- Mohamed Diallo, Central Michigan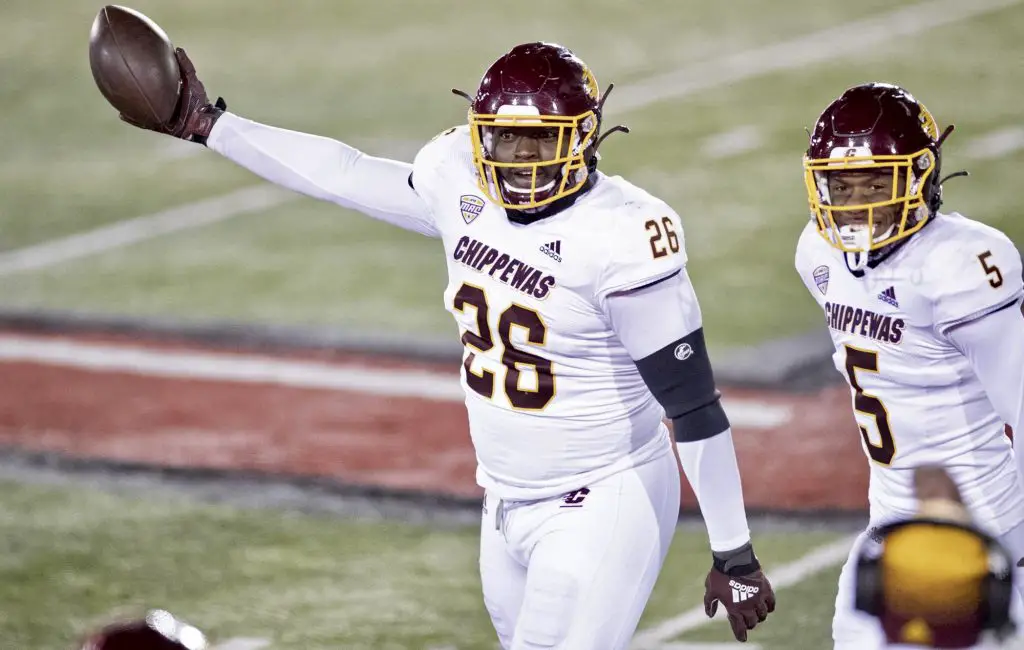 The odds are heavily against the 6'3 305lb Toronto native sliding to the seventh spot in the draft, but the Argos should pounce on Diallo if he were to fall to them. Mohamed Diallo, a first-team All-Mac player, who averaged nearly a sack a game at CMU, is a special athlete. The converted basketball player can be one of the CFL's top interior defenders if he makes the journey north of the border.
DE/LB- Deshawn Stevens, Maine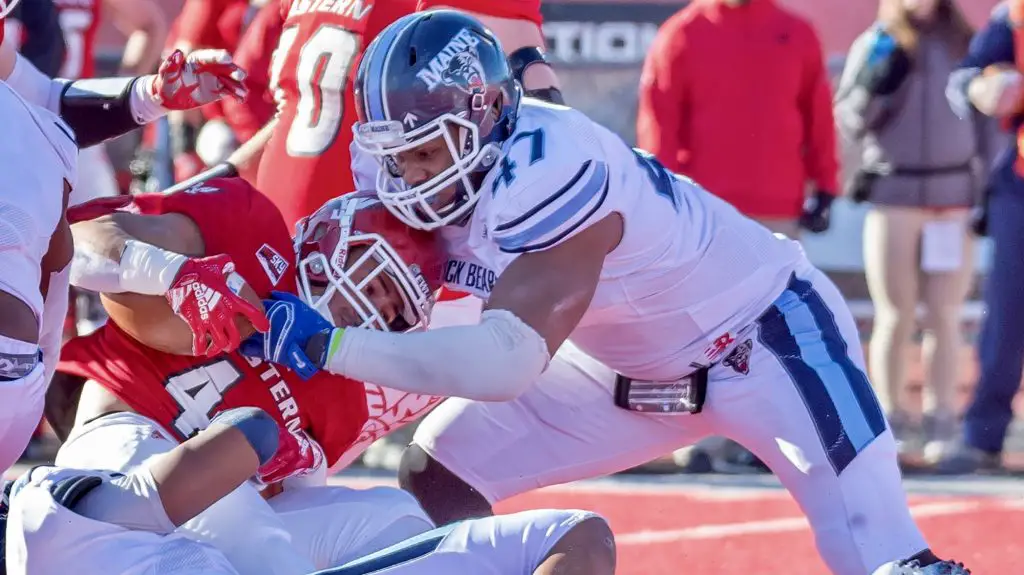 Another Toronto native who could be a target for the Argonauts at seven. Deshawn Stevens is an explosive tackler in the open field and has versatility against the run and pass. CFL teams like Toronto could decide to move him exclusively to the WILL position. The six-foot-two, 255-pound linebacker is currently in the NCAA transfer portal after being at Maine for five years. Ideally, the Toronto native hopes to attend a bigger school and improve his prospects for the 2022 NFL draft. But Stevens has said if the NCAA transfer process doesn't work out, he'd play football in Canada rather than return to Maine. The uncertainty surrounding his status might push him down CFL team boards and right into the Argos lap.
DB- Nelson Lokombo, University of Saskatchewan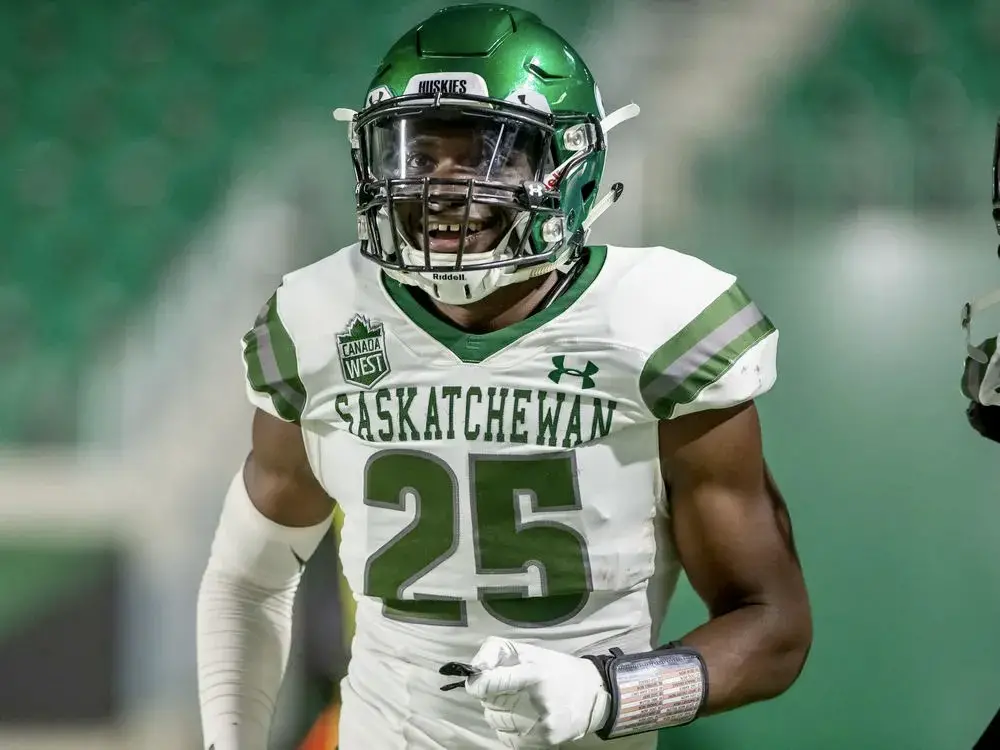 Nelson Lokumbo, the President's trophy winner in 2019 as the top defender in U Sports football is one of the most dynamic talents available in Tuesday night's CFL Draft. At just a hair under 5'11, Lokombo is an amazing athlete with position versatility as a former halfback, safety, and linebacker. Lokombo has good speed (4.48 in the 40) and agility (6.80 in the three-cone) to go along with excellent ball skills. The very talented, Lokombo can provide immediate value on defense and special teams. The question is, will he get to the Argos pick?
LB- Ben Hladik, UBC
The 6'4 238-pound former team captain for the T-Birds is a candidate to play on the WILL spot for a team like Toronto. Hladik is an amazing athlete and tested through the roof on his pro day. Running a 4.5, but Hladik brings more to the table than just athleticism. Playing next to Muamba and Judge on the Argos defense would be an excellent way for a rookie to break into the CFL. Hladik can also play defensive end, which adds to his value.
DE- Luiji Vilain, Wake Forest
The uniqueness of the CFL draft is that teams will often take calculated risks and select players for the future, who may or may not ever step onto a CFL field. Luiji Vilain fits the mold of a potential steal later in the draft. The former four star recruit has transferred from Michigan to Wake Forest for the 2021 season. As a Wolverine, Viljain hardly saw the field but an increase in playing time and production with the Demon Deacons could see him as a potential target at a discount rate for a team like the Argonauts.
OL- Liam Dobson, Maine
The draft has paid immediate dividends in the recent past for Toronto on their offensive line. With the likes of #1 overall pick in 2019, Shane Richards contributing immediately. The Argos could decide to tap into that well again early on in the draft. But this time with the future in mind, Dobson, an All-Conference player at Maine has transferred to Texas State for the the 2021 season. The Ottawa native is strong and has a nasty demeanor upfront. CFL teams may target him as early as round two.
DB- Deane Leonard, Ole Miss
After a year away from Canada, where he made the trek south of the border to play for Ole Miss, Leonard potentially returns with a year of SEC experience under his belt. The former All-Canadian player, Leonard, has great size and length at 6'2 195 and has experience playing on the inside and outside at cornerback. Leonard is a developing prospect, with his best football in front of him, who can contribute immediately on special teams and as a front-line starter down the road. Leonard's father, Keane, played for the Calgary Stampeders back in 1992. And playing in the CFL has always been a dream for him.
DB- Redha Kramdi, Montreal
Initially projected as a third or fourth-round pick, Kramdi's draft stock has risen in recent times. His versatility at either safety or corner brings value, and Kramdi's hard-hitting style could be an asset on special teams as well. The Argos could target a player like Kramdi earlier than most have projected him.
DB- Shae Weekes, Bemidji State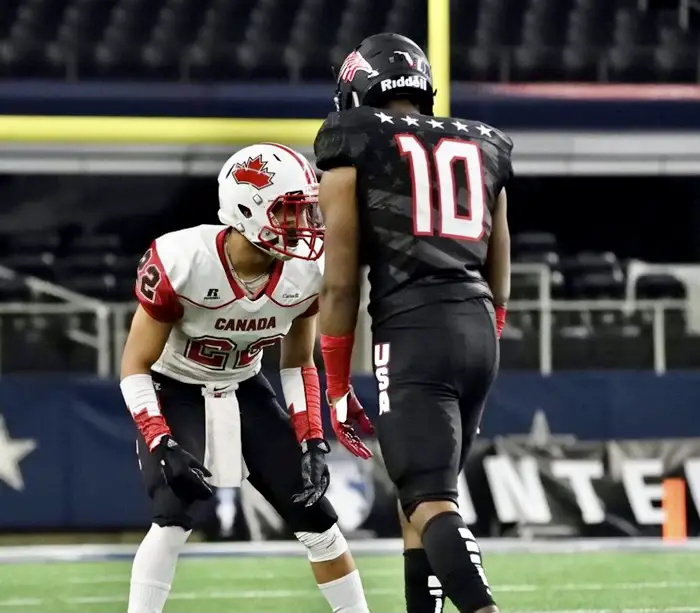 Weekes spent three seasons as a standout for the Manitoba Bisons before landing at Bemidji State in 2020. He is a former track and field star who has experience as a lethal punt returner and has hard-hitting big-play traits on defense. He's currently projected to go in the first three rounds, but he could go earlier than that based on his versatility.
DT- Olivier Charles-Pierre, Houston
The 6'2 375 pound monster out of Quebec, could fill a need for teams like Toronto looking for a clogger in the trenches. OCP is not your prototypical CFL defensive tackle, but with the proper conditioning and coaching, he could develop into a force up front. Before transferring to the University of Houston, Charles-Pierre was a dominant junior-college player at New Mexico Military Institute.
Other potential targets for Toronto: WR-Tommy Nield, McMaster, DE- Alain Cimankinda, Guelph, LB- Kean Harelimana, Laval, OL-Tyler Packer, Calgary
Subscribe to our
CFL News Hub YouTube Channel
. Get breaking news and the latest CFL news. Plus the CFL Week In Review Podcast.
---