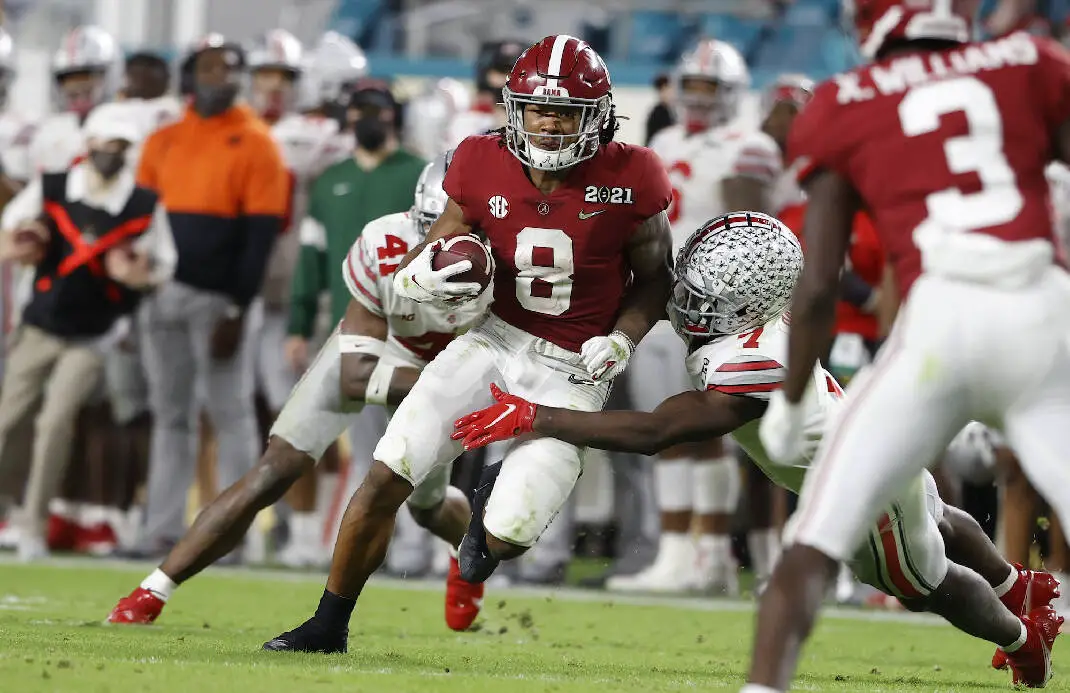 On Monday, it was announced Alabama wide receiver John Metchie III was named winner of the Jon Cornish Trophy for his performance in 2020-2021 as the top Canadian player in NCAA Football as selected by a panel of professional scouts and media throughout Canada. Metchie received 94 votes for the award, while runner up and Calgary, Alberta native Amen Ogbongbemiga, a senior linebacker at Oklahoma State and recent free-agent signee of the Los Angeles Chargers, would receive 91 votes.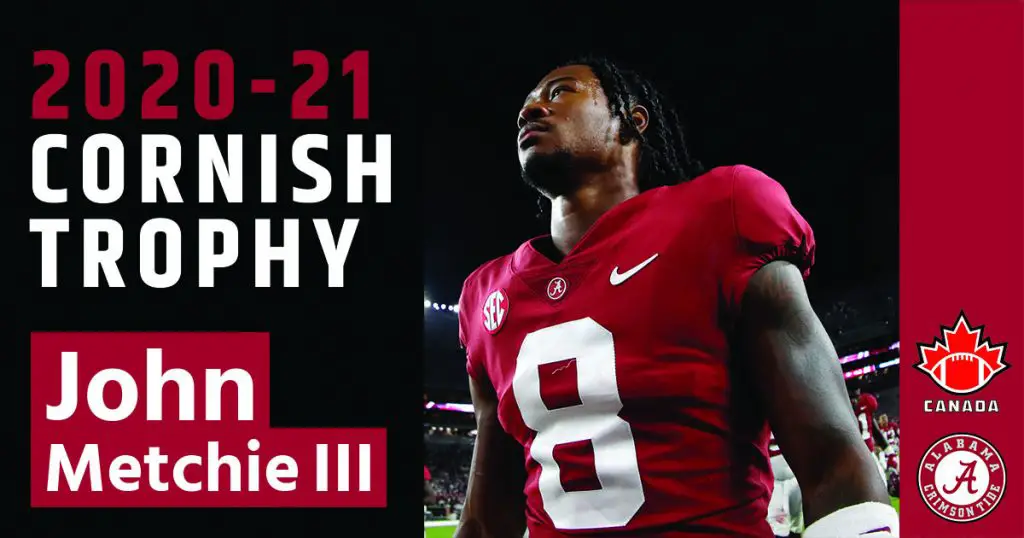 John Metchie III was born in Taiwan and lived in Ghana for a short time before moving to Brampton, Ontario, at the age of 6. He would move to the United States to attend high school in Hagerstown, Maryland, and spent a post-grad year at a college preparatory school in Hightown, New Jersey, before attending college at the University of Alabama.
As a true freshman, Metchie played in all 13 games but would only have 4 catches for 23 yards throughout the year. He recently finished his sophomore season as a wide receiver for the Crimson Tide, helping them to an undefeated season in 2020 as well as a 2021 NCAA Championship win over Ohio State. Over the course of the 2020-2021 season, Metchie became one of the Crimson Tide's top receivers alongside Heisman Trophy winner and now Philadelphia Eagle DeVonta Smith, as well as now Miami Dolphin Jaylen Waddle. Metchie finished the 2020 season with 916 yards on 55 catches with 6 touchdowns. Over his two seasons with the Crimson Tide, he has also won a 2021 Rose Bowl over Notre Dame and the 2020 Citrus Bowl over Michigan.
In previous seasons the Cornish Trophy has been awarded before the CFL and NFL Drafts, but due to FCS spring football playing into May this year, the decision was made to extend the process so the performance of all FBS and FCS players could be included. Previous winners of the award include the recently drafted Carolina Panthers running back Chuba Hubbard, winning the award in 2019, and BC Lions quarterback Nathan Rourke, winning in both 2017 and 2018.
When asked about how close the vote was this time around, Metchie stated
"I think it says Canadians are now active on the scene; It says a lot for kids growing up in the country knowing there are more and more kids doing it. I think it's a great message that we're sending."
Subscribe to our
CFL News Hub YouTube Channel
. Get breaking news and the latest CFL news. Plus the CFL Week In Review Podcast.
---