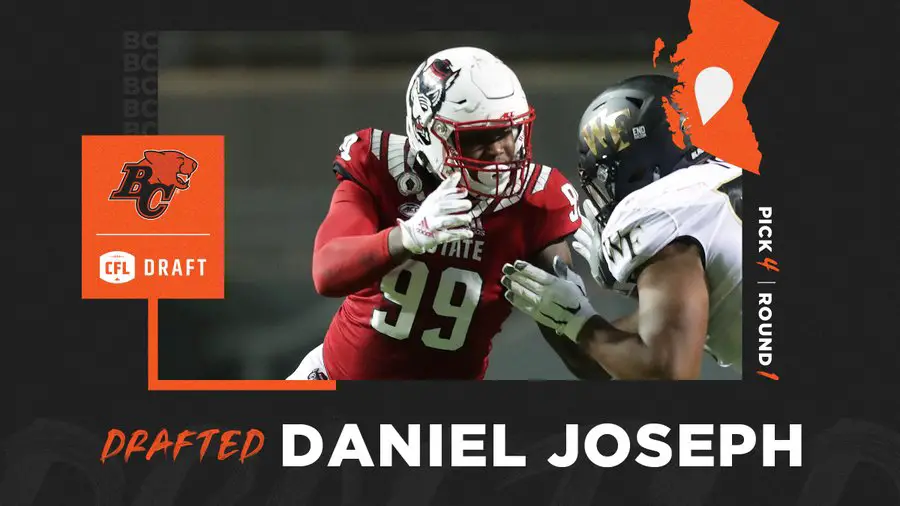 As the Lions begin a new era under Head Coach Rick Campbell, they made some key additions to solidify their trenches. Campbell clearly wants to build this roster from the ground up while capitalizing on Mike Reilly's window. Buffing their pass rush and offensive line was seemingly their sole focus in this draft, and they ended up with two defensive linemen, two offensive linemen and a linebacker. With all 5 selections dedicated to the trenches, it seems the strategy is to beef up the pass rush after finishing 2nd to last in sacks in 2019, and to protect their 36 year old quarterback after the team gave up a league-worst 58 sacks.
Round 1, Pick 4: DL Daniel Joseph, NC State
The edge rusher out of Brampton, Ontario had a solid tenure at Penn State but exploded last season after landing at North Carolina State as a graduate transfer. In his 2020 campaign, he finished with 6.5 sacks and 10 tackles for loss in just 10 games. At 6'3″, 265 he has the length and bulk to both bend and set the edge, After the Lions lost their 2019 sacks leader Shawn Lemon to Edmonton, Joseph is in line to make an immediate impact on this defense, and could likely start across from Jonathan Newsome.
Round 2, Pick 15: OL Alaric Jackson, Iowa
This is one of my favorite prospects taken in the draft. Iowa has proven itself to be a reliable source of quality offensive line talent, and Jackson could well be the next in this line. He did sign on as a UDFA with the Los Angeles Rams in the NFL, but with both starting spots entrenched in LA, there is a good possibility he makes his way up the coast to B.C. At 6'6″, 318 pounds he's got the prototypical build for a tackle, and with 4 straight years (42 games) starting at LT in a pro-style offense at Iowa he has all the experience to lock down the left side of this line for years to come. It was a bit of a risk as he could end up staying in the NFL, but he is the sort of prospect who's worth risking it for in the future. Getting a young stalwart on their line would go a long way to keeping Mike Reilly on his feet.
Round 3, Pick 22 : LB Ben Hladik, UBC
A true hometown player, Hladik grew up in Vernon, B.C., went to high school there and played University ball there for the Thunderbirds. A truly elite physical prospect, he's got the size and speed that allows him to fly over all the field, at a towering 6'4″, 238 pounds with 4.55 speed per his pro day. He made his bones in college as a highly disruptive playmaker at the line of scrimmage, with 28 tackles for loss, 6.5 sacks alongside 189 total tackles. He should help stouten up the middle of this defense, and the ceiling for his athleticism in coverage is very high. If he impresses the coaching staff in camp, he could well become a regular contributor in his rookie season.
Round 5, Pick 40: DL Alfred Green, Wilfrid Laurier
Born and raised in Ajax, Ontario, Alfred Green was just starting to make an impact on defense with the Golden Hawks before the pandemic shut down his senior year. However, in his 2019 season he made 22 tackles, 3 sacks and forced 3 fumbles in just 7 games, and plays with good burst and instinct on tape, always flowing to the ball. He's played at both defensive end and inside linebacker, and could be a part of the solution on defense moving forward, wherever he ends up on the front.
Round 6, Pick 51: OL Tyler Packer, Calgary
While Alaric Jackson represents a higher-risk, higher reward prospect for the future of this OL, Tyler Packer is positioned to come in and immediately compete for a role. The 2017 rookie of the year was a steadfast presence at Calgary and is sure built like a right tackle at 6'6″, 320 pounds. He's got the size and strength to be a monster at the point of attack, and helped Calgary win the 2019 Vanier Cup, while his efforts in pass protection gave QB's Adam Sinagara and Josiah Joseph enough time to put up the 2nd most passing yards leaguewide. Since pass pro is one of the Lions' biggest concerns, bringing in a prospect like this could help solidify the front.
Subscribe to our
CFL News Hub YouTube Channel
. Get breaking news and the latest CFL news. Plus the CFL Week In Review Podcast.
---