54 players found out their fate on which team they will play for in the CFL after the league conducted their draft Tuesday night.
This season's CFL Draft showcased plenty of surprises and much expected moves during the course of Tuesday night. History was made with the number one pick as the Hamilton Tiger-Cats selected tight end Jake Burt making him just the second tight end to ever be picked first in the CFL Draft. The night belonged to the offensive and defensive lines as 18 total were selected in the CFL Draft. Star Oklahoma State running back Chuba Hubbard was selected in a professional football draft for the second time in one week after the Calgary Stampeders drafted him in the fifth round.
After months of speculation about a potential XFL merger and a delay in the start of the season, fans got a much needed distraction with many players' dreams coming true. While some will either play in the NFL or go back to college, others will begin their professional football careers in Canada. Here are some of the most notable names drafted on Tuesday night.
Notable Players Drafted in the CFL Draft
Jake Burt, TE (Hamilton Tiger-Cats Round 1, Pick 1)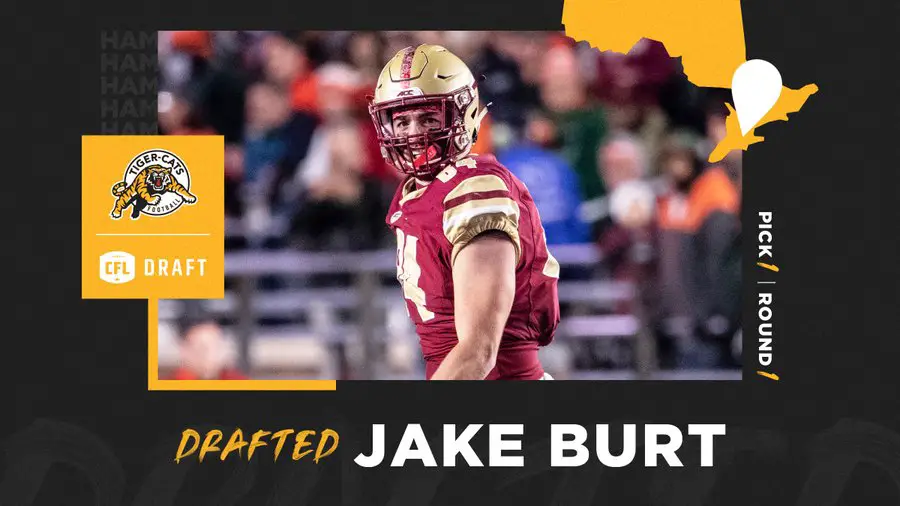 While many draft experts were projecting NC State defensive end Daniel Joseph to be Hamilton's first pick, the Tiger-Cats pulled a fast one and took Boston College tight end Jake Burt number one. They liked him so much that Burt already signed a three-year contract with him Tuesday night. Burt became just the second tight end in league history to be drafted number one overall with former Ottawa Rough Riders tight end Gerald Wilcox picked number one in 1989.
During his college career at Boston College, Burt recorded 23 catches for 307 yards and two touchdowns in 36 career games. He went undrafted in last year's NFL Draft and ended up signing with the New England Patriots. Burt would be on their practice squad for the 2020 NFL season, but was not resigned at the end of the season.
Tight ends don't get used in the CFL, but Burt provides the skill sets that could be used as an H-Back and wide receiver. He's faster than most tight ends as he ran a 4.48-second time in the 40-yard dash. Burt's got strong hands and can block when he's asked to do it. Hamilton has added another pass-catching weapon on offense and should see their first pick make an impact immediately.
Daniel Joseph, DE (BC Lions Round 1, Pick 4)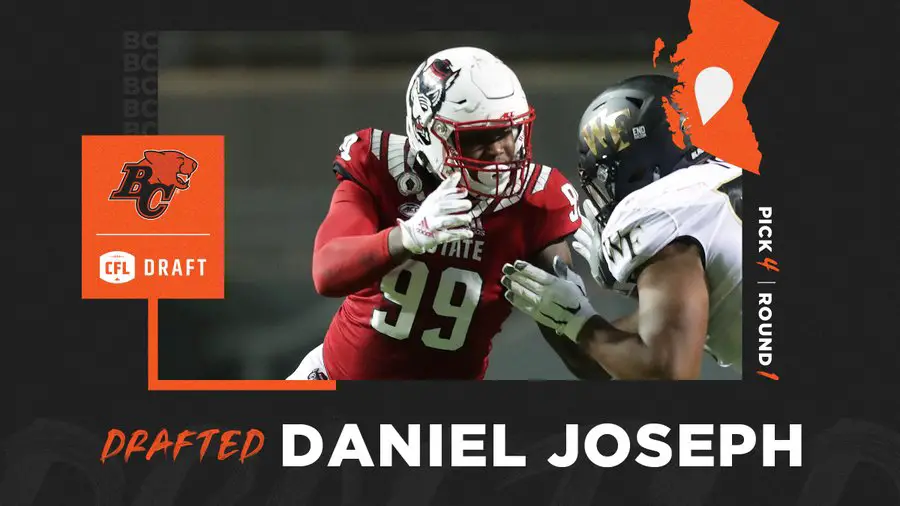 BC Lions boasted their defensive line as they added NC State defensive end Daniel Joseph. Regarded as the top defensive lineman in the draft, Joseph is a top notch pass rusher who has a noise for the quarterback. After a short stint at Penn State, Joseph found his role at NC State recording 37 tackles and 6.5 sacks during the 2020 season.
Many teams were looking to load up on the defensive line and Joseph has the potential to be one of the top pass rushers in the CFL. Unfortunately for BC, Joseph will be returning to NC State for one more season. If he continues to improve up his skills, he might become a potential prospect for the NFL Draft. He won't play this season, but as a future piece to the Lions, Joseph could be an elite edge rusher.
Terrell Jana, WR (Saskatchewan Roughriders Round 2, Pick 17)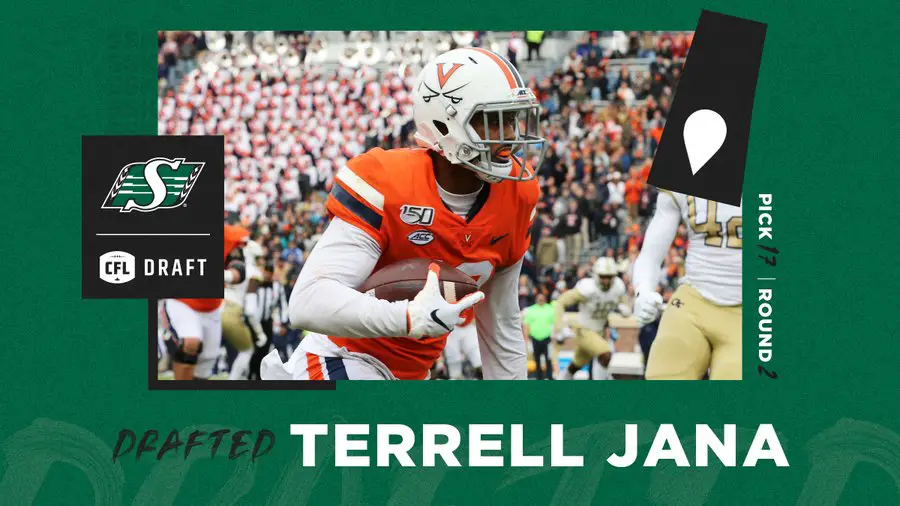 Terrell Jana was considered to be one of the top receivers in the draft outside of Josh Palmer who was drafted in the NFL. Jana comes from Virginia where he is 12th in school history in receptions (123) and 17th in receiving yards (1,481). His junior year of 2019 was his best season recording 74 receptions for 886 yards and three touchdowns. Last season didn't go as well for Jana as his numbers went down with 36 catches for 423 yards and one touchdown.
Jana won't kill teams with his speed, but he makes for a good possession receiver. He could be a good red zone target for the Roughriders who already have a solid receiving core on their roster. While Jana was inconsistent in college, he should make for a solid receiver in the CFL and develop throughout the next few years.
Ben Hladik, LB (BC Lions Round 3, Pick 22)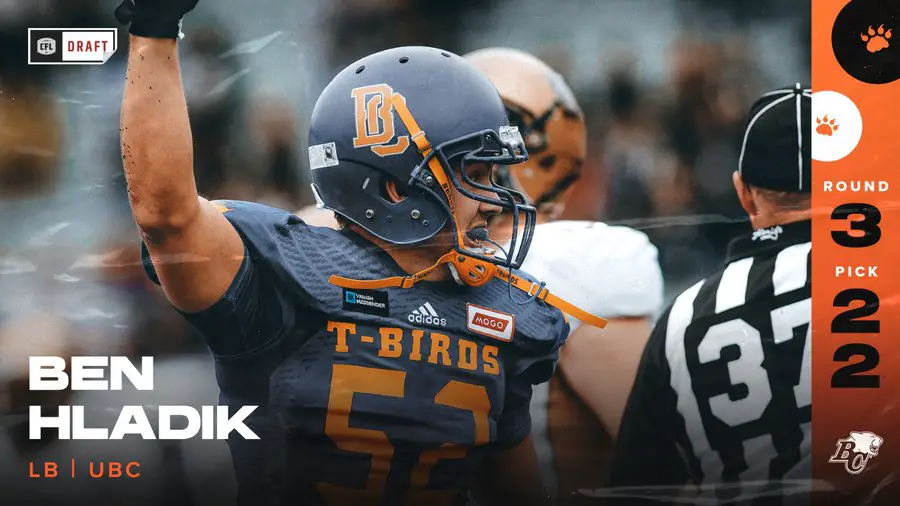 The Lions nab another top notch defensive player to help them out. Ben Hladik is one of the most athletic linebackers in the CFL Draft. Back in 2019, Hladik recorded 58 tackles, four tackles for loss, two sacks, and one interception at UBC. While he wasn't ranked in the top 20 of the CFL Spring Scouting Bureau rankings, he was creating quite a buzz with his tape and his quick 4.55 40-yard dash time.
Hladik brings a lot of talent to the BC defense and will get a chance to play. He should contribute on special teams early in his career and get a chance to play on defense. The Lions appear to be looking at getting younger and faster on defense which Hladik should be able to provide that.
Chuba Hubbard, RB (Calgary Stampeders Round 5, Pick 43)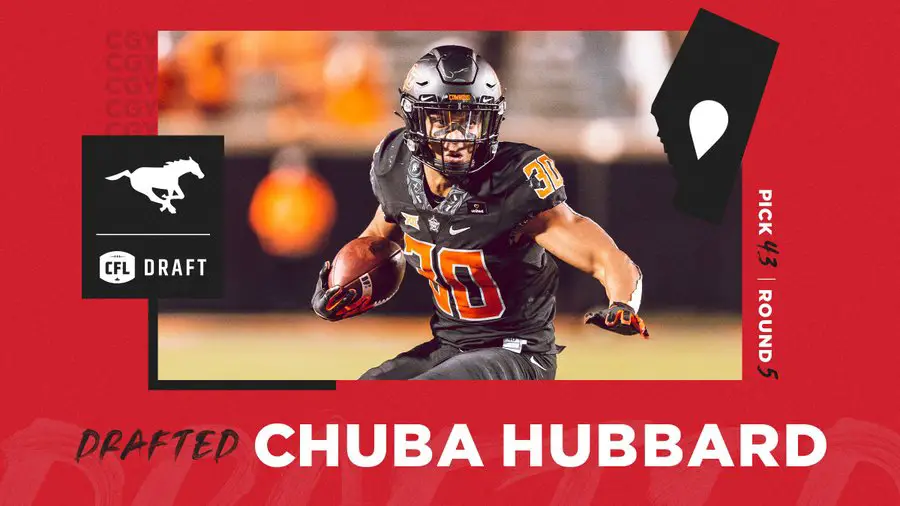 Calgary is taking a chance on drafting a running back who won't immediately play for them, but could pay off in the future. Chuba Hubbard ran wild at Oklahoma State in 2019 after running for 2094 yards and 21 touchdowns. Last season with a bit of a rough patch for the running back as he battled through injuries. He finished with just 625 rushing yards and five touchdowns.
The injury issues dropped his stock in the 2021 NFL Draft. He ended up going to the Carolina Panthers in the fourth round of the draft. Hubbard already announced that he will go play in the NFL first and pursue his NFL career in Carolina for the time being.
Hubbard has good speed and can find the open running lane easily. His vision made him one of the top running backs in the NCAA when he played. As long as he stays healthy, he could be a good backup in Carolina. If Hubbard ends up going to the CFL in the future, Calgary has themselves a running back who could be one of the top runners in the league from day one.
Other Notable Players Drafted
The BC Lions got a steal in the second round picking Iowa offensive lineman Alaric Jackson who was the second ranked player on the 2021 CFL Spring Scouting Bureau rankings. Oklahoma State linebacker Amen Ogbongbemiga was Calgary's first round pick who is an instinctive tackler and would perform well in the CFL. Both players though were signed to NFL teams after the draft and will get a crack at making those rosters before potentially playing in the CFL.
Winnipeg's first round pick Liam Dobson will not be joining the Blue Bombers' offensive line yet as he will play his senior year of college at Texas State before going professional. Another player that was drafted and will most likely returning to college is defensive back Deane Leonard. Going 18th overall to Hamilton, ball-hawking Leonard will continue playing at Ole Miss for his senior season this fall and depending on how his 2021 season goes, he might join the Tiger-Cats next season.
Subscribe to our
CFL News Hub YouTube Channel
. Get breaking news and the latest CFL news. Plus the CFL Week In Review Podcast.
---