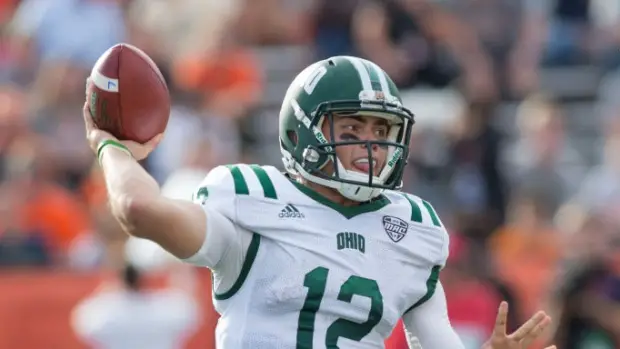 The BC Lions officially sign their 2020 second-round pick quarterback Nathan Rourke to a long term contract.
"I'm really excited to be able to work with this organization and happy to be able to focus on helping the Lions this season and beyond."

Nathan Rourke via CFL.ca
Rourke agreed to a three-year contract with the Lions on Wednesday to join the team's quarterback room. He was selected 15th overall in the second round of the 2020 CFL Draft last season by the Lions. Rourke became the highest drafted Canadian quarterback since Jesse Palmer was selected 15th overall in 2001 by the Montreal Alouettes.
In three seasons at Ohio, Rourke threw for 7,457 yards adding 60 touchdowns to just 20 interceptions. He compiled a 25-14 record as the starting quarterback and won three straight bowl games for the Bobcats.
Going into the 2020 CFL Draft, Rourke was highly regarded as one of the best prospects entering the draft. He was ranked as high as third with the CFL Scouting Bureau. With other positions needing to be filled, Rourke eventually saw himself landing in the second round of the draft. Most recently, Rourke was at New York Giants' mini-camp this month before signing with BC.
The BC Lions' quarterback room includes starting quarterback Michael Reilly, William Arndt, and D'Angelo Fulford. With Reilly 36 years old, the signing could mean Rourke might be seen as the potential future successor to Reilly. For now, Rourke will have to compete for the backup role with BC until Reilly is no longer with the team.
The expectations appear to be high for Rourke as he could be the next great Canadian quarterback to enter the CFL. His strong arm and mobility makes him a great candidate for the future of the game. He's got good speed for a quarterback and has the ability to break tackles. The Lions have a quarterback who could make an impact in a few years and continue on for a long career in the CFL.
Subscribe to our
CFL News Hub YouTube Channel
. Get breaking news and the latest CFL news. Plus the CFL Week In Review Podcast.
---