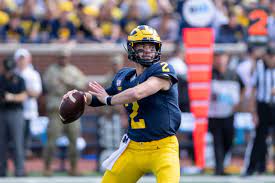 Shea Patterson turned heads during his time at Ole Miss and Michigan in the NCAA, passing for 8,800 yards, 68 scores and just 27 interceptions over 4 years. He was one of the most significant undrafted free agents in 2020, and after spending some time with the Kansas City Chiefs and the Blues in The Spring League, will become the BC Lions' newest passer.
Patterson had participated in a HUB Camp on May 23rd with CFL teams in attendance, and clearly the Lions liked what they saw. He's just been added to the training camp roster to compete for a spot behind Grey Cup MVP Mike Reilly.
The 36 year old Reilly has things locked down for the time being, and while it seems likely that veteran William Arndt is their primary backup, Shea Patterson will compete with the likes of D'Angelo Fulford and Nathan Rourke for the QB3 spot.
Patterson, a former five-star recruit, brings some great tools to the table here. He's mobile in the pocket, moves through progressions well and has been lauded for his technique, though some NFL scouts were concerned about his deep ball game. Though he only got to spend OTA's and Minicamp proving himself with the Chiefs last offseason, a fall outing in TSL showed that he is staying sharp and ready. Though the Blues went 1-2, Patterson had some solid performances, going 47 of 77 for 571 yards, 6 TD's, 4 picks and an 88.2 Passer Rating through 3 games.
Now, he'll join an interesting camp battle in BC, and hopes his dynamic brand of play will catch on in the Canadian game. It may take some time to adjust to 3-down football, and the Lions do have some interesting young options in this room.
D'Angelo Fulford absolutely lit it up at Mount Fulford, throwing for 9,482 Yards, 134 TD's and just 13 picks. He also strikes me as the prototypical quarterback-who-can-run, and when he chooses to make plays with his legs, has the athleticism and vision to make it happen. He finished his college career with 1,333 Yards and 20 TD's at 4.2 yards/clip.
Ontario-born Nathan Rourke is a former Juco product, and played a year at Fort Scott out in Kansas before starting 3 years straight with the Ohio University Bobcats. There, he threw for 7,467 yards, 60 TD's and 20 Picks, and his completion % improved every year, from 55.1% to 59.9% and finally 61.0% his last year. He also brings some great rushing ability to the table, and could be the best dual-threat of the group. In just 3 years in Ohio, he rushed for 2,639 Yards and 49 TD's.
Patterson, at Ole Miss and Michigan threw for 8,800 yards, 68 TD's and 27 picks with 476 Yards and 8 scores on the ground, all against SEC and Big-Ten talent. This contest will certainly be one to watch as the Lions finally gear up for the 2021 season.
Shea Patterson is in a great position here in BC, with a shot to compete for the roster, while being able to learn behind a premiere QB like Mike Reilly. This appears to be a great move for him, and for the team, who is clearly looking to fill out their depth chart with young quarterbacks.
In the same flurry of moves, the Lions also added 3 more American players. They got Mizzou WR Johnathon Johnson (153 Rec, 2190 Yards, 13 TD), and two DB's in Tyvis Powell and Jalon Edwards-Cooper. Powell is a veteran player out of Ohio State who's been with 8 NFL Teams since 2016, and Edwards-Cooper is a versatile DB who made plays all over the field for Texas A&M-Commerce, racking up 141 tackles, 18 TFL, 6 sacks, 6 interceptions and 32 passes defensed in his 4 years there.
Subscribe to our
CFL News Hub YouTube Channel
. Get breaking news and the latest CFL news. Plus the CFL Week In Review Podcast.
---