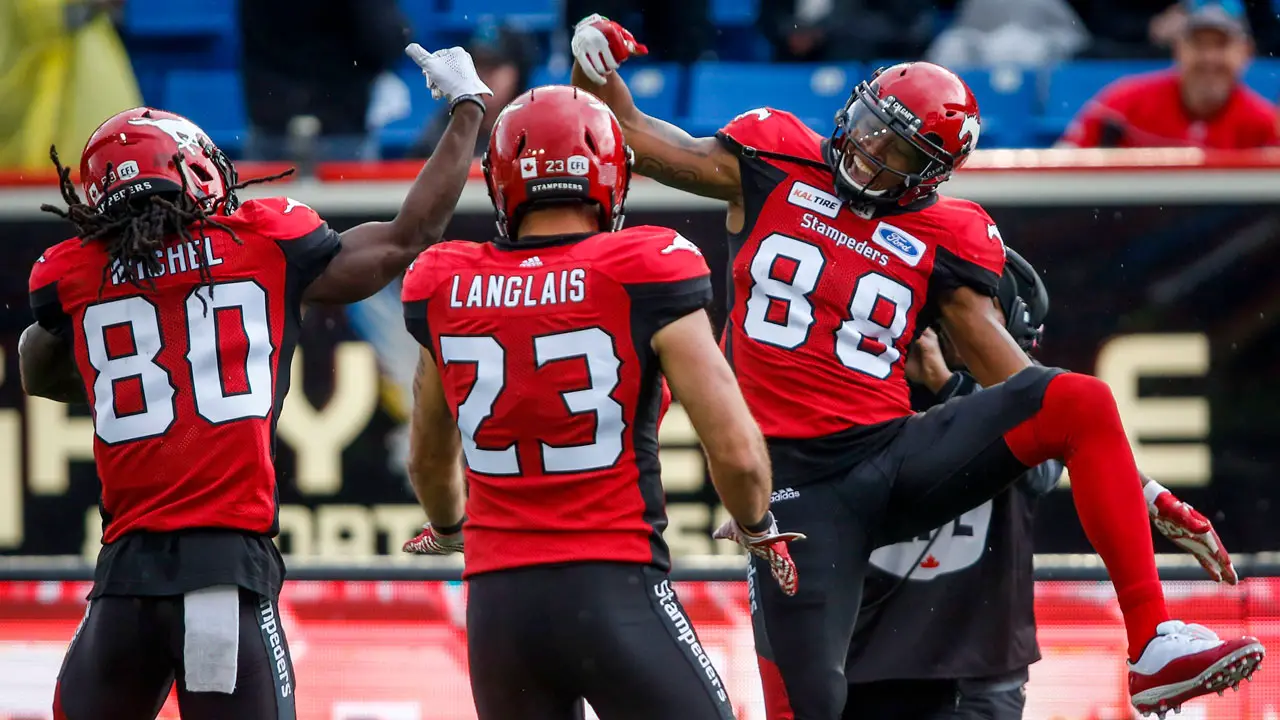 2019 saw the Calgary Stampeders continue a string of successful seasons, but a strong draft performance could put them back in the Grey Cup.
Changes made to the CFL Draft in 2021 gives the Stampeders some flexibility on how they want to build their franchise. Despite the number of rounds dropping from eight to six, the new snake style draft will give Calgary picks closer together like the 8th and 11th picks in the first and second round. While they lost out on a top five pick, they can still find plenty of players to help them.
Their draft order heading into the draft goes as follows:
1st round: 8th overall
2nd round: 11th overall
3rd round: 26th overall
4th round: 29th overall
5th round: 43rd overall (acquired from Toronto Argonauts)
5th round: 44th overall
Calgary Stampeders Team Needs
Since 2018, the Stampeders have seen three of their offensive linemen announce their retirement. Injuries to the line in recent memory has added some concern for the unit. Their offensive linemen is young as well with the oldest lineman being 27 which could be seen as a positive or negative. A lack of veteran presence could cause growing pains in the beginning, but the offensive line unit has some momentum heading into the season after allowing just 34 sacks in 2019. It's also the most important focus of the offseason since Shane Bergman and Brad Erdos retired this offseason.
Jamie Nye of CFL.ca also noted other positions of need include defensive line, linebacker, and defensive back. The roster is talented but is in need of adding depth to each of those positions. Two of their three picks in the CFL Global Draft were defensive line and linebacker. This could mean that Calgary general manager John Hufnagel will have more of a focus on the offensive line and secondary at the beginning of the CFL Draft.
Potential Draft Targets
With the offensive line at the top of their minds, the Stampeders will be looking to sure up the front five either in the first or second round of the draft. One name that has been looming around is lineman Logan Bandy who went to school in Calgary. The two-time U Sports Second-Team All-Canadian played tackle in college and has great size and movement on the line. He might go before Calgary at eight, but if he falls to the Stampeders, it would be hard to believe he goes past them.
Offensive lineman Pier-Olivier Lestage from Montreal has been seen on mock drafts as another potential first-round pick for the team. Lestage is ranked seventh overall on the CFL Scouting Bureau's Spring rankings as well as the second-best offensive lineman. There is potential that Lestage could get a shot in the NFL, but adding him to the line instantly helps protect quarterback Bo Levi Mitchell.
One defensive back to watch out for either late in round one or early round two will be Deane Leonard. Leonard was considered one of the best defensive backs in U Sports playing in Calgary. He spent last season in Ole Miss recording 14 tackles, four pass deflection, and one fumble recovery. Adding Leonard would give Calgary a high motor, ball-hawking defender who can play right away at a high level.
Subscribe to our
CFL News Hub YouTube Channel
. Get breaking news and the latest CFL news. Plus the CFL Week In Review Podcast.
---