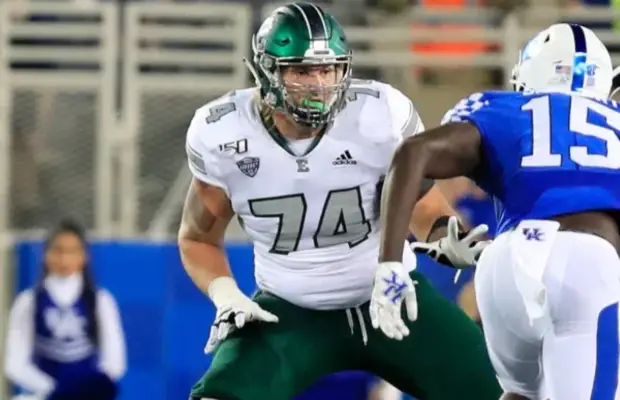 The CFL's Global Draft took place on Thursday, April 15, and was the first CFL Draft that combined the entire global pool of players into one. Previously, the league held separate drafts for Mexican and European players in 2019 when global players were first required to hold active roster spots on CFL teams. For the 2021 season, teams must have a minimum of 2 global players on the active roster.
Edmonton Football Team announced on Thursday, April 29th they have signed 3 of their 4 draft picks.
Signed Players:
Round 1 (2nd Overall): OL Steven Nielsen – (6'8″/307lbs) – Eastern Michigan University – Dragoer, Denmark
Steven Nielsen is from Dragoer, Denmark originally, but played college football at Eastern Michigan. Nielsen played 49 total games between 2016 and 2019 at both tackle and guard for EMU and would receive Third Team All-MAC honors following 2018. His o-line unit was responsible for a season in which the EMU offense racked up 25 touchdown passes (an all-time school record), 3,370 yards of passing offense (second in school history), and 349 total points (4th in EMU history). He helped EMU reach 3 postseason bowl games, as well as 3 consecutive wins over Power Five opponents. Nielsen gained some pro experience in 2020, spending time with the Jacksonville Jaguars as an undrafted free agent.
Round 2 (17th Overall): DL Misiona Aiolupotea-pei – (6'3″/270lbs) – Washington State University – Wellington, New Zealand
Misiona Aiolupotea-pei was born in Wellington, New Zealand, but moved to the US in 2016. Originally a rugby player, he began playing football at Riverside Community College in California as a strong-side defensive end, becoming a team captain in 2017 and getting named second-team All-Southern California Football Association Honors. Aiolupotea-pei later transitioned to nose tackle when he transferred to Washington State University in 2018. He appeared in 12 games his junior year (2018), making 41 tackles with 8 for a loss, including 5.5 sacks. His senior year (2019), Misiona appeared in all 13 games, starting 6 of them. He would record 22 tackles with 3 for a loss, 1.5 sacks, a fumble recovery, and a blocked PAT. He would also appear in the Cougars 31-21 loss to Air Force in the Cheez-It Bowl. He was later invited and attended The Hula Bowl in Jan 2020, a post-season college football all-star game held annually in Hawaii.
Round 3 (20th Overall): DL Tibo Debaillie – (6'2″/285lbs) – Towson University – Gistel, Belgium
Tibo Debaillie played college football at Towson University in Maryland but was born in Gistel, Belgium. He was a redshirt junior and played in 22 career games on the defensive line from 2017-2019, finding limited playing time in 2018 due to an injury. He ended his college football career with 28 tackles, 3 for a loss, 1.5 sacks, and was recently recognized as a member of the 2021 National Football Foundation (NFF) Hampshire Honor Society. Debaille had a very impressive performance at the CFL Global Combine, showcasing his raw strength and athleticism with 31 bench press reps.
Subscribe to our
CFL News Hub YouTube Channel
. Get breaking news and the latest CFL news. Plus the CFL Week In Review Podcast.
---