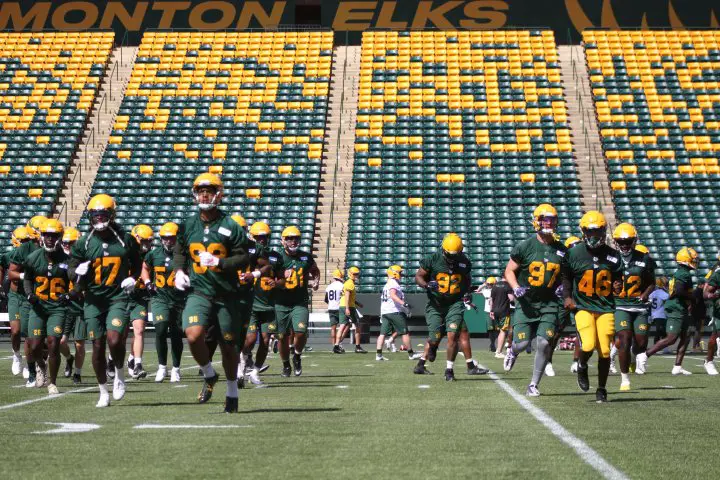 On Monday, July 20th, CFL teams were required to make their first wave of roster cuts. The Edmonton Elks have released 11 players to reach the required mark of 75 players per roster, releasing 10 Americans and 1 Canadian.

Edmonton Players Released:
RB Marvin Kinsey Jr. (American)
WR Jerry Louie-McGee (American)
WR Shakier Ryan (American)
OL Kwabena Asare (Canadian)
DL Tevaughn Grant (American)
DL Deonte Holden (American)
WR Rodney Smith (American)
DL Mat Boesen (American)
DL Chei Hill (American)
LB Ethan Aguayo (American)
LB Antonio Jones-Davis (American)
The only Canadian player released was 26-year-old offensive lineman Kwabena Asare, who Edmonton selected during the 2017 CFL draft in the 6th round (49th overall). He spent his first 2 seasons on the Elks practice roster and dressed for 5 games during the 2019 season.
A handful of American rookies were released, including running back Marvin Kinsey Jr. (Colorado State University), linebackers Ethan Aguayo (San Jose State) and Antonio Jones-Davis (Northern Illinois), defensive linemen Tevaughn Grant (Wagner College), Deonte Holden (North Carolina State), and Chei Hill (University of Central Oklahoma), as well as return specialist Jerry Louie-McGee (University of Montana).
Former NFL wide receiver Rodney Smith was among the cuts, along with return specialist Shakeir Ryan, who played the last 3 seasons with the Hamilton Tiger-Cats, B.C. Lions and Montreal Alouettes. Defensive lineman Mat Boesen was also released; he had 11 tackles in 6 games with the Lions in 2019.
Head coach Jaime Elizondo spoke to the media regarding the 1st wave of releases stating,
"I appreciate all the work that those guys have put in. It's obviously a really hard day for those guys and my heart goes out to them. We don't take that step lightly, It's a disappointment for them and there are some really good football players we cut in that group, too There will be an additional set of cuts when we finalize our team and get down to who's going to be on the roster for the season. It's a tough day for those guys, but unfortunately it's part of the business and I'm wishing those guys the best."
Final roster cuts will occur at the end of training camp on Friday, July 30th, where teams will be required to cut rosters down from the now 75 players to 44 maximum players.
Subscribe to our
CFL News Hub YouTube Channel
. Get breaking news and the latest CFL news. Plus the CFL Week In Review Podcast.
---