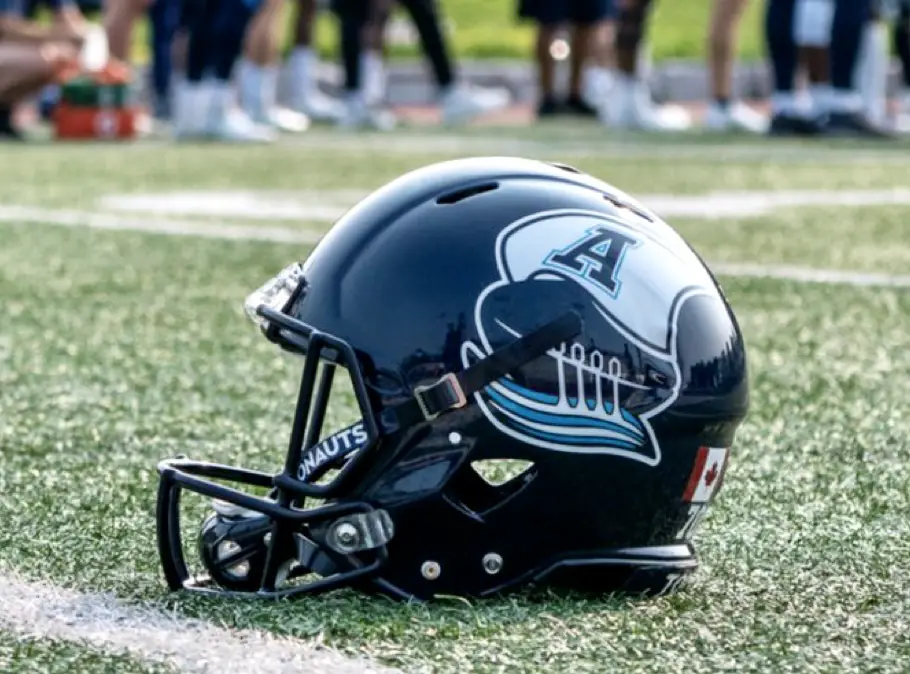 Toronto Argonauts Training Camp has reached the mid-way point. The Argos are entering the home stretch of camp with their regular-season opener in Calgary, only 17 days away.
It's been an eventful week thus far for the Boatmen. On Monday morning, the Toronto Argonauts traded away defensive back Alden Darby to Winnipeg for offensive linemen Terry Poole. Later that day, the team had their first blue versus white scrimmage of the summer.
On Tuesday, the players were given the day off from practice and participated in a marketing photoshoot. On the same day, the Argonauts announced their first wave of training camp cuts as they trimmed down their roster to 75 players. (excluding noncounters). Final roster cuts will occur on July 30th. The Argonauts will have to pare down their active roster to 45 players when training camp ends.
Toronto Argonauts Crowded Wide Receiver Depth Chart
One of the telltale signs of how deep the Argonauts receiver position is was the release of American WR Geremy Davis. By all accounts, The 6'3 216 UConn standout splashed and made plays for the Boatmen in the early days of training camp. But the former New York Giants draft pick and Chargers receiver fell victim to the numbers game sooner than anticipated. Perhaps one of the reasons was Davis's lack of experience returning kicks on special teams. Which ultimately could be a determining factor for many players when final roster cuts occur.
Most CFL teams carry anywhere from 10-12 wide receivers/slotbacks on their active regular-season rosters. As a comparison point, the Argonauts had ten receivers on their 2019 roster. Coach Ryan Dinwiddie had eleven receivers on the Stamps when he was their QB coach in 2019.
Not counting the four receivers currently on the team's suspended list. (Martavis Bryant, Kendall Wright, Brandon Sheperd, and Keyarris Garrett.) The Toronto Argonauts have 16 wide receivers on their current roster.
Early projected depth charts on offence for the Argos have accomplished CFL receivers like Eric Rogers, DaVaris Daniels, Juwan Brescasin, and Ricky Collins Jr, projected as sure-fire starters at wide receiver and slotback. Depending on the team's alignment, any of these players can play the field side receiver position (X & Z) or SB playing the W, Y, or R slots in Ryan Dinwiddie and Jarious Jackson's offensive scheme.
2019 Argonauts first-round pick Dejon Brissett has quietly had a good camp, in what is technically his rookie season, despite being on the roster for two years. Toronto has high hopes for him, and Brissett could find his way onto the field as a contributor, despite his lack of experience.
The front end of the Argonauts receiver room is so deep that sneaking onto the team's roster may have to come the way of contributing on special teams. In that vein, several candidates are vying to be the Boatmen's primary kick returner when the season rolls around, including Terrell Sinkfield, Chandler Worthy, Daniel Braverman, Kurleigh Gittens, Craig Rucker, Nyqwan Murray, and Damon Jeanpiere.
Two Argos newcomers who have stood out in camp are American receivers, Dres Anderson and Daniel Braverman. The absence of other prominent Americans like Martavis Bryant and Kendall Wright has afforded Braverman and Anderson extended playing time, and they have impressed the teams' staff thus far.

The 6'1, 29-year-old Anderson, has bounced around several NFL rosters, six in total, but is finally healthy and showing the receiving chops that made him a standout at Utah. Braverman, the former 7th round draft pick of the Chicago Bears, brings a different skill set to the table than Anderson. The 5'10 Western Michigan alum has displayed his quickness, reliable hands, and adept route running in camp.
Without the benefit of preseason games, getting reps and an opportunity to stand out with little time to spare is difficult for talented young receivers like Jaylen Smith. The former First-Team All-ACC player at Louisville has the size at 6'2 220 and the speed at 4.47 in the 40-yard dash to make a name for himself. But time and the numbers game are working against him.
Of all the new faces playing wide receiver for Toronto, it's one of their returning faces, Llevi Noel, who has stood out making plays all camp. The swiss-army knife, Noel has been with the Argos since 2016 and is one of the CFL's very best special teams coverage players. He finished the 2019 season with 21 special teams tackles. The Toronto native has to be considered a lock to make the roster based on those traits alone, but one of the longest-tenured Argos has been making his case all camp to have an expanded role on offence.
Notes From Wednesday's Practice
Quarterback Nick Arbuckle was back at practice on Wednesday after missing Monday's scrimmage. Arbuckle tweaked his hamstring, and Coach Ryan Dinwiddie didn't want to risk aggravating the injury any further. he want to avoid turning a two-day absence into potentially a multiple-week injury. Dinwiddie was pleased with Arbuckle's performance on the field Wednesday.
OT Terry Poole arrived today at training camp, but he can't begin practicing until he goes through the quarantine process. The standard quarantine period would have a player sit out for a more extended period, but because Poole has been through the process already with Winnipeg. His time spent going through protocols with Toronto will be shorter.

Running Back DJ Foster, whom the Argonauts signed on Monday, has arrived to camp. He was tested as COVID free but it will be a few days before he can participate on the practice field. Foster was among many players that Toronto had on their short free-agent list and they were happy to get a deal done quickly. Once terms were finalized, Foster quickly made flight plans in a rush to get things going with the Argos.

Coach Dinwiddie is pleased with the teams depth at RB but confirmed the obvious, which is that John White IV is the teams #1 runner in Toronto's offence. Despite joining the team fairly recently, White looks like he hasn't lost a step. And obviously White hasn't lost his top spot in the backfield.
Still no update on the status of players on the suspended list like Martavis Bryant or Kendall Wright. And quite frankly, it's gotten to the point, where coach Ryan Dinwiddie has tired of having to answer the question.
As reported yesterday, Dinwiddie confirmed that DL Odell Willis is on Toronto's suspended list because he is home with his wife, as the couple are expecting the birth of their child.
The Argonauts will have a second Double Blue scrimmage in the coming days but there are no plans right now to extend the length of it or to move it closer to the end of camp. With a two year layoff for players and without the benefit of preseason games, there could be concerns about player conditioning when the season arrives because of how long it's been since players have played a full game. However, despite all this, Coach Dinwiddie is erring on the side of caution and is looking to protect his players health and the teams most important contributors. Instead, the newly minted coach says that he plans on ramping things up for his players on the mental side of preparation for the regular season. By running more plays in camp that are game situation specific.

Subscribe to our
CFL News Hub YouTube Channel
. Get breaking news and the latest CFL news. Plus the CFL Week In Review Podcast.
---