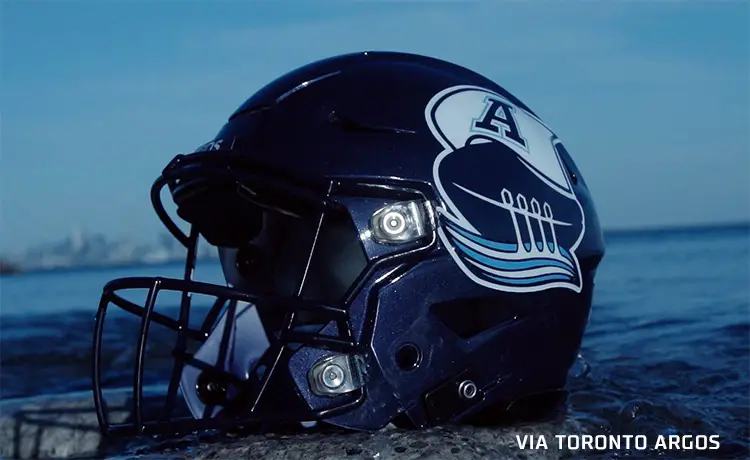 11 days into Toronto Argonauts training camp and after completing their first Double Blue intrasquad scrimmage game. The Argonauts trimmed down their roster to 75 players, excluding non-counters (2020 or 2021 draft picks).
The Toronto Argonauts have released seven players (six Americans) and have added two more players to their suspended list.
Toronto Argonauts Released:
Canadian FB Liam O'Brien
American QB Kenji Bahar
American QB Nick Tiano
American RB Matt Colburn II
American DB Travis Lee
American OL Blake Camper
American WR Geremy Davis
Added to suspended list:
American DL Odell Willis
American DL Khyri Thornton
Fullback Liam O'Brien is a Canadian player from St. Mary's signed back in late June. O'Brien was one of five fullbacks currently on the Argos roster. So his release comes down to the numbers game.
American Quarterbacks Kenji Bahar and Nick Tiano, like O'Brien, were also recent additions. Both young quarterbacks spent time in NFL camps last summer with the Baltimore Ravens and Houston Texans, respectively. With training camp winding down and reps decreasing amongst the players, it's not surprising to see the Boatmen narrow the QB position down to three. (Nick Arbuckle, McLeod Bethel-Thompson & Antonio Pipkin.)
With the Argonauts recently signing former Arizona Cardinals RB D.J. Foster on Monday, Former Wake Forest standout RB Matt Colburn fell victim to the numbers game. The Argos also recently welcomed back RB John White IV off of quarantine. Colburn also has kick return experience but with many other options available in front of him on the depth chart. Toronto didn't have room for him.
The releases of WR Geremy Davis and DB Travis Lee are clear signs of how deep Toronto is at those respective positions. Both players flashed at points in training camp but with the Argos loaded at receiver and defensive back. Davis and Lee fell victim to the logjam at those positions.
Even with the Argos nursing, some nicks and bruises on their offensive line. The team has released American OL Blake Camper. The 6'8 Camper was with the LA Chargers back in 2019, but he hasn't been able to find a home since coming out of South Carolina.
The addition of Defensive Linemen Odell Willis (personal leave) and Khyri Thornton to the team's suspended list opens the door for players like Shane Ray, Shawn Oakman, and others to potentially sew up roster spots. Willis has CFL experience, leading the BC Lions in 2019 with four sacks, but the infusion of high-profile talents like Oakman, Ray, and Kony Ealy at DE could put his spot in jeopardy when final cuts arrive.
The Argonauts are off from practice today. So the players after shooting photos for MLSE media day on Tuesday will be back in action at practice Wednesday, making their final pushes to be key contributors for the Boatmen this season.
After Monday's scrimmage, Toronto Argonauts Head Coach Ryan Dinwiddie very candidly told the media, "Some guys kind of cut themselves today." Dinwiddie has been down this road before as a player himself, getting cut on multiple occasions. As a rookie head coach, this is his first experience from the other side of the room in the big chair.
It's a sobering reality in training camps, anytime football players are let go by their teams. Still, it has more significance now than in years past because many of these players have waited nearly two years to get back on the field, and within a ten-day span of returning, they are back to not playing again, for now.
CFL teams will make final roster cuts on July 30th. For the Toronto players who survived the first wave of cuts, their hopes increase that they might be on board when the Argonauts set sail on August 7th.
Subscribe to our
CFL News Hub YouTube Channel
. Get breaking news and the latest CFL news. Plus the CFL Week In Review Podcast.
---