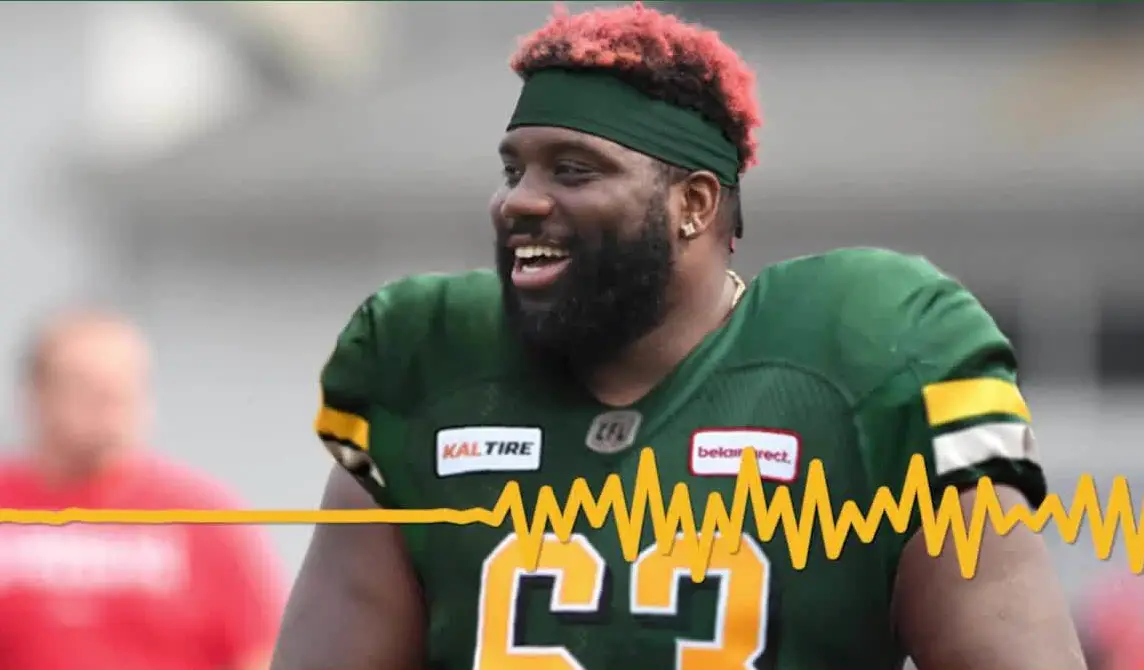 On Tuesday, June 22, Edmonton Elks offensive tackle Derek Dennis announced on Twitter that he would not be playing in the CFL's 2021 season. While fans may be sad not to see him on the field this year, it should be noted Dennis is under contract with the Elks for the 2022 season, and he made it clear he is not retiring. His announcement read,
"Writing this is not easy and def something I didn't foresee happening, but football no longer provides the opportunity to be able to care for my family properly in all facets, so for that reason, I will not be playing in the upcoming season. I appreciate Edmonton for the opportunity to continue my career, but I wouldn't be a man of my word if family didn't come first; I am not retiring just taking an extended break to care for my 2 young children and significant other as best as I can! I love playing the game, I love the fans, I love everything about Canada. I'm just as excited to see CFL kickoff as everyone else! Hope for a great successful season for all my brethren across the league!"
At 32 years old, Derek Dennis has had a notable football career. He played college ball at Temple and signed with the Miami Dolphins as an undrafted free agent following the 2012 NFL Draft. He spent short stints early in his career with the New England Patriots, the Chicago Bears, and the Carolina Panthers, mainly bouncing on and off practice squads. Dennis was assigned to the arena leagues' Arizona Rattlers in 2012 but was exempted while spending time with the previously mentioned NFL teams. In April of 2015, he made his arena league debut with the Rattlers and, in October, would be placed on the 'Other League Exempt List' to pursue a career in the CFL.
Dennis signed with the Calgary Stampeders in mid-September of 2015 and was initially signed to the practice roster. He was promoted to the active roster on October 1st and made his CFL debut the next day versus the Hamilton Tiger-Cats. He played and started in 5 regular-season games at left tackle for the Stampeders and both of the team's playoff games that season.
In 2016, Derek Dennis started all 18 regular-season games (15 at left tackle, 2 at left guard, 1 at right guard) and was a key piece of a Stampeders unit that allowed the fewest sacks in the CFL that year with 20. His offensive line unit also helped running back Jerome Messam run for a league-leading 1,198 yards. Following the end of the year, he received the CFL's Most Outstanding Offensive Lineman Award.
Dennis played the 2017 season with the Saskatchewan Roughriders before rejoining the Stampeders in February of 2018. He'd start all 18 regular-season games at left tackle, and the team would go on to win the 106th Grey Cup against the Ottawa Redblacks in Edmonton's Commonwealth Stadium. He'd start 16 games for the Stamps in 2019 (14 at left tackle, 2 at right tackle) and was named a West Division All-Star for the 3rd time in his career.
Derek Dennis was not resigned by the Stampeders following the 2019 season and became a free agent in February 2020. Shortly after his release, Dennis signed with Vince McMahon and Oliver Luck's XFL 2.0, where he'd initially sign as a member of the leagues' team 9, a hybrid farm team/practice squad for the entire league, inspired by a similar system used by NFL Europe. On February 25th, 2020, he signed with the New York Guardians and had his contract terminated when the league suspended operations due to the Covid-19 pandemic on April 10th, 2020.
In January of 2021, Dennis signed a 2-year contract with the CFL's Edmonton Elks but will now opt out of the 2021 season to support his family. Hopefully, we'll see his return to the Elks for the 2022 season, but as of now, we wish him and his family the best while taking this extended break from football.
Subscribe to our
CFL News Hub YouTube Channel
. Get breaking news and the latest CFL news. Plus the CFL Week In Review Podcast.
---