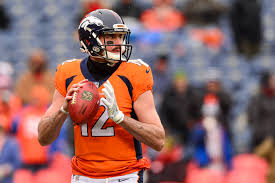 The Rough Riders are building around Cody Fajardo after his breakout 2019 campaign, and part of that means solidifying the QB room around him. After veteran backup James Franklin retired in April, they've been searching for depth and stability at the position behind their rising star at QB. In this endeavor, they've just signed former Denver Broncos 1st Round Pick Paxton Lynch to compete on the depth chart.
A former #NFL 1st round pick, with a CANNON for an arm 🚀

We have signed 🇺🇸 QB, Paxton Lynch.

READ | https://t.co/V0fAZGfRpS#Riders x @KonicaMinoltaCA pic.twitter.com/m49DZjsFvi

— Saskatchewan Roughriders (@sskroughriders) June 28, 2021
Lynch was the presumed heir apparent to Peyton Manning after his selection in the 2016 NFL Draft, but things never fell together in Denver. He made just 4 starts from 2016-2017, passing for 792 Yards, 4 TD's and 4 INT's while completing 61.7% of his passes.

After stints with the Seahawks and Steelers in recent years, the Rough Riders roster is a great landing spot for the 27 year old passer.

He's always had the tools to get it done with good athleticism and a huge arm, and hopefully he can refine his game in Saskatchewan.

Though his time in the NFL didn't go as planned, Lynch brings solid tools and a 1st round pedigree to the Rough Riders.
25 year old Isaac Horker is the presumed QB2 at this point as he previously backed up Fajardo in 2019, but the competition behind him is wide open. Lynch is the 4th American QB brought into this room to compete, and he'll vie with Mason Fine, Tom Flacco and Luke Falk to make an impact on this roster.
Subscribe to our
CFL News Hub YouTube Channel
. Get breaking news and the latest CFL news. Plus the CFL Week In Review Podcast.
---