The Montreal Alouettes made 8 selections in the 2023 CFL draft. Montreal drafted 2 defensive backs, 1 defensive lineman, 1 offensive lineman, 2 fullbacks, 1 runningback, and 1 wide receiver.
Montreal also selected a defensive lineman and a punter in the global draft.
A few of the players selected by Montreal will require some waiting to see if they will end up in the CFL as they are currently pursuing NFL teams.
Global Round 1, Selection #5: Simon Lars Sandberg, DL, Oregon State
Simon Lars Sandberg was the first of 3 Swedish players taken in the 2023 CFL Global Draft. He was the second defensive lineman taken.
Sandberg played and started all 13 games for Oregon State last year and was an All-Pac-12 Honorable Mention. He contributed 17 tackles, 2 for a loss, 2 pass breakups, and four quarterback hurries in 2022.
In 40 games played at Oregon Sandberg record 22 solo tackles, 51 total tackles, a sack, and a forced fumble.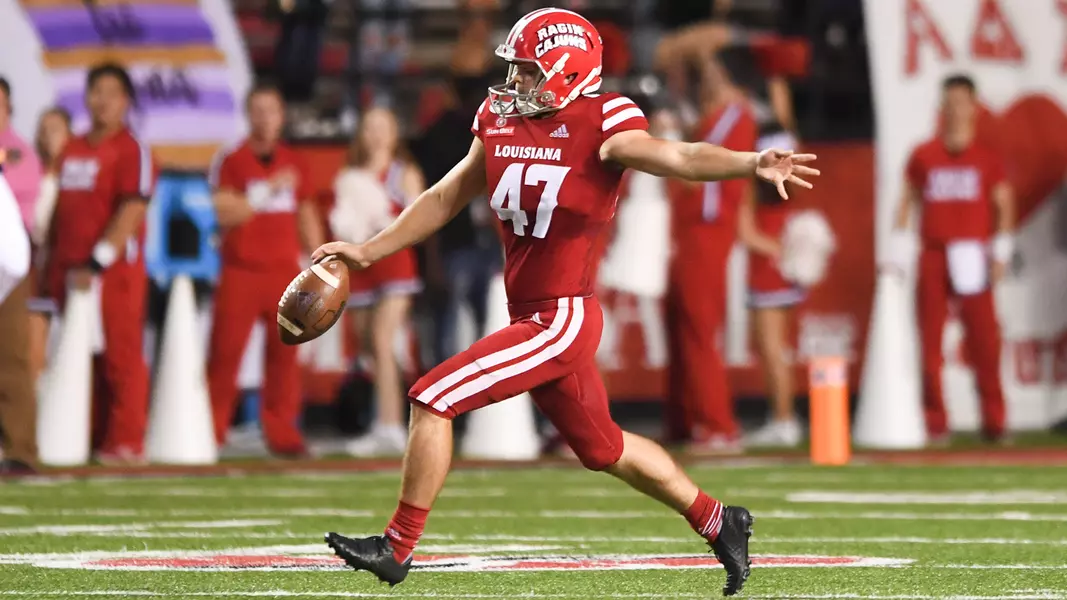 Global Round 2, Selection #14: Rhys Byrns, P, Louisiana
Rhys Burns was the 4th Australian punter drafted in the 2023 CFL Global Draft. He was named First Team All-Sun Belt in 2022 and 2021. He was named Second Team All-Sun Belt in 2020 and 2019.
He was third in the conference for an average punt in 2022 at 43.4 (first was 43.0). In 2021 he was first in the conference averaging 46.3 yards per punt which saw him finish 18th in the nation.
Round 1, Selection #5: Jonathan Sutherland, LB, Penn State
Jonathan Sutherland could have been drafted higher if not for the fact he is already signed with the Seattle Seahawks as an undrafted free agent. He won't be an Alouette to start the season as his professional career is beginning in the NFL, should his path lead to the CFL, he will be a tremendous asset for Montreal.
Sutherland played five seasons for Penn State playing both safety and linebacker. Over 50 games he contributed 136 tackles, eight tackles for a loss, 1.5 sacks, and an interception. He also contributed to special teams. In 2019 he blocked 2 punts in the same game against Idaho.
Sutherland was a team captain for 4 years. He was also awarded the Bob Mitinger Memorial Award which is awarded "to the ultimate teammate who exhibits courage, character and social responsibility.". Sutherland earned Academic All-Big Ten honors in 2020, 2021, and 2022.
At his pro day, Sutherland ran a 4.58 40-yard dash, had a 37.5 vertical, and a 10"3' broad jump, and completed 25 bench reps. He measures in at 5'11 and 202 pounds.
Should Southerland fly with the Alouettes he would likely play linebacker over safety as Marc-Antoine Dequoy is projected to be the starting free safety for Montreal for the next few seasons.
Round 1, Selection #7: Lwal Uguak, DL, TCU
Lwal Uguak might not be with the Alouettes to begin this season as he has been invited to the New York Giants rookie minicamp which will occur May 5-6. 
Montreal passed on DL Francis Bemiy to make this selection to the surprise of some as Bemiy was ranked similarly to Uguak by scouts and is from Montreal and is a fluent speaker of French.
Uguak played his senior season for the TCU Horned Frogs after playing 3 seasons with UCONN. He played 14 of 15 games in a rotational role contributing 10  tackles, and a fumble recovery that he returned 19 yards.
In his junior year at UCONN in 2021, Uguak contributed 34 tackles, 3.5 for a loss, two pass breakups, and seven quarterback hurries over 10 games. UCONN did not play in 2020.
Uguak contributed 19 tackles and 4 sacks in 2019 playing in all 12 games for UCONN. In 2018 he played in 12 games with 10 starts contributing 16 tackles and 1.5 tackles for loss.
On his pro day ran a 4.96 40-yard dash, 29-inch vertical, 9"8' broad jump, and did 18 bench reps. He measures in at 6'4 and 261 pounds, lighter than when the season ended. He has played both defensive tackle and defensive end.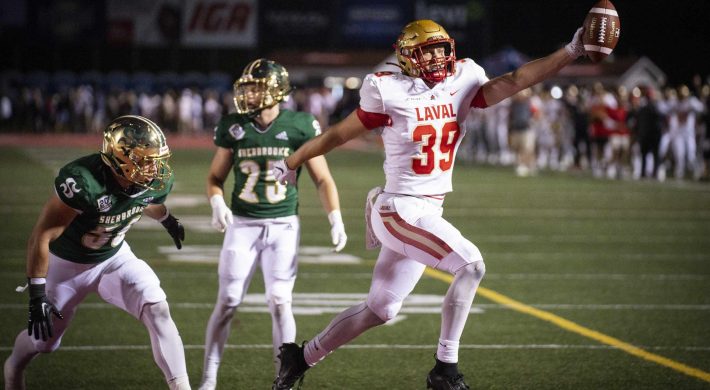 Round 2, Selection #13: David Dallaire, FB, Laval
David Dallaire was named to the RSEQ Offensive All-Star Team in 2022 and 2021. He was also named Offensive Player of the Week for the RSEQ in October.
In 2022 Dallaire played all 8 regular season games and rushed for 86 yards and 5 touchdowns on 22 carries for 3.9 yards per attempt. He also added 18 receptions for 279 yards and 2 touchdowns.
Dallaire was a big part of Laval's Vanier Cup Championship run. Over the 4 post-season games he had 5 rushes for 11 yards and 3 touchdowns. He also caught 10 passes for 112 yards and a touchdown that came in the championship game vs Saskatchewan.
Dallaire ran a 4.94 40-yard dash, 29-inch vertical, and 8"11 ⅜ broad jump at the combine. He measures 6'3 and 220 pounds.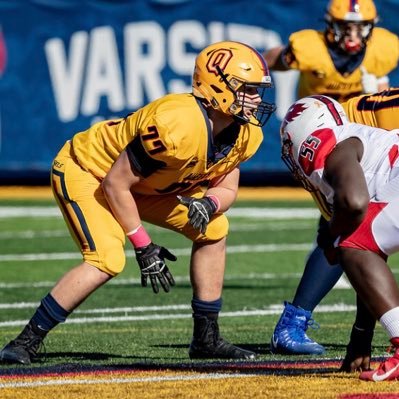 Round 4, Selection #32: Theo Grant, OL, Queen's
Theo Grant was named a second-team USports All-Canadian at guard last season.
At the combine, Grant ran a 5.31 40-yard dash, 29-inch vertical, and 7'10 broad jump. He measures just under 6'3 and weighs 280 pounds. He will likely need to get his weight closer to 300 to be more comparable to the offensive lineman at the CFL level. The lightest listed offensive lineman for Montreal was 296 last year.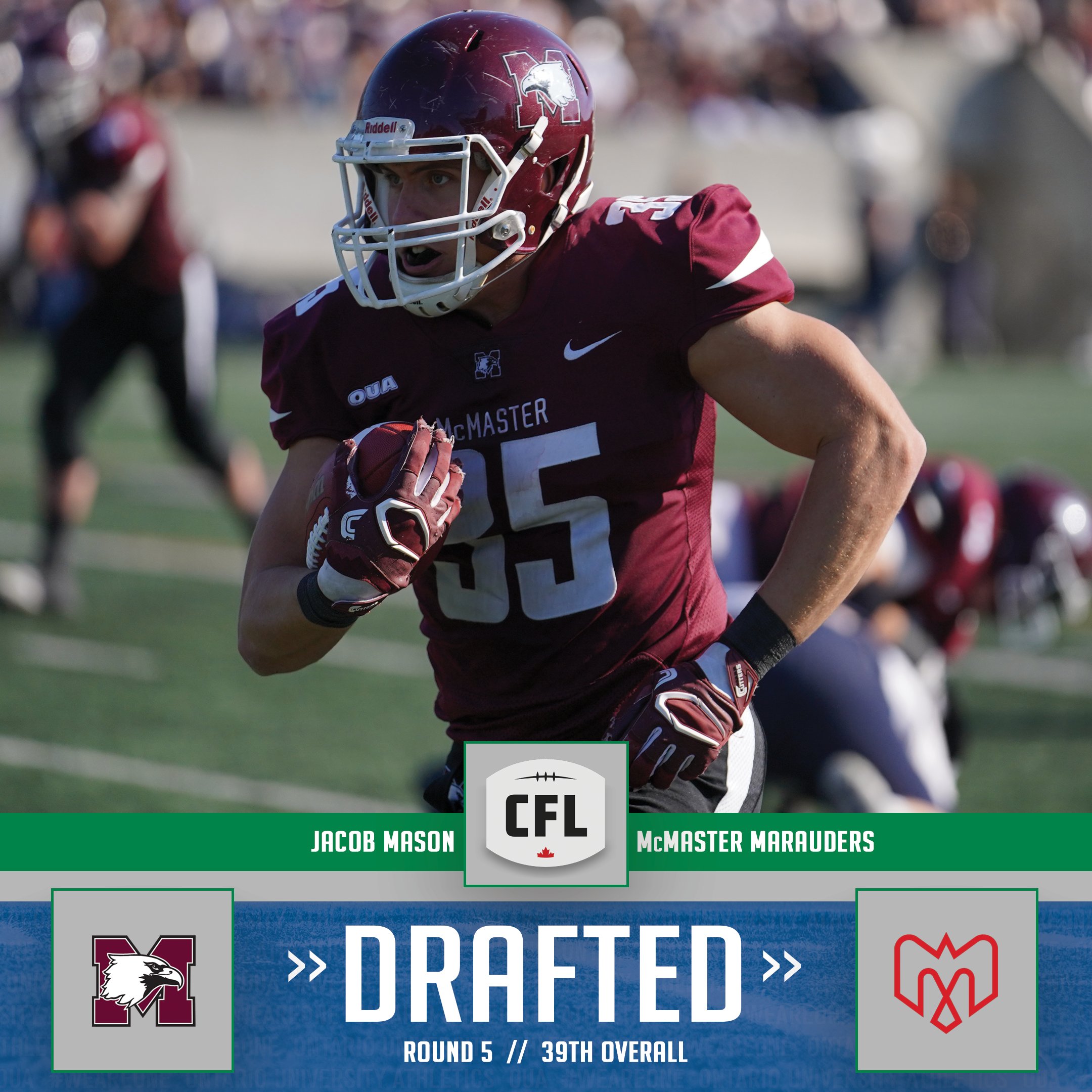 Round 5, Selection #39: Jacob Mason, FB, McMaster
Jacob Mason is drafted for his hard-nosed physical style of play and effective ability to protect the pass.
Last year Mason contributed 101 rushing yards on 12 carries averaging an impressive 8.4 yards per carry. He also caught 9 passes for 66 yards.
Mason ran a 4.93 40-yard dash, 29-inch vertical, and 8'7 broad jump at the combine. He measures 6'0 and 222 pounds.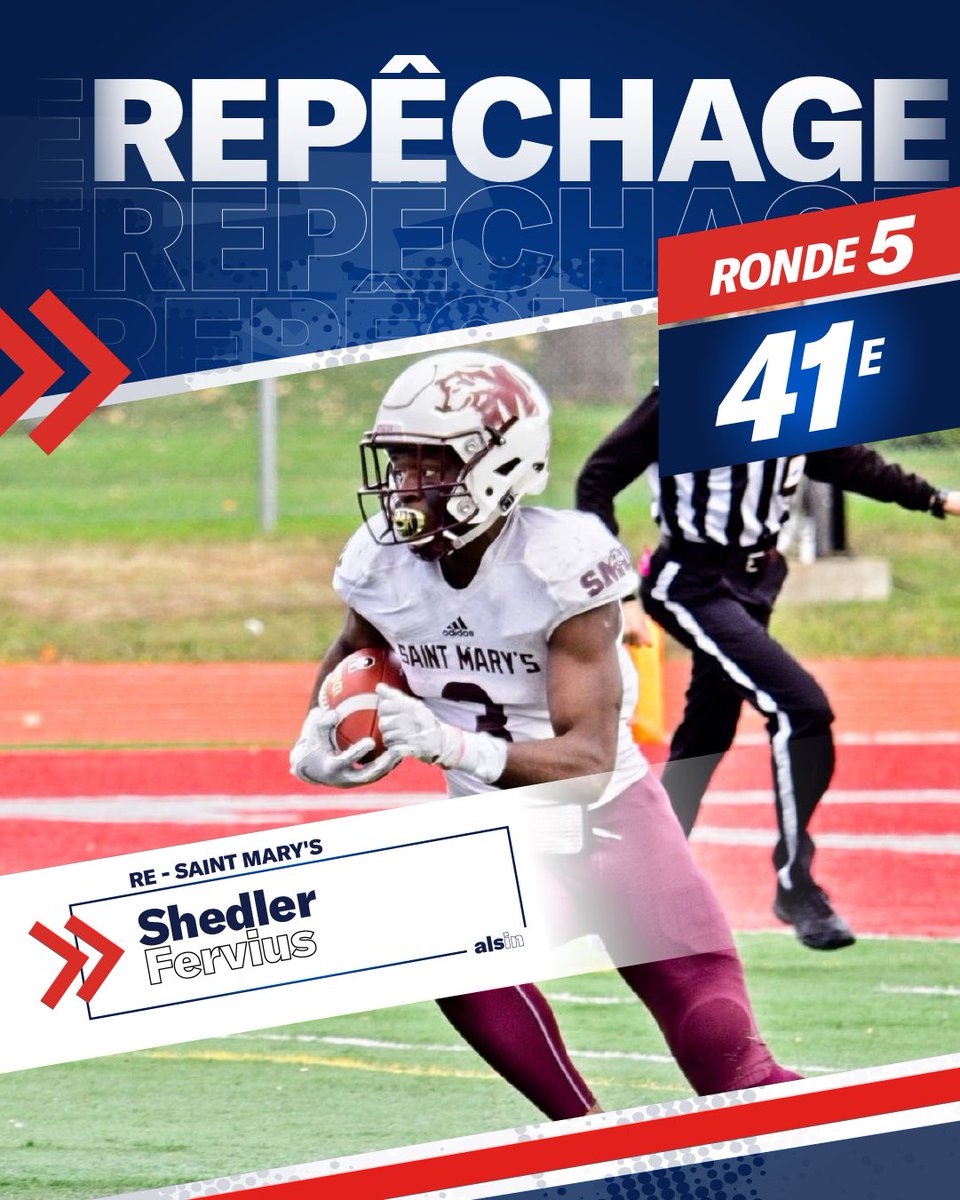 Round 5, Selection #41: Shedler Fervius, WR, Saint Mary's
Shedler Fervius was Montreal's only receiver drafted this year and the 7th receiver taken in the CFL draft.
Fervius did not play last season due to being academically ineligible.
In 2021 Fervius only played in 4 games but still contributed 19 receptions and 142 yards. 2020 was not played due to covid.
In 2019 Fervius contributed 31 catches for 428 yards and a touchdown over 8 games.
As a freshman Fervius caught 9 passes for 132 yards in 2018.
Fervius did not attend the combine this year. At the East-West Bowl 2 years ago Fervius showcased a 37.5-inch vertical and a 10'5 broad jump.
Round 7, Selection #59: Chase Brown, RB, Illinois
It seems unlikely we will see Chase Brown suit up in a CFL game at this time. He was recently drafted in the 5th round by the Cincinnati Bengals.
Last season playing for Illinois Brown finished 4th in rushing in the NCAA with 1,643 yards on 328 carries and 10 touchdowns in 12 games. He also caught 27 passes for 240 yards and 3 touchdowns.
In 2021 Brown rushed for 1005 yards on 170 carries and 5 touchdowns over 10 games. He added 14 receptions for 142 yards. 
His career totals amounted to 3,558 rushing yards on 676 carries amounting to 5.3 yards per carry. He had 18 career rushing touchdowns. He had 58 career receptions for 521 yards and 3 touchdowns.
Chase Brown would be an absolute force if his football path led him to play in the CFL. He likely will be an absolute force in the NFL.
Round 8, Selection #68, Maxym Lavallée, DB, Laval
Maxym Lavallée was a four-year starter for Laval. He was named an RSEQ Defensive All-Star in 2022. He was twice named RSEQ Defensive Player of the Week in 2019. In 2018 he was named RSEQ Oustanding Defensive Rookie.
Lavallée lead Laval in tackles last year in the regular season with 32.5 over the 8-game season. He also added 16 solo tackles and 19.5 total tackles in the 4-game post-season run that saw Laval win the Vanier Cup.
Lavallée measures 5'9 and 190 pounds.
Subscribe to our
CFL News Hub YouTube Channel
. Get breaking news and the latest CFL news. Plus the CFL Week In Review Podcast.
---