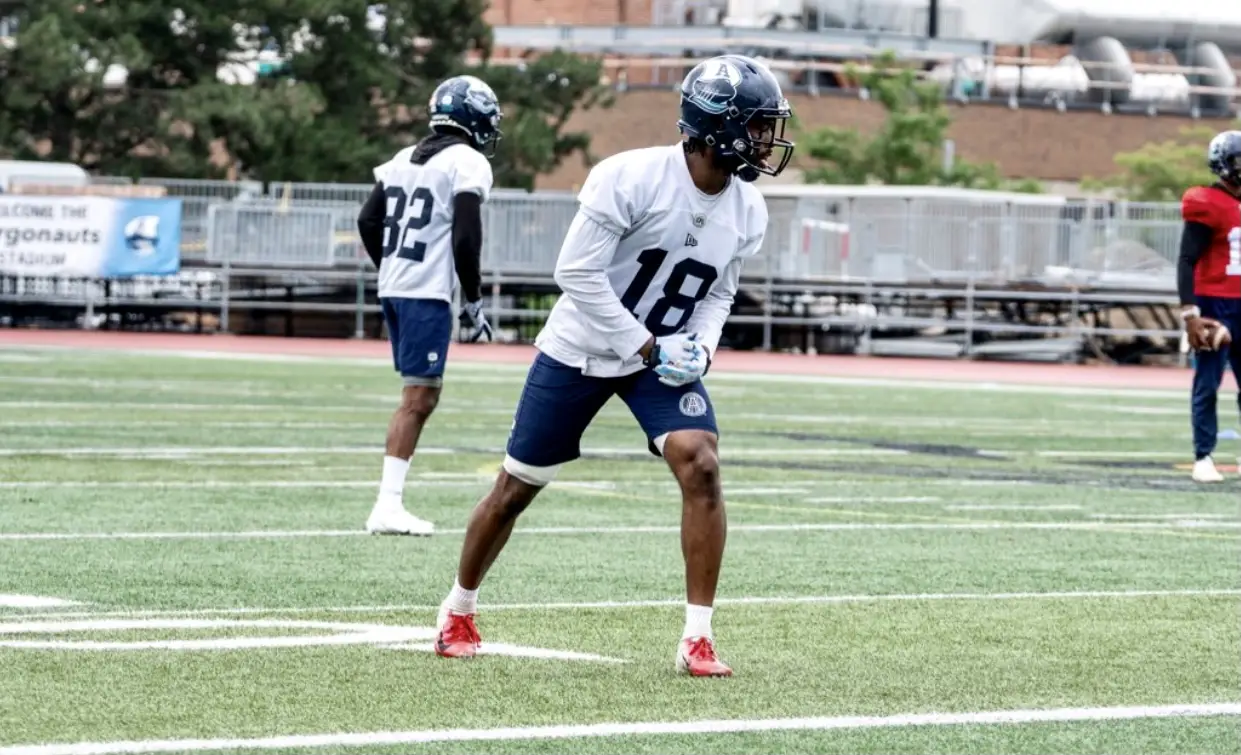 The Toronto Argonauts were back at Alumni Stadium on Wednesday at the University of Guelph for day 5 of Training Camp. The team ended practice early for the second day in a row to get players additional rest and treatment.
Coach Ryan Dinwiddie is looking to protect many of his players who are coming off of a two-year layoff and is cognizant of the possibility of veteran players needing rest or the reality that some may have lost a step since the last time they played.
These guys haven't been on the field for a while. And some guys are getting a little bit longer in the tooth. So, if they've lost a step or their skill sets diminish. We have to be aware of that and not just hang our hat on veteran guys who have experience and take the easy way out…. They have to honestly make our team.

Ryan Dinwiddie to Argonauts reporters on July 10th.
Back To The Argos Future
The Toronto Argonauts have 17 players on their roster who are thirty years or older. So, the early days of camp have seen many of the Boatmen's younger players get an opportunity to shine. Coach Dinwiddie has set a practice plan for the first phase of camp. The first ten practice sessions intend to cast a wider net and afford more players opportunities to practice with the first team. Dinwiddie has called the second phase of his practice plan flexible, and it will be determined by player health and whether veteran players need to rest up before the season starts.
One of the young players who has been getting extended reps and shining in camp has been WR Dejon Brissett. The former second overall draft pick of Toronto in 2020 has seen a lot of playing time on offence, specifically at the Z position on the outside.
The absence of high-profile American players with passport issues like Martavis Bryant and Kendall Wright has also opened the door for Brissett to breakout. Despite having a loaded depth chart with experienced CFL pass-catchers like Eric Rogers, DaVaris Daniels, Juwan Brescasin, Ricky Collins Jr, Terrell Sinkfield, Chandler Worthy, and Llevi, Noel. Brissett has been turning heads, making big plays in practice, and potentially pushing for a starting role at the field side receiver position.
After patiently waiting his turn as now a two-year rookie, Brissett told Argos.ca how he feels about his experience in camp so far and the big plays down the field he has made in camp.
"It's always fun making plays," "I'm always hard on myself…but it's good to watch those kinds of plays over and enjoy it. I definitely look forward to making those throughout camp and hopefully when the season comes around."
'Boom Boom' looking to provide The Boatmen's special teams a big boost
One of the most unheralded and under-the-radar pickups by the Toronto Argonauts is the acquisition they made for former CFL All-Star kicker/punter Boris Bede. In February of 2020, the Double Blue traded former kicker Tyler Crapigna for the now-former Alouettes kicker. Bede has brought his position versatility, veteran experience to the six, along with his big leg.
The veteran specialist, Bede, has taken on a mentor role with a player he is competing against in kicker Toshiki Sato during camp. Bede has taken the former All X-League Japan kicker Sato under his wing to show him the ropes. Because of Sato's global status, Toronto could keep two kicking specialists on their roster, but it's rare for veterans to embrace their novice challengers in camp.
"The competition has to be clean. I'm going to put the keys in your hands. That's what I'm trying to do with Toshi. We're going to compete, and there is no need to be mean and be a bad person. It doesn't have to be a head-to-head battle where I'm going to make you look bad because I want to look good. That's not healthy. "I'm teaching because, at the end of the day, we want to be the best at what we're doing."
In 2019, which seems like a lifetime ago now. The Toronto Argonauts lost five games by one score; three of the team's losses were by a field goal or less. An 18-17 narrow defeat against BC at home, where then kicker Drew Brown missed an easy 33-yard field goal. A late-season 27-24 loss to Montreal, which saw Tyler Crapigna go 1/3 on his field goal attempts, missing a potential game-tying kick at the end of regulation, while Boris Bede was perfect on the other side for the Alouettes. In a season-finale 21-18 defeat against the Hamilton Tiger-Cats. Argos' kickers, Zackary Medeiros and Ronald Pfeffer, combined to miss two field goals, both from under 30 yards in the contest.
The Argonauts figure to be much improved in 2021, but whether or not they can contend in the East or make the playoffs could come down to the team's ability to win close games. The French-born Bede is coming off of arguably his best season in the CFL. In 2019, Bede connected on 31 of 35 field goals (88.6%) and averaged 44.5 yards per punt. Matching that type of performance in 2021, Bede could help the Boatmen kick down the door into the playoffs.
Additional Training Camp Notes
The Argonauts defensive staff is looking for versatility and have been rotating several players on the defensive side of the ball. The returning Shaq Richardson played boundary half in practice on Wednesday. Cornerback Crezdon Butler played safety exclusively and Alden Darby saw snaps at the Sam backer spot. Dexter McCoil Sr. played the MAC position in today's camp. Players like Travis Lee and Jamal Peters have had good camps thus far and have played their way into potential roles in the secondary.
Terrell Sinkfield, Chandler Worthy, Daniel Braverman and Damon Jean-Pierre have been splitting reps as the Argos punt returner. To this point, there is no clear cut leader of the pack. Argos GM Michael 'Pinball' Clemons has been seen giving each player some pointers on the field.
The Skelly sessions, as expected have favored the offence, but the 12 on 12 periods have gone the favor of the Argos defence in successive days. The Argos have been playing with great energy on defence and part of that has to do with their new secondary coah Joshua Bell. The former CFL player has been the most animated coach on the field during practice sessions and his energy is rubbing off on the players that he is coaching.
Subscribe to our
CFL News Hub YouTube Channel
. Get breaking news and the latest CFL news. Plus the CFL Week In Review Podcast.
---