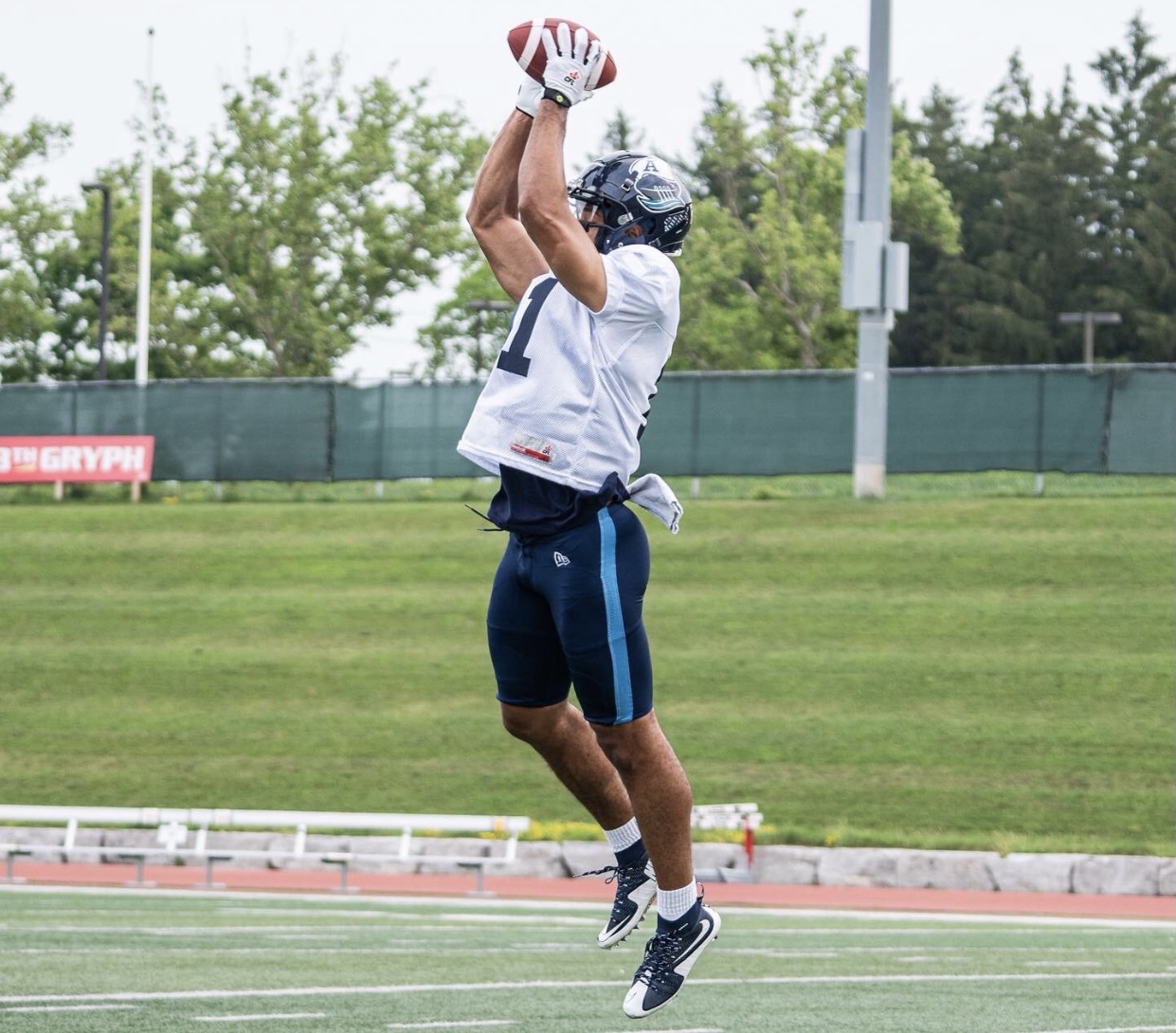 Toronto Argonauts training camp is in full swing, and the team is close to finishing its first week's worth of practices. The new-look Boatmen are 23 days from the start of their regular season on Saturday, August 7th, in Calgary. But Ryan Dinwiddie and the entire Toronto Argonauts coaching staff have until July 20th to make some difficult decisions when the roster size is reduced to 75.
The Argos head coach, in waiting for nearly two years, has made some strong statements in recent days about the team's veterans having to prove themselves and earn their spots and on the team's crop of young players and how they can factor into the season.
"We think anybody that's here can play in this league, that's why we brought them in here. We want them to build confidence. Each day is different and they're going to have ups and downs, but we want these guys to keep stepping up each day, learning, adjusting, and keep improving, just put your head down and keep working. The younger guys are starting to feel more comfortable, you can see they're starting to play better, execute better, so I'm excited about our young guys."

Toronto Argonauts Head Coach Ryan Dinwiddie to Argonauts.ca on the importance of every player getting opportunities to make plays in camp.
Getting Down to 75/No Shows/Cancelled Practice
The Toronto Argonauts have 99 players listed on their current roster. The team just added two Canadian players today in Offensive Linemen Ben Koczwara and Mojtaba Mehry. The Argos have some undisclosed injuries on the offensive line, and as a result of the nicks and bruises, Coach Ryan Dinwiiide told reporters that the team would cancel Friday's practice.
"I plan on not practicing (Friday) because I could see the guys were getting tired," "We're hurting on the offensive line a little bit … nothing serious right now, we don't have any guys out long-term, just nagging injuries."I've got to do a good job of making sure we handle those things appropriately. I don't want to put those guys at risk and lose them long-term."
The Argos have 14 players on their suspended list. So, Toronto may only need to release ten players in their first wave of roster cuts in five days to get down to 75.
Some players will not get a second chance to make a first impression. That's if some of them finally decide to show up.
American players on the suspended list, like receivers Kendall Wright and Martavis Bryant, have started on the wrong foot with the Boatmen. And since camp started and chronicled here in recent days, Head Coach Ryan Dinwiddie has been clearly annoyed by their absence. Bryant and Wright have cited passport issues for the reason why they didn't show up. But players were notified in advance of when training camp would start and the measures that would have to be taken once they arrived. Which included a stay in quarantine before participation can begin.
The Argonauts have been very strict in their COVID protocols, and players, coaches, and staff have had to go through an extended quarantine process before joining the team and practice. The CFL released a statement today updating their first wave of testing for all employees.
The Canadian Football League (CFL) today released the following statement on COVID-19 testing:
Through pre-training camp and quarantine, the league administered approximately 6,000 COVID-19 tests to Tier 1 personnel, which includes players, coaches, and support staff. Those tests resulted in a total of ten individuals returning a positive test result for COVID-19. Five of the positive tests occurred prior to the affected individuals' travel to their respective  CFL markets; they were subsequently not allowed to travel. Please note that, on occasion, a test that comes back positive is determined to be false-positive. Any individual that tests positive is prevented from joining or is removed from team activities and is isolated or quarantined, in accordance with the CFL's Return to Play Health and Safety protocol, Public Health Agency of Canada (PHAC) protocol, and local public health protocol. The CFL will continue to provide updates on tests administered to Tier 1 personnel. As a matter of policy, it will not identify of the affected individuals or Clubs.
Players like Martavis Bryant and Kendall Wright are already behind in making the roster, and their late arrivals are not sitting right with their head coach.
On Thursday, Ryan Dinwiddie let the media know how he feels about the no-show by Martavis Bryant.
"We've had some contact with him," Dinwiddie said. "We need to get him up here now if he's going to be up here and make an impact on our team."The ball is in his court; he's got to get his passport and get those things squared away. We'll see how that's going to play out."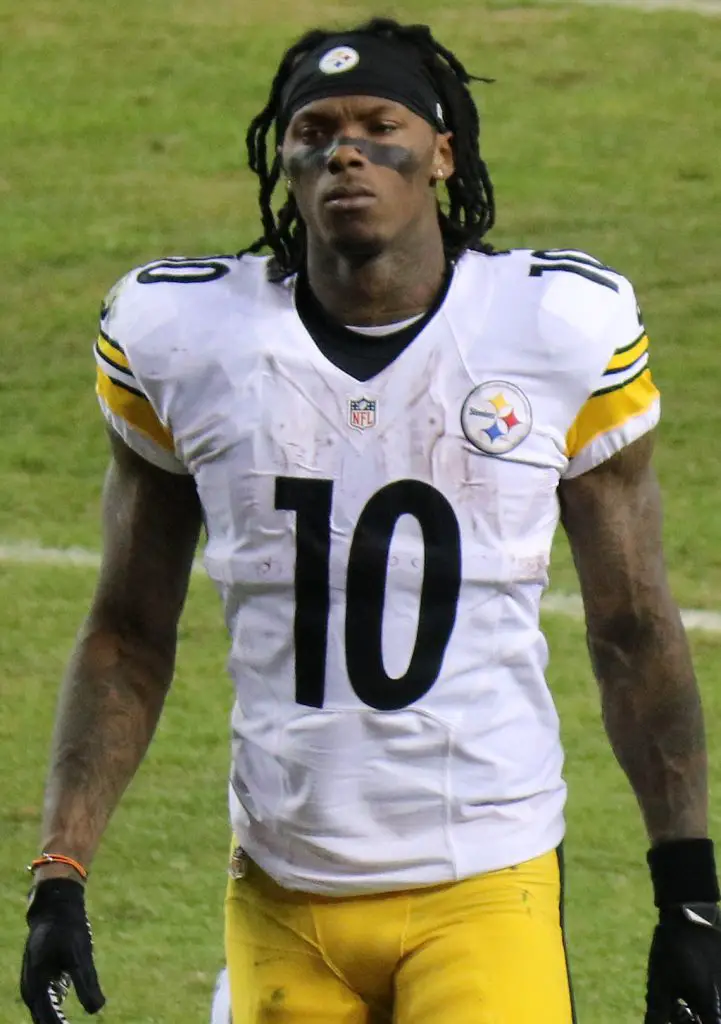 Martavis Bryant, 29, signed with the Argonauts on Jan. 25. The six-foot-four, 210-pound receiver spent five seasons in the NFL with the Pittsburgh Steelers and Oakland Raiders, registering 145 catches for 2,183 yards and 17 TDs in 44 career games. The enigmatic former Clemson star was also banned multiple times by the NFL for violating its substance abuse policy.
First-time head coach Ryan Dinwiddie, by all accounts, has run a very organized training camp, and the team has been displaying very good chemistry since its first week together, but how he handles the current situation with no-show players like Bryant will provide evidence to the locker room of his leadership skills.
As talented as Bryant is and as polished of a receiver as Kendall Wright has proven to be in his career. The Toronto Argonauts are extremely deep at the wide receiver position, and the Argos can set sail without them very easily. It will be interesting to see how Ryan Dinwiddie handles the situation moving forward.
There are some roster decisions that Dinwiddie and his staff won't have to make until the end of camp. But it sounds very likely that the Argonauts will find a way to keep three quarterbacks.
Toronto believes that they have two starting quarterbacks in Nick Arbuckle and McLeod Bethel-Thompson. The Argos haven't named a starter yet and despite both splitting first-team reps in practice. The feeling is that Arbuckle will be the team's signal-caller when the season starts in Calgary.
By the sound of it, there might be a third insurance option in the mix. Ryan Dinwiddie has spoken very highly of former Alouettes starting QB Antonio Pipkin. Dinwiddie has stressed the value of having multiple starting-caliber players at quarterback. Citing the luxury that he had in Calgary with Arbuckle when Bo Levi Mitchell went down.
The team loves Pipkin's arm strength and athleticism, but they have been working on his mechanics. With the practice roster extended to five, there's a chance that Pipkin remains with the team in that variety as added insurance.
Another intriguing decision in the offing for the Argos' is what they do at their kicking position. Boris Bede is the projected kicker/punter, but his understudy Toshiki Sato has been very impressive with his accuracy in camp. As a global player, the Argos, by league rule, can carry a player of that designation on their roster. With only four global players on the roster, Sato is the best bet to make the team. It's entirely possible that Toronto could carry two specialists, with Bede handling punts, kickoffs, and perhaps longer field goals while Sato handles standard kicking duties.

Subscribe to our
CFL News Hub YouTube Channel
. Get breaking news and the latest CFL news. Plus the CFL Week In Review Podcast.
---