CFL TOP PERFORMERS – WEEK 9
Collaros, Evans and Dedmon named CFL Top Performers
TORONTO (October 5, 2021) – Zach Collaros, Caleb Evans and DeVonte Dedmon were named the CFL Top Performers of the Week for Week 9 of the CFL's 2021 season.
The three players were chosen by a panel of judges made up of former CFL players Matt Dunigan and Duane Forde of TSN, as well as Pierre Vercheval of RDS, who independently send their selections to the CFL head office.
QB | ZACH COLLAROS | WINNIPEG BLUE BOMBERS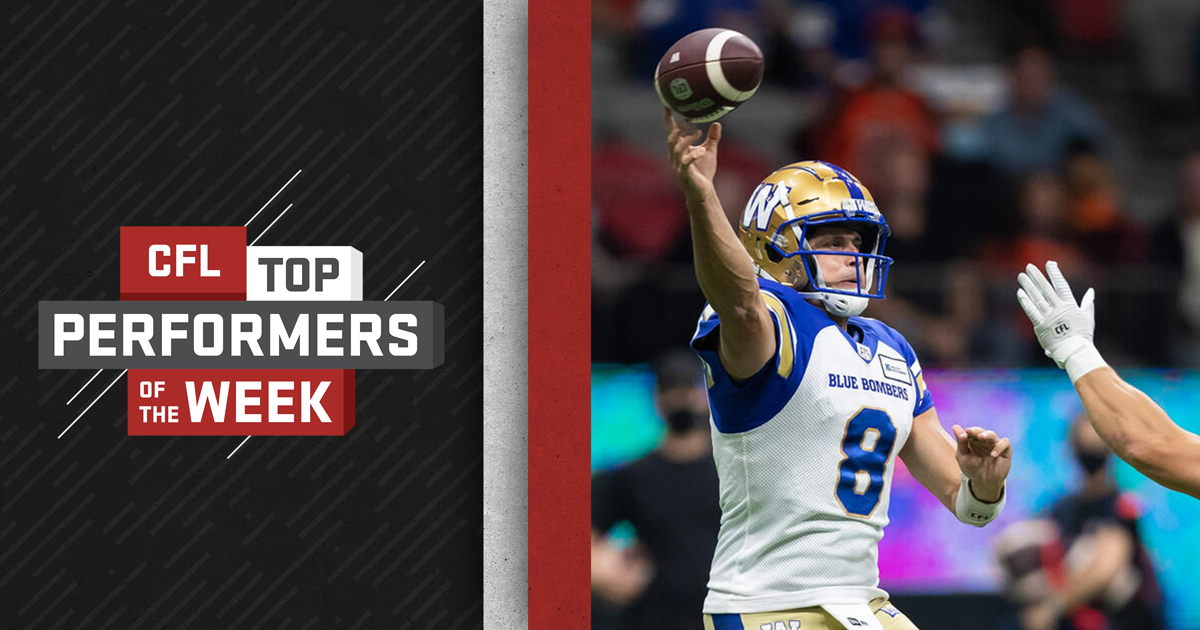 Zach Collaros's pair of touchdown passes propelled his team to a confident road victory on Friday night and pushed Winnipeg's winning streak to five.
The former Cincinnati Bearcat completed 28-of-33 passes for a CFL season-high 417 yards. It was the second time that Collaros has reached 400+ yards, falling 22 yards shy of his career mark set in 2016.
Both of his touchdown passes came in the second quarter. He connected with Kenny Lawler for a 27-yard score before following up with 10-yard touchdown pass to Rasheed Bailey.
In his tenth CFL season, Collaros leads the league in passing yards (2,148), while completing 72.4 per cent of his passes, and is second in touchdown passes with 12.
QB | CALEB EVANS | OTTAWA REDBLACKS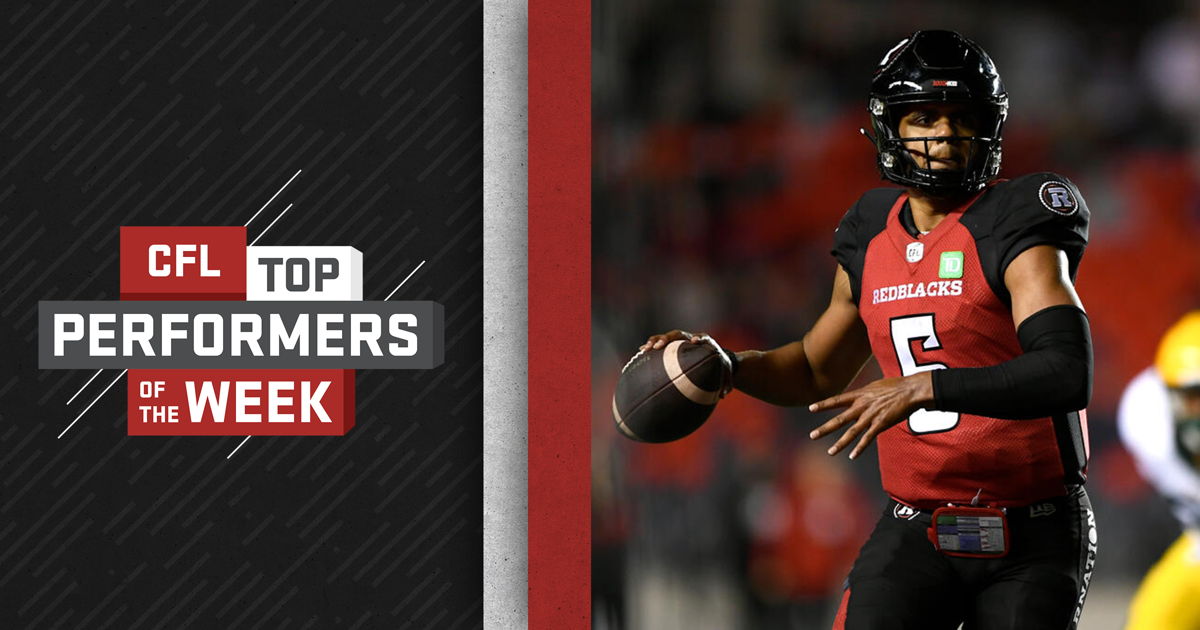 In his first-career CFL start, Caleb Evans willed the REDBLACKS to a 34-24 win over Edmonton at TD Place.
Evans threw three touchdown passes for 191 yards and no interceptions, while completing 68.2 per cent of his passes. He also showed off his versatility, rushing for 59 yards on seven carries (8.4 yards per rush).
Evans connected with Ryan Davis for a 15-yard score on the team's opening possession. Later in the first quarter, Evans found Timothy Flanders who weaved into the endzone to stake Ottawa to a 13-0 advantage. He capped off his impressive debut by finding Kenny Stafford with a seven-yard strike in the fourth.
In his four years with the Louisiana-Monroe Warhawks, Evans passed for 9,513 yards and 58 majors, while adding 2,168 rushing yards and 36 touchdowns.
WR | DEVONTE DEDMON | OTTAWA REDBLACKS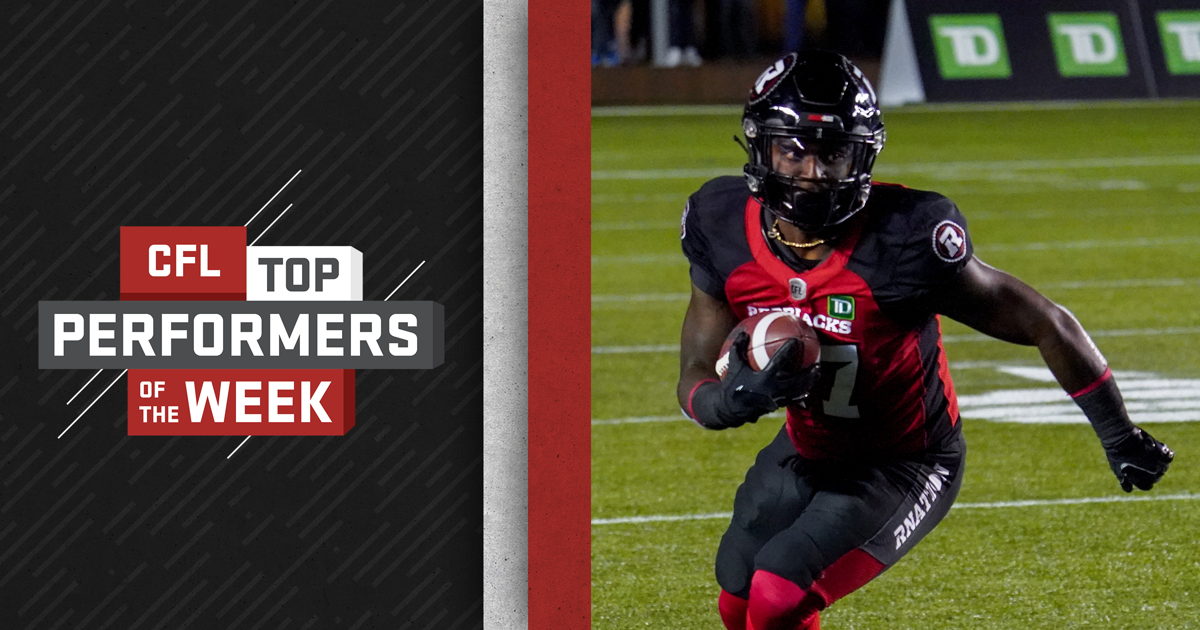 DeVonte Dedmon recorded 250 combined return yards and scored his second punt-return touchdown of the season in the REDBLACKS' home win.
Early in the second half, Dedmon returned a Hugh O'Neil punt 73-yards to the house to extend the REDBLACKS' lead to 16. The William and Mary product returned a total of five punts for 151 yards (30.2 yards per return) and added 99 kickoff return yards on three opportunities.
In his second CFL season, Dedmon leads the league with 1,319 combined yards.
Fans' Choice of the Week!
Cody Fajardo won Week 8 of Fans' Choice of the Week and collected 10 bonus points.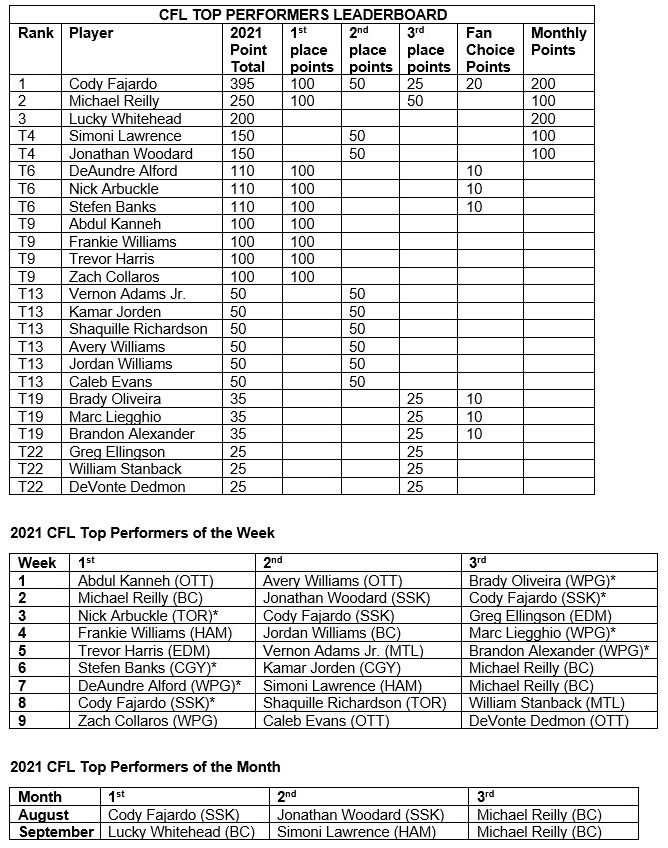 Subscribe to our
CFL News Hub YouTube Channel
. Get breaking news and the latest CFL news. Plus the CFL Week In Review Podcast.
---