CFL TOP PERFORMERS – NOVEMBER
Leonard, Whitehead and Bede named Top Performers
TORONTO – A.C. Leonard, Lucky Whitehead and Boris Bede were named the CFL Top Performers of the Month for November of the 2021 CFL's season. The selections include all appearances from Weeks 14 to 16.
The three players were chosen by a panel of judges made up of former CFL players Matt Dunigan and Duane Forde of TSN, as well as Pierre Vercheval of RDS, who independently send their selections to the CFL head office.
DL | A.C. LEONARD | SASKATCHEWAN ROUGHRIDERS
A.C. Leonard finished the final month of the 2021 campaign by tallying at least one sack in each November contest.
During the three-game stretch, Leonard totaled four sacks, 10 tackles, two tackles for a loss and a forced fumble, as the Roughriders claimed a pair of victories to finish the season with a 9-5 record.
In Week 14, the Tennessee State alum recorded two sacks, a forced fumble and a tackle for a loss in a 19-17 victory over the Edmonton Elks.
In 11 games this season, Leonard had a career-high 11 sacks, while notching 44 tackles and his first-career interception.
WR | LUCKY WHITEHEAD | BC LIONS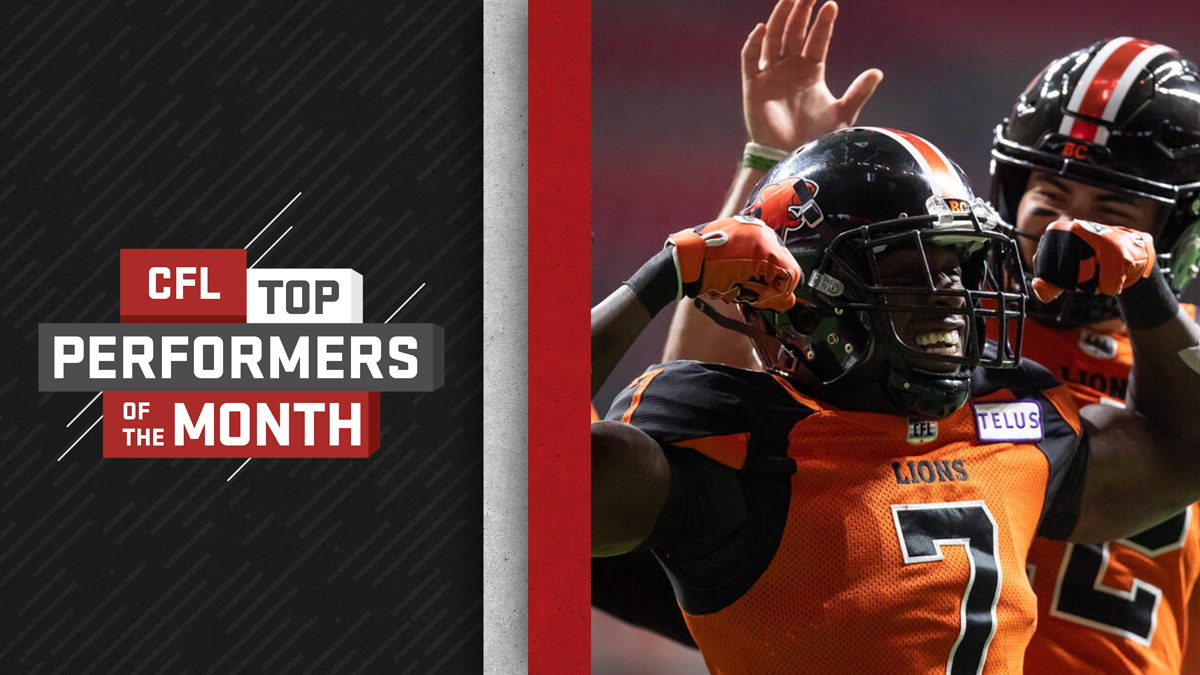 Lucky Whitehead recorded 22 receptions for 247 yards and a touchdown in the Lions' three final games.
Against Hamilton in Week 14, he caught nine receptions for 98 yards. The former Florida Atlantic Owl ended the season on a high note, collecting 92 receiving yards and a 79-yard punt return touchdown against Edmonton.
This season, Whitehead set new career-highs in receptions (60), receiving yards (932) and touchdowns (4).
P/K | BORIS BEDE | TORONTO ARGONAUTS
Boris Bede was a perfect 8-for-8, while adding 10 punts and taking care of kickoff duties, in two November contests.
His five field goals in Week 14 were instrumental as the Argonauts edged past the REDBLACKS 23-20. With the East Division crown on the line in a pivotal Week 15 matchup against Hamilton, Bede's three makes helped Toronto secure a 31-12 victory.
This season, Bede converted 84.8 per cent of his 33 field goals attempts, while averaging 44.2 yards per punt and 67.4 yards per kickoff.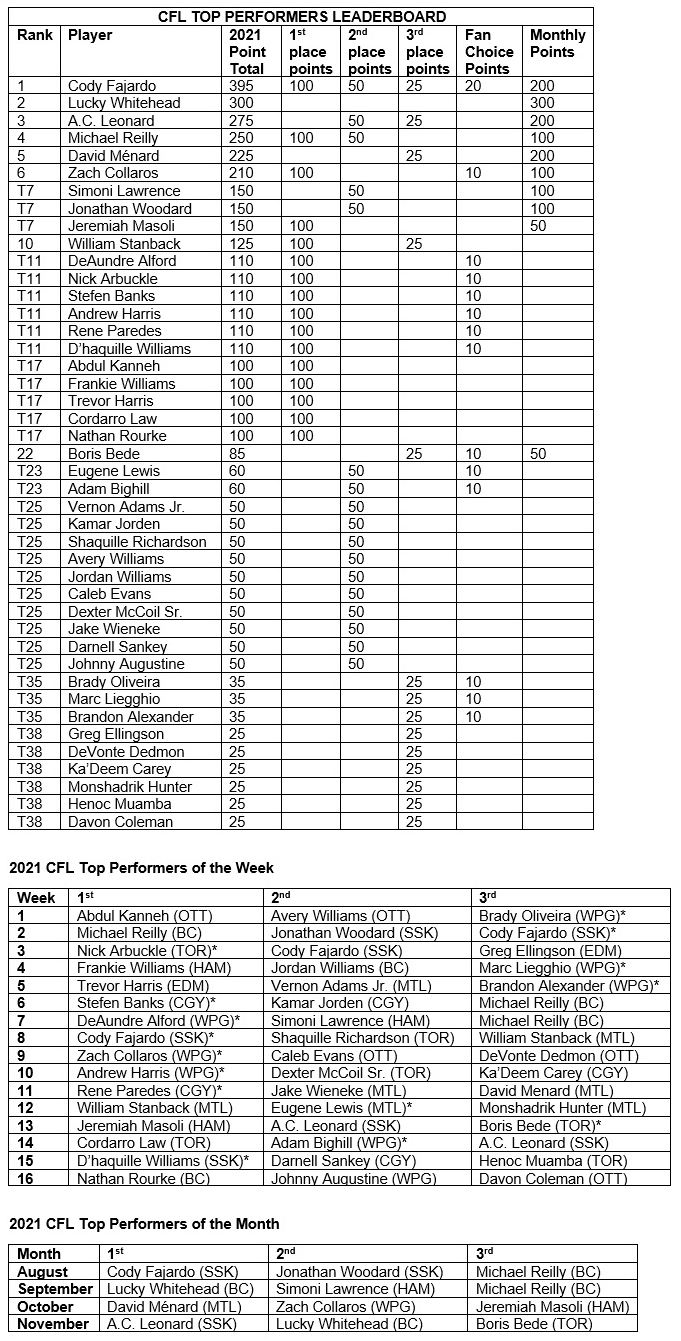 Subscribe to our
CFL News Hub YouTube Channel
. Get breaking news and the latest CFL news. Plus the CFL Week In Review Podcast.
---