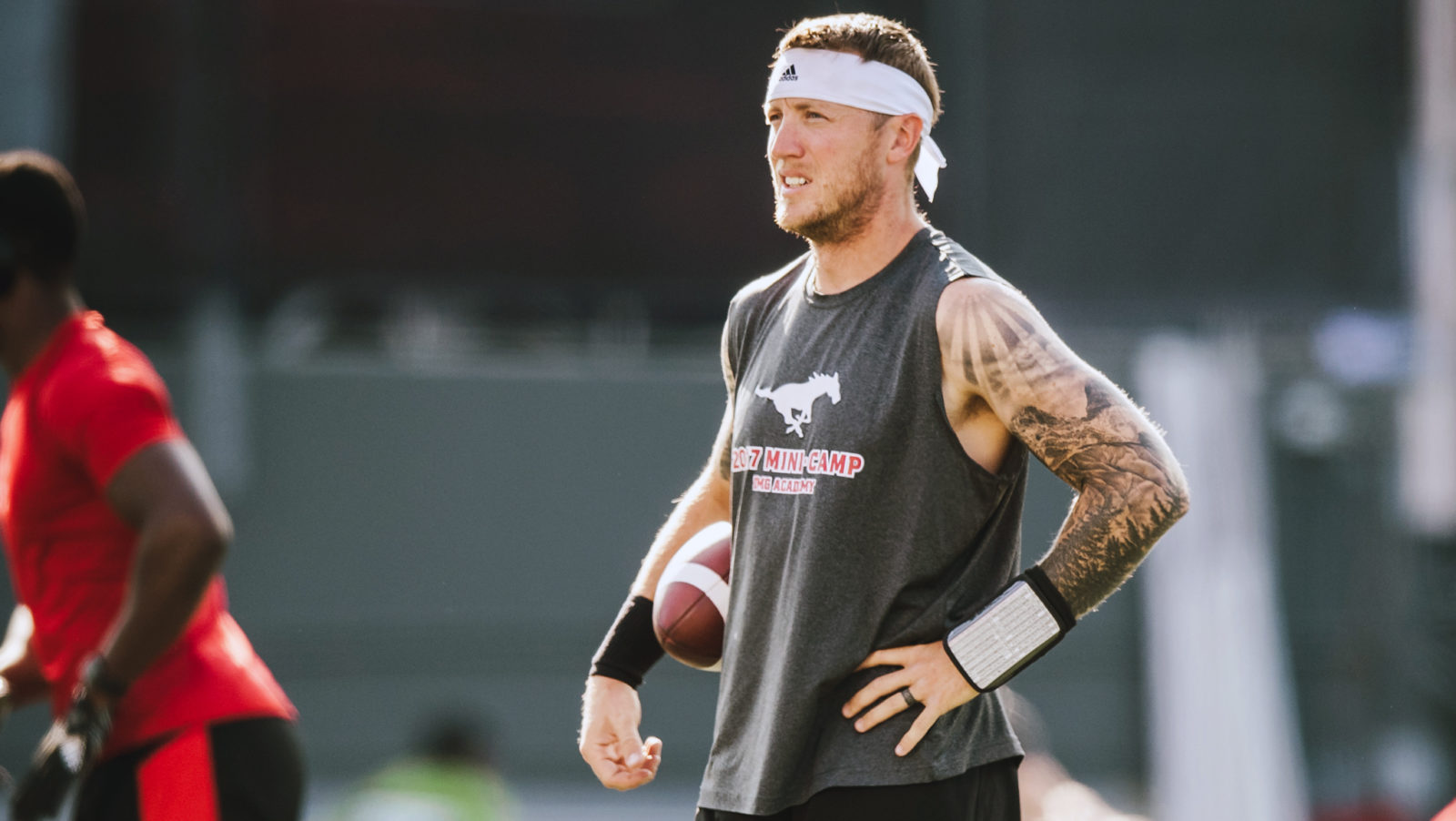 Calgary Stampeders starting quarterback Bo Levi Mitchell may not see much of the field before the season starts.
Mitchell did not participate in the team's scrimmage Saturday after head coach Dave Dickenson told reporters Friday he would be on the sidelines for some time.
"I'm probably not going to practice him again for a while. I haven't made up my mind at all on the backup guys and Bo's got a little soreness too, so I'm going to let him just be smart with things. His groin is a little bit sore here and there."

Calgary Stampeders head coach Dave Dickerson
The two-time CFL Most Outstanding Player winner struggled to get through injuries in 2019. Mitchell suffered a right arm, chest, and shoulder injury after their week three win against B.C. The injuries resulted in him being placed on the six-game injured list. It was the first time he missed a start at quarterback since 2014. He did get surgery in the offseason.
He finished the season starting 11 games throwing for 3,464 yards, 19 touchdowns, and 11 interceptions. His quarterback rating of 96.1 was the lowest for Mitchell since his rookie season in 2012.
The main concern for the team now is the soreness in his lower body. While the team is being cautious with Mitchell, it doesn't appear to be serious and should see him starting game one in two weeks.
Backing up Mitchell is Dakota Prukop, Jake Maier, and Michael O'Connor. It's clear that Mitchell will be the starter on the team. Training camp is now the scene for what will be a highly contested battle for backup quarterback. With Nick Arbuckle gone, the team needs to find their new backup.
"I just feel like I need to look at the other guys. I know what I've got with Bo, so I'm just going to bail again on him and let him tell me when he wants to get in there, but when I think he needs it. That could be just ramping up for the first game of the year, it's really not important for me to see him out there."

Calgary Stampeders head coach Dave Dickerson
Subscribe to our
CFL News Hub YouTube Channel
. Get breaking news and the latest CFL news. Plus the CFL Week In Review Podcast.
---