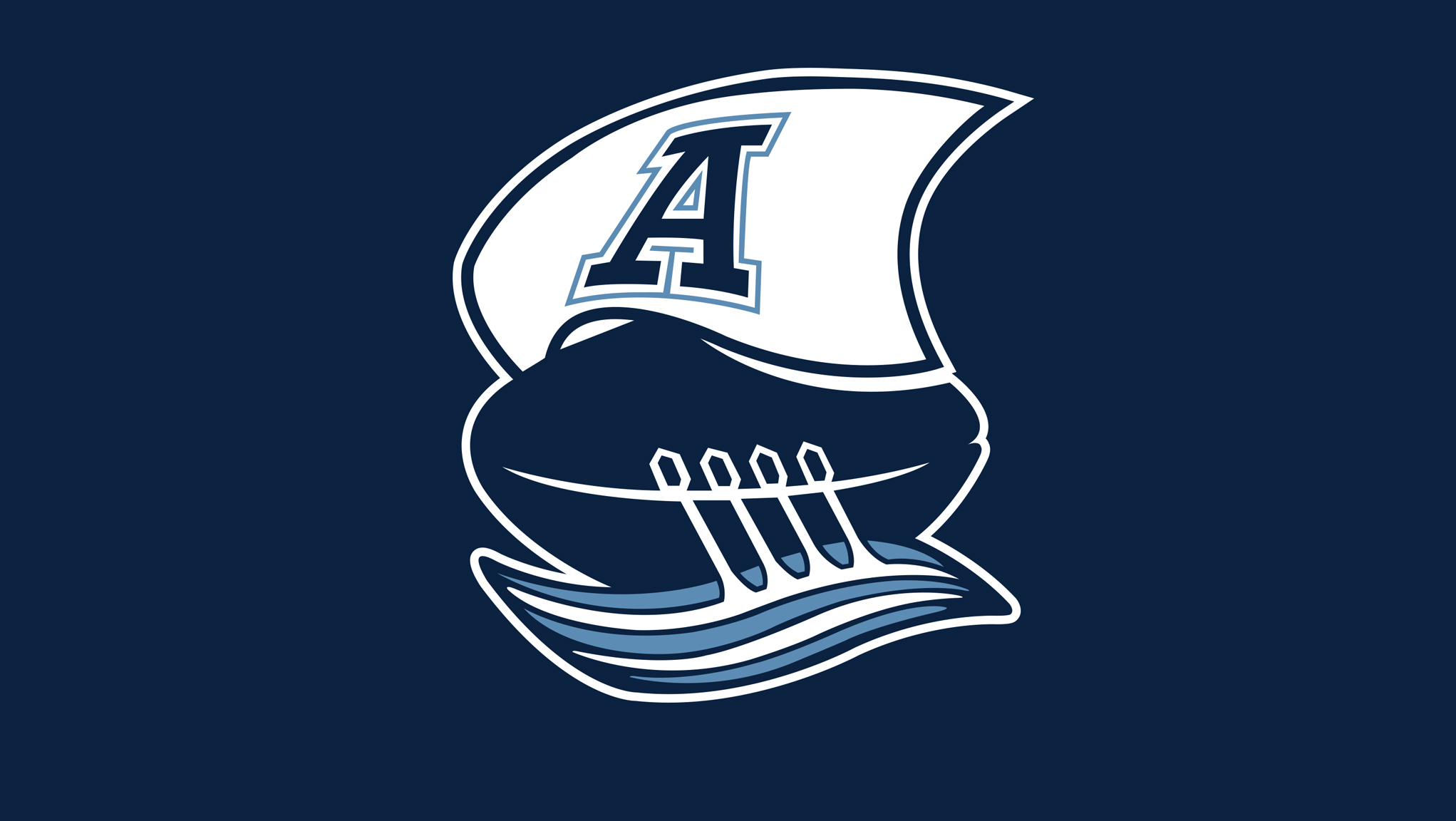 LIVE CFL DRAFT COVERAGE 2023
The Toronto Argonauts released nine players from their roster on Tuesday. One day after the team completed its second Double Blue scrimmage in training camp. The Argos had a day off from practice today after the intrasquad scrimmage.
CFL teams have already begun the process of trimming down their rosters before final cuts occur on July 30th. The Toronto Argonauts have to pare down their roster to 45 players. (44 active, 1 reserve player). After cuts, teams will be able to form a five-player taxi squad to go along with a 12 player practice roster. So some of the players released could be staying in Toronto.
TORONTO ARGONAUTS TRANSACTIONS – TUESDAY, JULY 27, 2021
The Toronto Argonauts announced the following transactions today:
Released:
Canadian DB Shamar Busby
American WR Jaylen Smith
American WR Craig Rucker
American WR Nyqwan Murray
American RB Kenneth Dixon
American RB Greg McCrae
American DB Kadeem Satchell
American DB Andrew Soroh
American DB Davontae Merriweather
Added to suspended list:
Canadian WR Sam Baker (returning to school)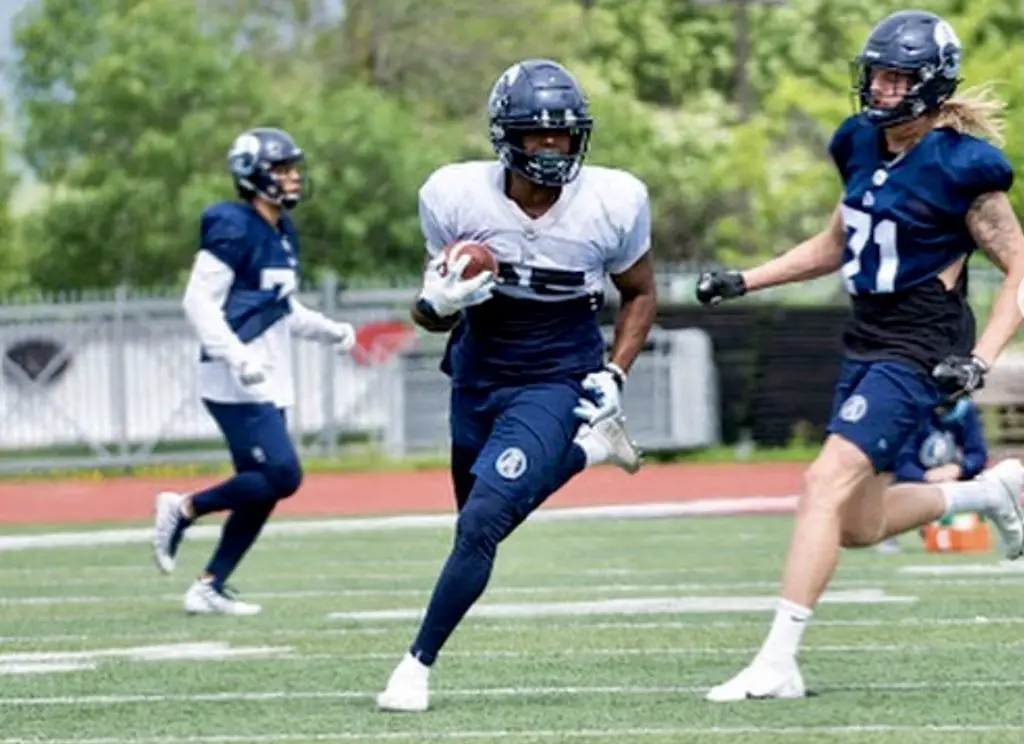 One of the more notable names on this list is NFL veteran running back Kenneth Dixon. The former Baltimore Raven is trying to resurrect his pro career after struggling with injuries the last few years. With Toronto having John White and AJ Ouellette firmly entrenched as their top two options at tailback. And the recent addition of American RB D.J. Foster. Dixon fell victim to the numbers game. As did American RB Greg McCrae, who has spent time in camp, returning kicks mostly.
A surprising release is that of National player defensive back Shamar Busby. The Southeastern Louisiana product has CFL experience under his belt and most recently played in The Spring League. Busby had a good camp by all accounts, but with the Argos so loaded in the defensive backfield, Busby became expendable at this point. His release opens the door for another national player to claim one of the minimum 21 national spots on the roster.
The Argos released three American defensive backs as well on Tuesday. Kadeem Satchell, Andrew Soroh, and Davontae Merriweather. All three made splash plays in camp, but the numbers game caught up to them as well. Andrew Soroh, the former Kansas City Chief, made some big plays on Sunday but as a hybrid type safety/linebacker, and with Toronto having similar players like Dexter McCoil and Chris Edwards firmly entrenched at those positions. Soroh ran out of real estate.
Davontae Merriweather also made several big plays at camp. His risk-taking style helped him be the Indoor Football League defensive player of the year in 2019. Still, like his fellow American defensive backs released today, his inexperience in Canada worked against him.
The Argonauts have some tough decisions to make at the receiver position. The team has several viable starting options with CFL experience in their receiving corps. The emergence of Llevi Noel, Kurleigh Gittens Jr., and Dejon Brissett, all national players, coupled with the experience of players like Juwan Brescasin, DaVaris Daniels, Eric Rogers, Ricky Collins Jr., Terrell Sinkfield, and Chandler Worthy made Jaylen Smith, Nyqwan Murray, and Craig Rucker expendable.
Jaylen Smith, the Louisville standout, has the size and speed to be a factor, but without enough reps and no games in the summer, it was difficult for him to break through a deep receiving group. Both Rucker and Murray spent considerable time working on special teams during camp. The newcomers competed with experienced CFL returners like Terrell Sinkfield and Chandler Worthy, so the deck was stacked against them, making the roster.
Sam Baker, the Argos sixth-round pick in 2020, goes on the Boatmen's suspended list as he returns to school. Baker, who was drafted as a fullback, spent the majority of camp playing wide receiver. The experience should help him when he eventually returns to the Double Blue in the future.
The Toronto Argonauts have three days of camp remaining after today's day off from practice. The most difficult roster decisions lie ahead for the team's coaching staff and personnel department. The team is very close to getting into full preparation mode for their week one opponent, the Calgary Stampeders, on Saturday, August 7th.
Subscribe to our
CFL News Hub YouTube Channel
. Get breaking news and the latest CFL news. Plus the CFL Week In Review Podcast.
---