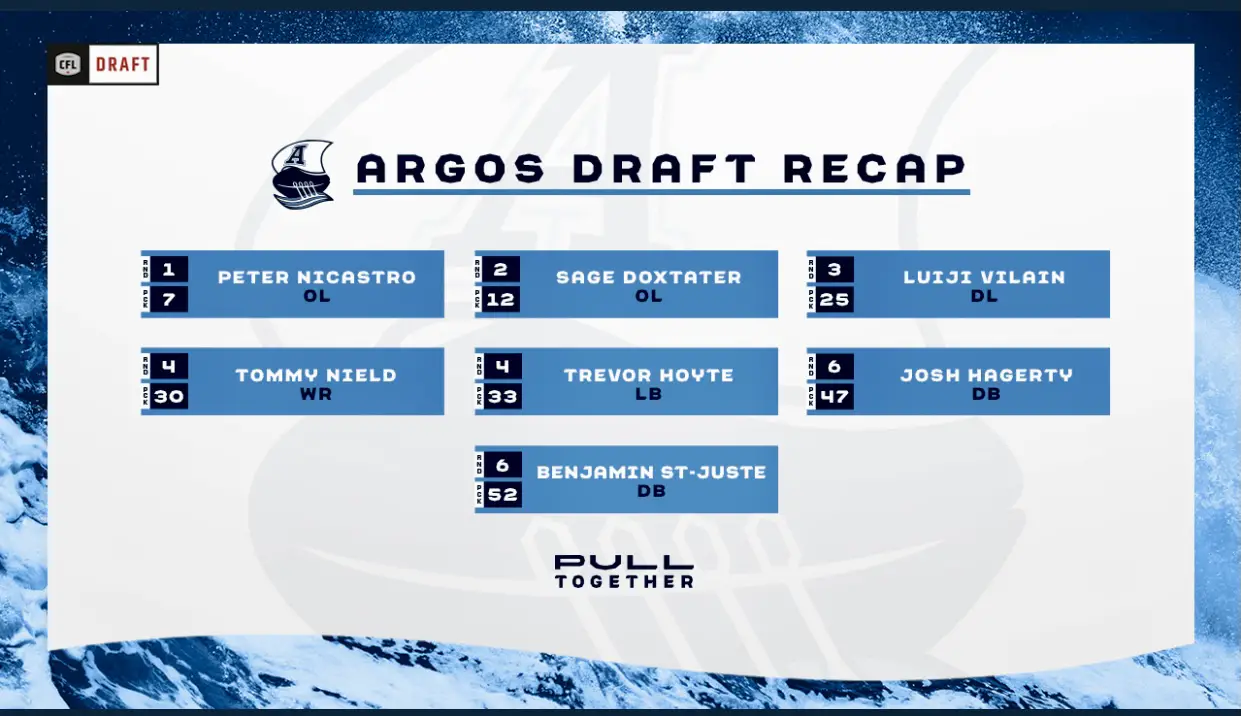 The 2021 CFL Draft is in the books as the entire league pushes towards a return to play. The Toronto Argonauts are returning with an entirely different team than the one they had in 2019, and in this year's draft, the Argos went back to a formula in round one that proved successful for them two years ago.
Toronto Argonauts- First Round Pick #7- OL- Peter Nicastro- University of Calgary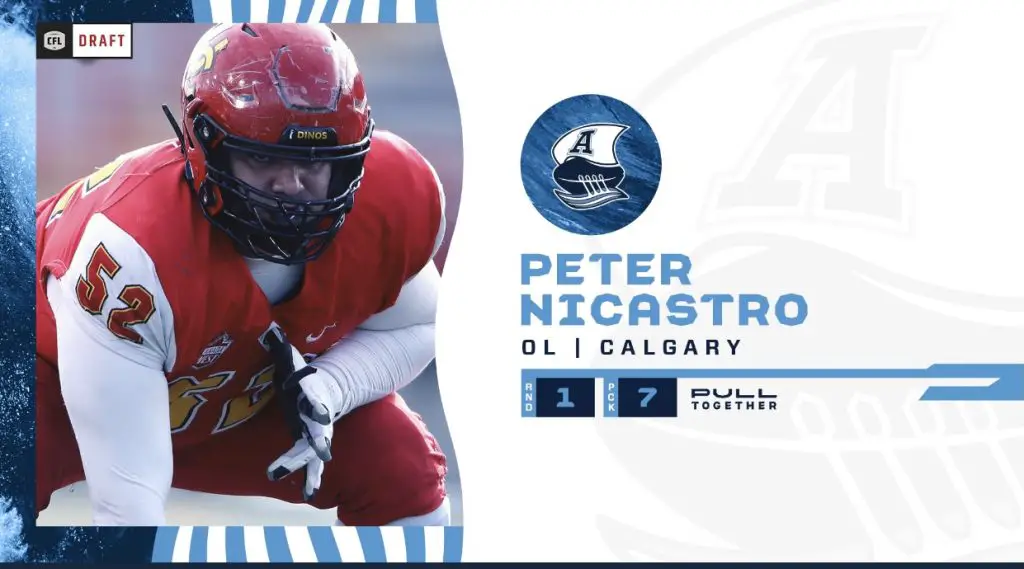 The offensive line, No Matter What. With needs in their secondary and defensive line, the Toronto Argonauts opted instead to go back to the same well they did in 2019 when offensive lineman Shane Richards was selected first overall, who was an opening day starter for the 'Double Blue.' The Argos hope to get the same results in this draft with an immediate contributor in former Dinos' standout Peter Nicastro. At the University of Calgary, Nicastro played both guard and center for a team that won the 2019 National Championship.
The 2019 Canada West all-star has been a late riser throughout the CFL draft process. Some were projecting Nicastro to go in the second round because of his lack of ideal size at just under 6'2 305. Nicastro's versatility up front makes him a candidate to be a fixture early on in the interior of the Argos line.
Early Impression– Throw all the prognosticators CFL mock drafts out the window. Several of the players that were predicted to go in round one did not get selected and Nicastro wasn't on the radar for many. While offensive line was a clear need, and Argos GM Michael 'Pinball Clemons' clearly illustrated his case for the player on social media by borrowing a legendary line from the movie 'Draft Day'. One could argue that Nicastro was a reach at this point and that Toronto needed to address a more impactful position on their team than an undersized guard.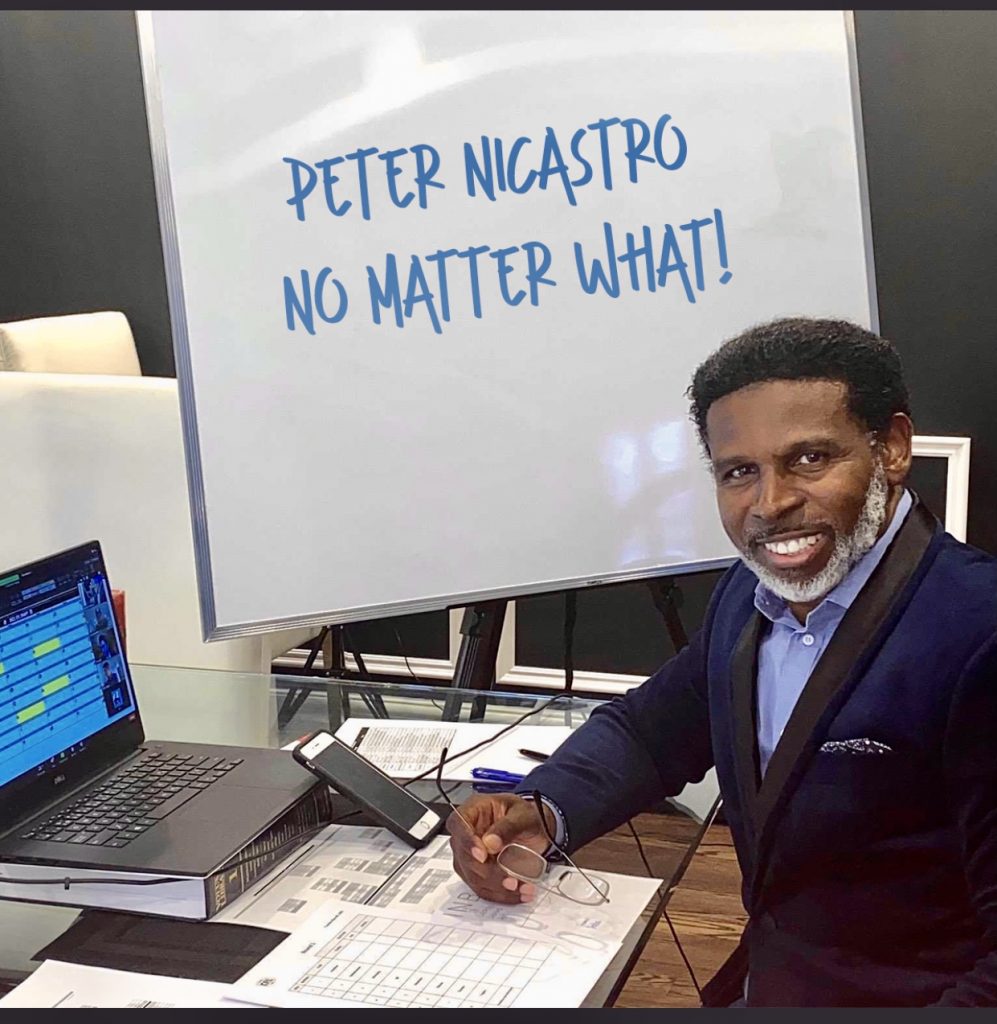 Toronto Argonauts- Second Round Pick #14- OL- Sage Doxtater- New Mexico State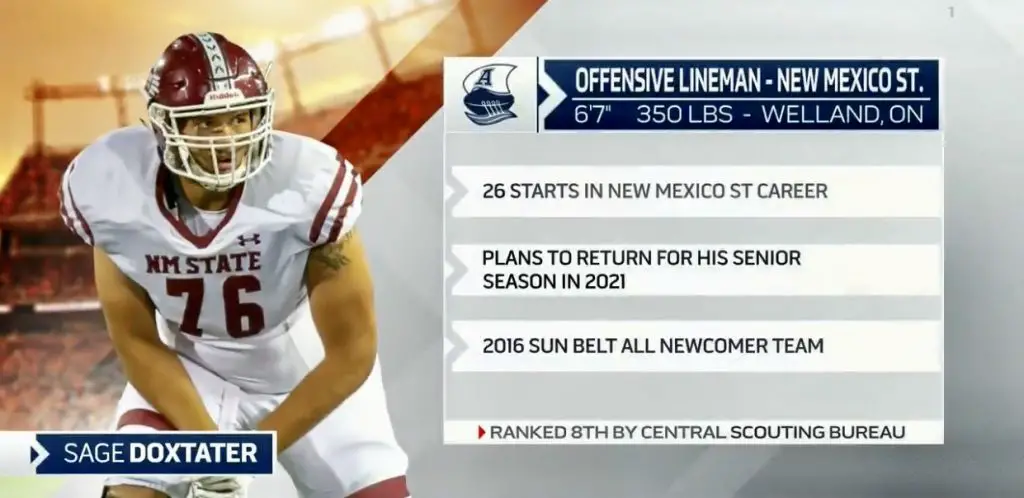 The 'Double Blue' decided to double-dip on the o-line with their second selection in the 2021 CFL Draft. By selecting New Mexico State offensive lineman Sage Doxtater. The 6'7 350 pound behemoth started at left tackle as a New Mexico State freshman five years ago. He was granted an extra season of eligibility because his school was one of three in the NCAA unable to play due to the COVID-19 pandemic.
Doxtater, the Ontario-born native, played at Canada Prep Academy under Geoff McArthur, a former NFL wide receiver and Cal Hall of Famer. An All-Sun Belt performer, Doxtater was ranked 8th by the Central Scouting Bureau and is one of the strongest and largest players in this year's draft class. The Argonauts want to support their quarterback Nick Arbuckle by fortifying themselves upfront. But this is a pick for Toronto's future, as Doxtater is planning to return for his senior season at New Mexico State.
Early Impression- In a year where CFL teams will have limited training camps at best. Taking a future flyer on a player like Sage Doxtater makes a lot of sense. And it's an investment that could pay off greatly a year from now. Provided that Doxtater makes the journey back to Canada.
Toronto Argonauts- Third Round Pick #25- DE- Luiji Vilain- Michigan/Wake Forest
One of the biggest areas of need for Toronto heading into this draft was addressing the youth on their defensive front, and they did that by drafting Michigan/soon-to-be Wake Forest DE Luiji Vilain. At 6'4 244, Viljain can play on the edge or in space as a WILL linebacker.
Early Impression- Luiji Vilain fits the mold of a potential steal later in the CFL draft. The former four-star recruit has transferred from Michigan to Wake Forest for the 2021 season. As a Wolverine, Viljain hardly saw the field, but an increase in playing time and production with the Demon Deacons will improve his overall stock a year from now. That's if he returns north of the border.
Toronto Argonauts- Fourth Round Pick- #30- WR- Tommy Nield- McMaster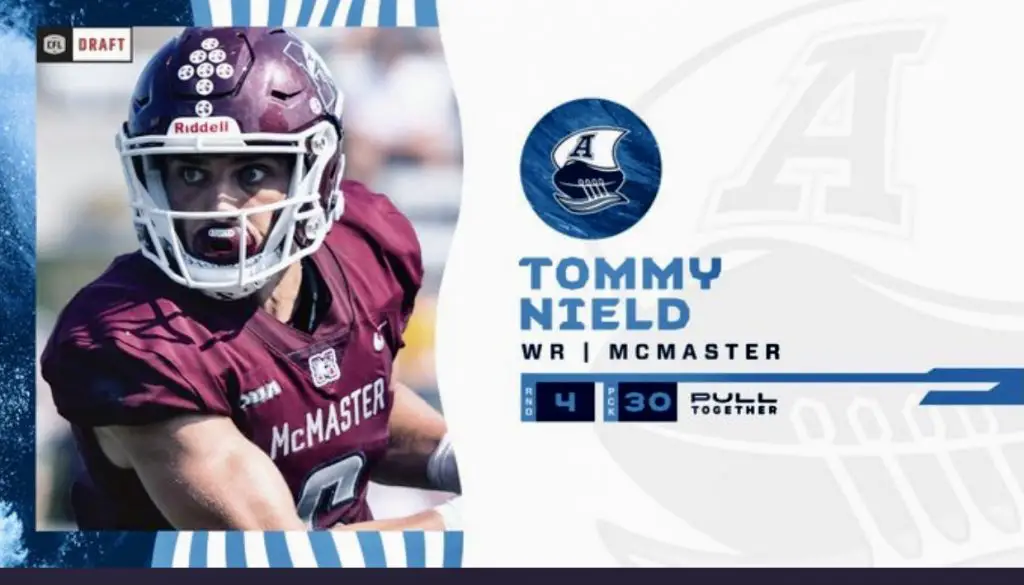 The 6'3 Guelph native has seen his stock rise after an impressive showing at his pro day. At the National Combine, Nield finished with solid numbers across the board. His broad jump (10'2), 3-cone (6.7), and short shuttle (4.13) stuck out. During the 2019 campaign, Nield lit it up for the Marauders, posting 688 yards and four touchdowns on 48 receptions. Neild has the size and toughness to be an early contributor on specials for the Argonauts.
Early Impression- This was not a need selection by Toronto. The team is stacked at receiver but Nield's overall talent and physicality is hard to bypass at this point in the draft. He can be a real asset in the red zone because of his ability to highpoint the ball and his fearlessness in traffic.
Toronto Argonauts- Fourth Round Pick- Pick #33- LB- Trevor Hoyte- Carleton
Toronto was back on the clock in round four by virtue of a trade they made with Calgary back in January. The Stampeders used that pick they got from Toronto to select Carolina Panthers running back Chuba Hubbard.
Going into Tuesday night's draft, one of the positions that many expected the Argos to address was a linebacker. In Carleton standout Trevor Hoyte, Toronto selected one of the CFL Draft's headiest athletes.
Hoyte is an astrophysics student who displays great intelligence on the field as well; he is also is known as one of the best form tacklers in this class. At 6'2 and just a shade over 215, it's possible that his CFL future could be at safety. Hoyte will be reuniting with former Ravens teammate Jack Cassar, who Toronto selected in the second round of the 2020 CFL Draft.
Early Impression- One of the better late-round picks by any CFL team. Hoyte is a high character player who should prove to be a valuable fixture on the Argonauts defense in the future. Size and overall speed are why he fell this far, but Hoyte can take his game to another level as a pro with the right coaching.
Toronto Argonauts- Sixth Round Pick- DB- Joshua Hagerty- University of Saskatchewan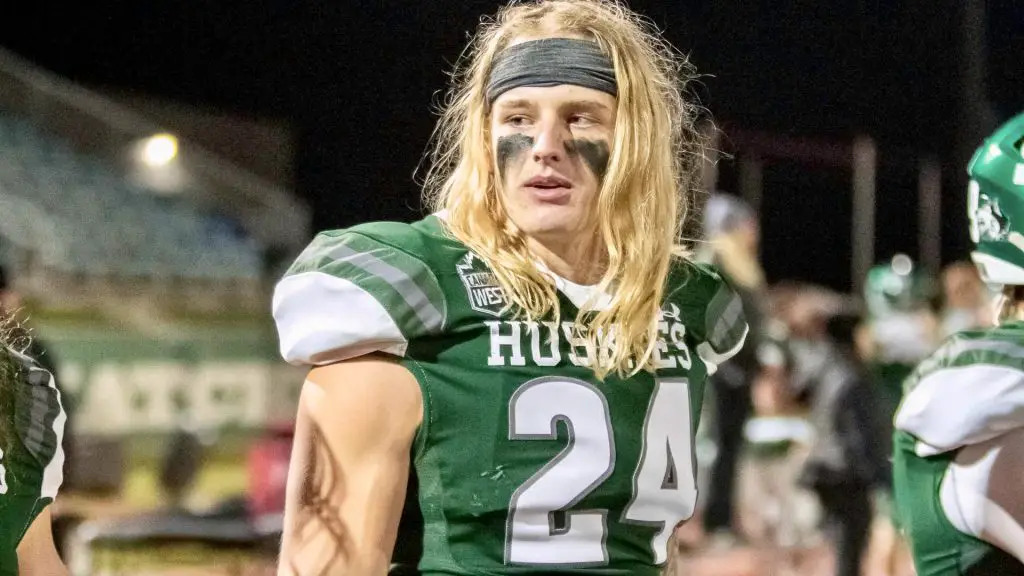 After sitting out round five, Toronto was back on the clock in Round six and they added another piece to their secondary in Joshua Hagerty. The 6'3 safety, is a very physical young player who can come up and be a force against the run and inside the box. He can cover a lot of ground and is a natural downhill tackler.
Early Impression- The Argos hit the back end of their defense with their last two selections. You could argue that cornerback is more of a pressing need for Toronto but at this stage of the draft, players like Hagerty have value as potential contributors on specials before graduating to the starting lineup down the road.
Toronto Argonauts- Sixth Round Pick- CB- Benjamin St. Juste- Minnesota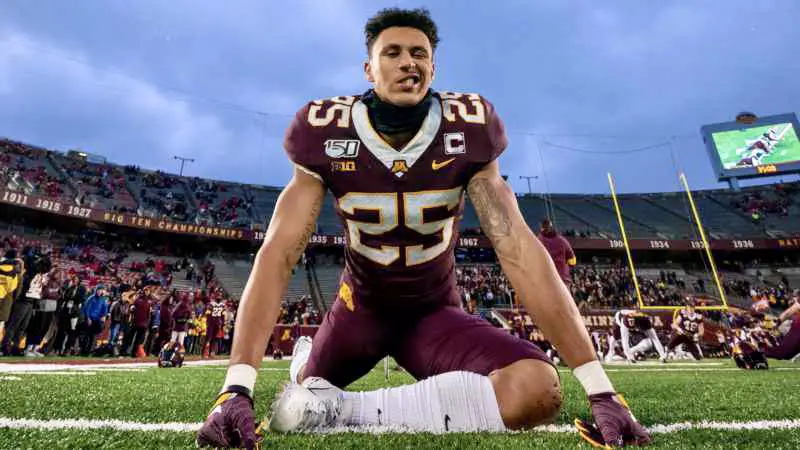 With their final selection, the Toronto Argonauts selected Minnesota standout and current WFT DB Benjamin St. Juste. In an alternate universe, BSJ would be precisely the type of cornerback that Toronto needs.
Except for Calgary's selection of RB Chuba Hubbard, you could argue that Benjamin St. Juste is the best overall player taken in this draft. The Washington Football Team drafted him this past weekend in the third round of the NFL draft. The 6'3 200 pound Montreal native will be with Washington for quite some time, but you can't blame Toronto for taking a flier on him just in case. In 2019, Edmonton's draft gamble on Mathieu Betts paid off when the Bears released him but don't expect Benjamin St. Juste to ever step on a CFL field.
Overall Draft Impression: Like many things during the pandemic, this entire process was uncharted territory. To fit that theme, CFL teams are debuting two draft classes at once this coming season. So the Argos are hoping that WR Dejon Brissett and Peter Nicastro are front-line starters moving forward. Toronto has a solid scouting department, but the returns on those two investments will be determining factors in the quality of their last two drafts. And ultimately, in whether or not the team can make a return back to respectability.
Subscribe to our
CFL News Hub YouTube Channel
. Get breaking news and the latest CFL news. Plus the CFL Week In Review Podcast.
---