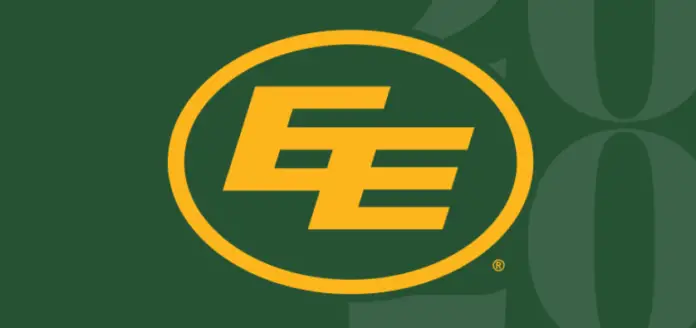 The 2021 CFL Draft took place on Tuesday, May 4th, and The Edmonton Football Team selected 6 players.
Round 1, 5th pick (5th overall):
Cole Nelson – DL – (6'6"/312lbs) – University Of Alberta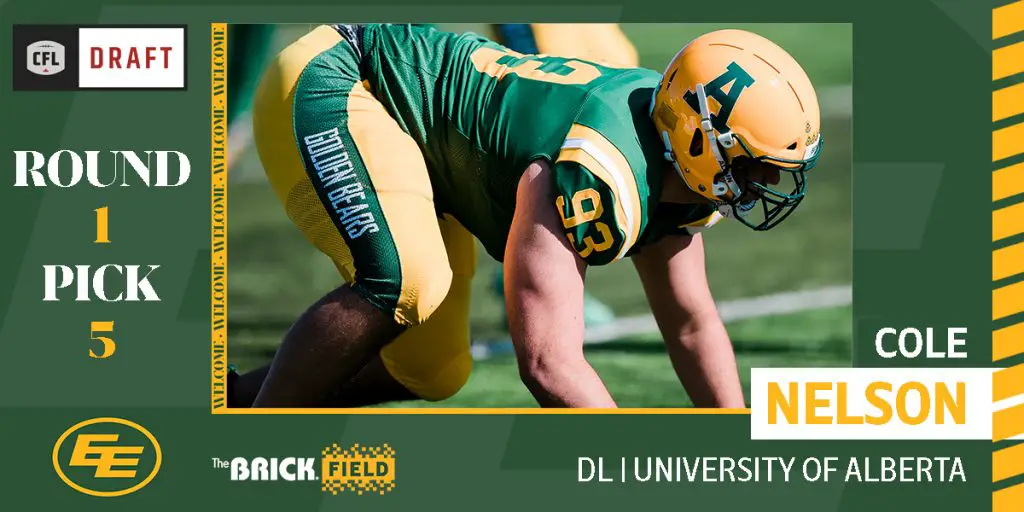 Nelson is an Edmonton local defensive lineman who played college ball at the University of Alberta. In 11 games for the Golden Bears from 2018 to 2019, he totaled 17 tackles, 1 sack, and 1 fumble recovery. Although he did not play in 2020 as a result of the U-Sports season being canceled due to the pandemic, Nelson did earn himself a roster spot in the 2020 East-West Bowl. He also impressed at the CFL's virtual combine, putting up 25 reps on the bench press and a 4.96 40 yard dash time.
Round 2, 5th pick (14th overall):
Grant McDonald – LB – (6'3"/220lbs) – University of Calgary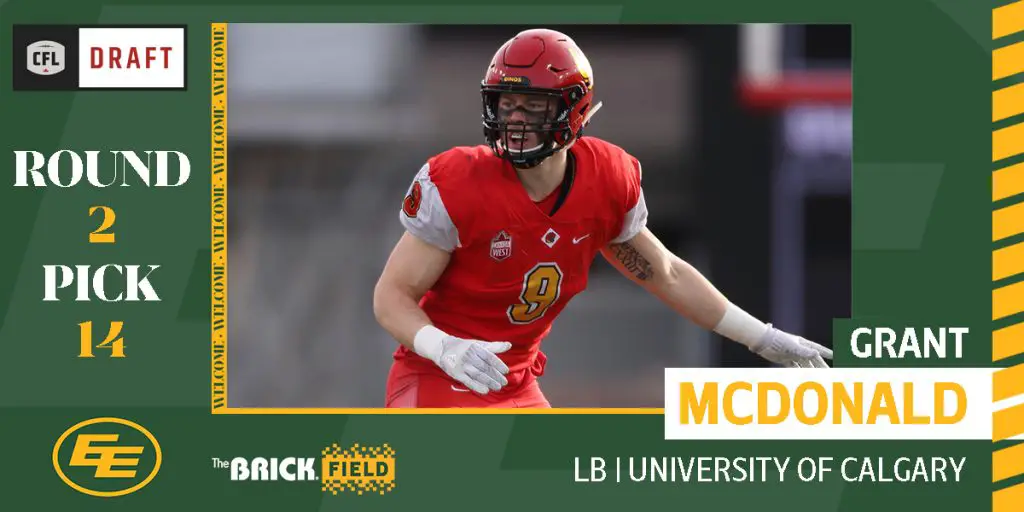 Originally from Tsawwassen, BC, Grant McDonald is a linebacker who played college ball at the University of Calgary. He played in 14 games over the course of the 2018 and 2019 seasons, racking up 83 total tackles, 12 tackles for loss, 4.5 sacks, 1 forced fumble, and 1 Interception. In 2018, he would help The Dinos win the Vanier Cup over the Université de Montreal Carabins. McDonald is very athletic with strong leadership abilities. He should make an immediate impact on special teams.
Round 3, 5th pick (23rd overall):
Deonte Glover – RB – (5'10″/210lbs) – Shepherd University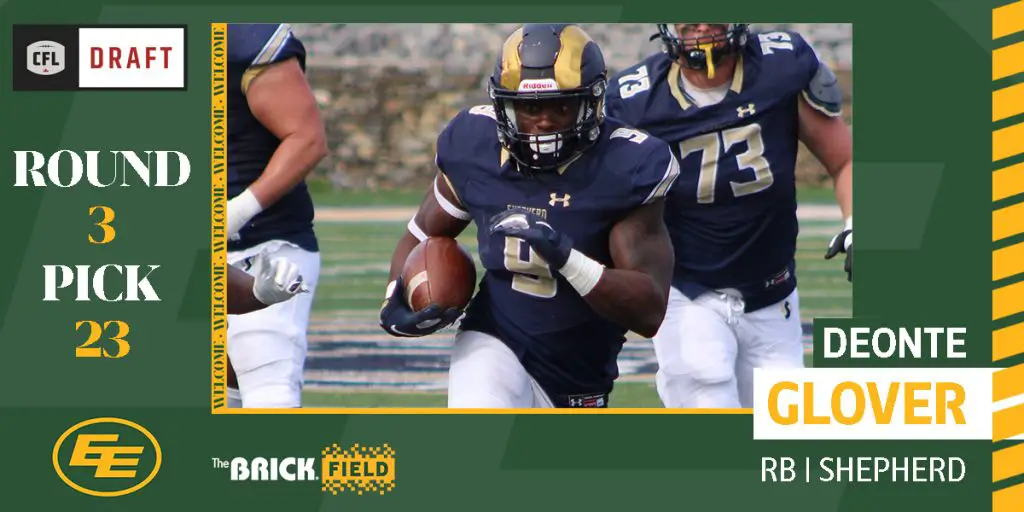 Glover is a very decorated running back who transferred to Shepherd University from West Virginia seeking more playing time. In 2018 and 2019, he racked up 2,124 yards and 28 touchdowns on the ground, along with 50 receptions for 508 yards, 6 receiving touchdowns, and 1 kick return touchdown in his 35 career games. He averaged 123.2 total yards per game and following the 2019 season, was awarded 2019 Second Team D2CCA All-Super Region One, 2019 First Team All-PSAC East, 2019 PSAC Fall Top Ten, as well as 2019 PSAC East Offensive Athlete of the Week (11/11), and 2019 PSAC East Special Teams Athlete of the Week (11/18).
Round 4, 5th pick (32rd overall):
Dominic Johnson – WR- (6'5″/225lbs) – University of Buffalo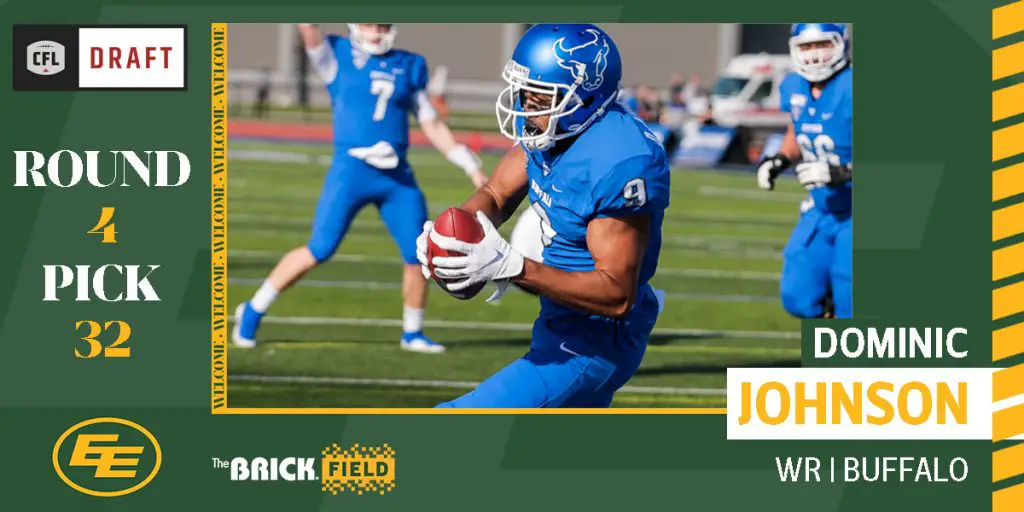 Hailing from Windsor, Ontario, Dominic Johnson played college ball at the University of Buffalo. He joined the team as a quarterback in 2016 but would later switch to a wide receiver in 2019 for his final 2 seasons after being redshirted. He would be named first-team Newman Conference All-Star as a senior as well as Academic All-MAC. Johnson only caught 11 career passes for 99 yards but has made a name for himself as a physical and versatile athlete.
Round 5, 5th pick (41st overall):
Peter Kourtis – OL – (6'5"/298lbs) – Saint Mary's University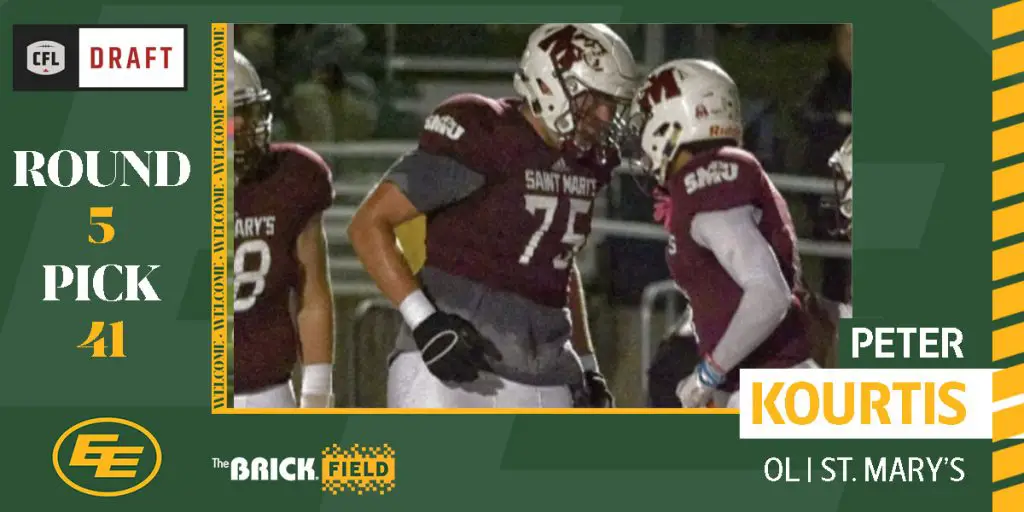 Originally from Toronto, Ontario, Kourtis is an offensive guard and center who played college ball at Saint Mary's University. He appeared in 24 total games for the Huskies and is expected to be another developmental player for Edmonton. He impressed at the CFL's virtual combine by putting up 21 reps on the bench press.
Round 6, 5th pick (50th overall):
Kenan Clarke – DB – (5'11″/185lbs) – Cornell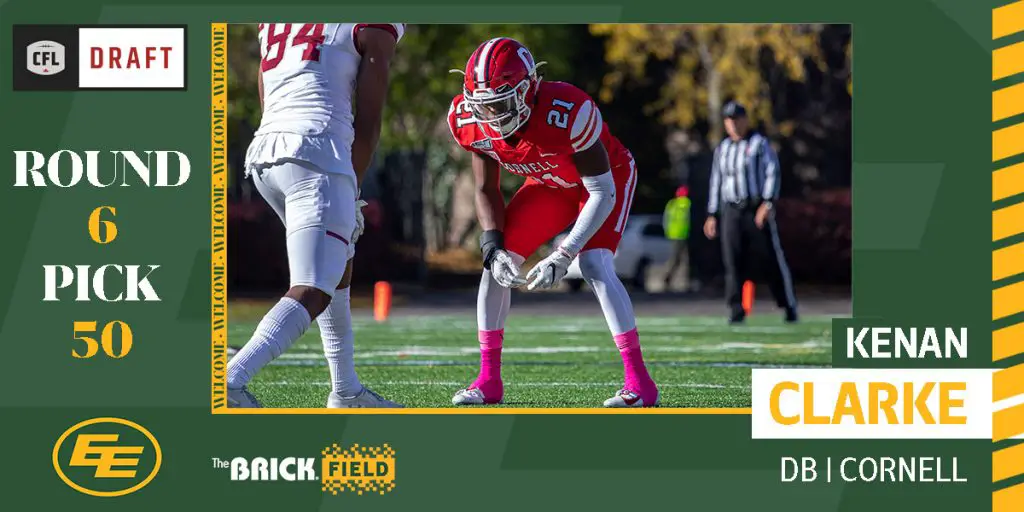 Clarke hails from Pickering, Ontario, but played college ball at Cornell University, where he saw significant playing time as a reserve corner and on special teams. In 2 seasons, he played in 9 games, totaling 15 tackles, 1 interception, and 2 pass deflections.
Subscribe to our
CFL News Hub YouTube Channel
. Get breaking news and the latest CFL news. Plus the CFL Week In Review Podcast.
---