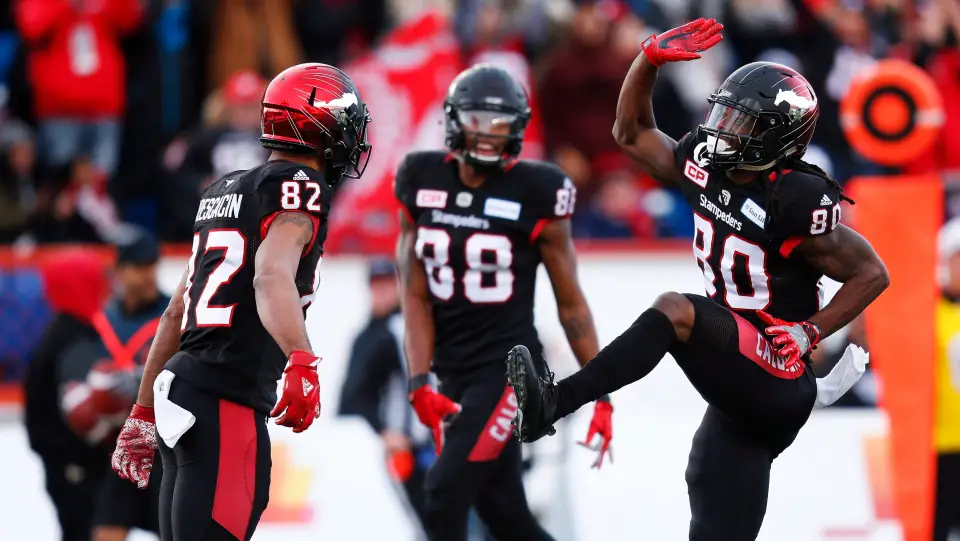 The Calgary Stampeders took some big swings and knocked it out of the park with their six picks from the 2021 CFL Draft.
Tuesday night showed the Stampeders put a focus on the offensive line and getting them help after multiple retirements the last few years. It also saw them draft three linebackers to provide depth at the position. The fifth round is where they made some noise drafting some potential offensive weapons for quarterback Bo Levi Mitchell going running back and wide receiver. Here is a more in-depth look at each player taken by Calgary in this year's draft:
Calgary Stampeders 2021 CFL Draft Selections
Round 1, Pick 8: Amen Ogbongbemiga, LB, Oklahoma State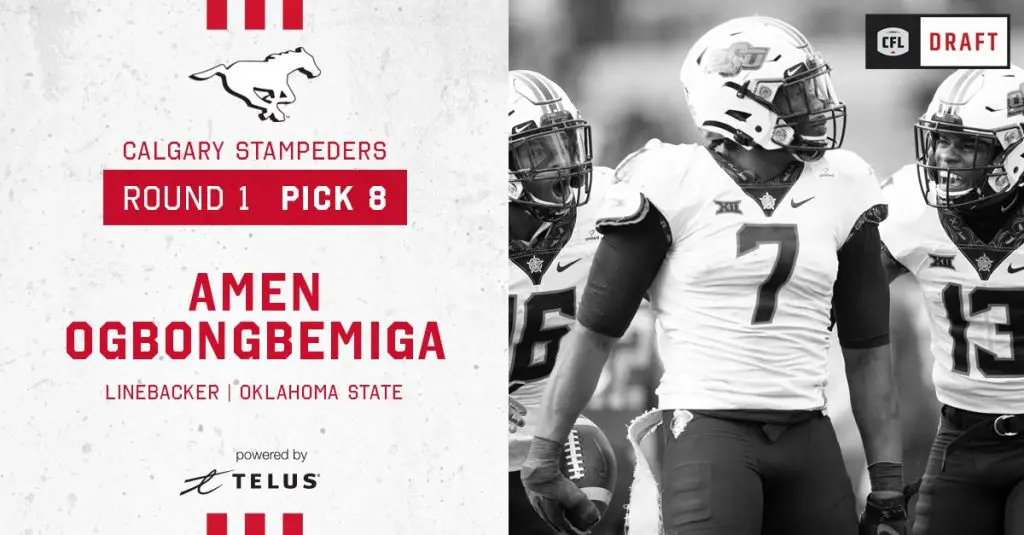 With linebacker a position of need for Calgary in the draft, they decided to go with Amen Ogbongbemiga out of Oklahoma State. The hometown product returns home to a linebacker core that was a point of emphasis for the Stampeders. Last season at Oklahoma State, Ogbongbemiga recorded 80 tackles, five tackles for loss, 2.5 sacks, and a team-high three forced fumbles. He's got great instinct of finding the ball carrier and is quick. Scouts say he needs to improve in coverage.
Ogbongbemiga signed with the Los Angeles Chargers as an undrafted free agent. Experts believe he will have to make the roster by performing well on special teams. Should he not make the roster and play this season for Calgary, fans could see him make an impact right away on defense and special teams. He's got starting caliber talent in the CFL for years to come.
Round 2, Pick 11: Bryce Bell, OL, Wilfrid Laurier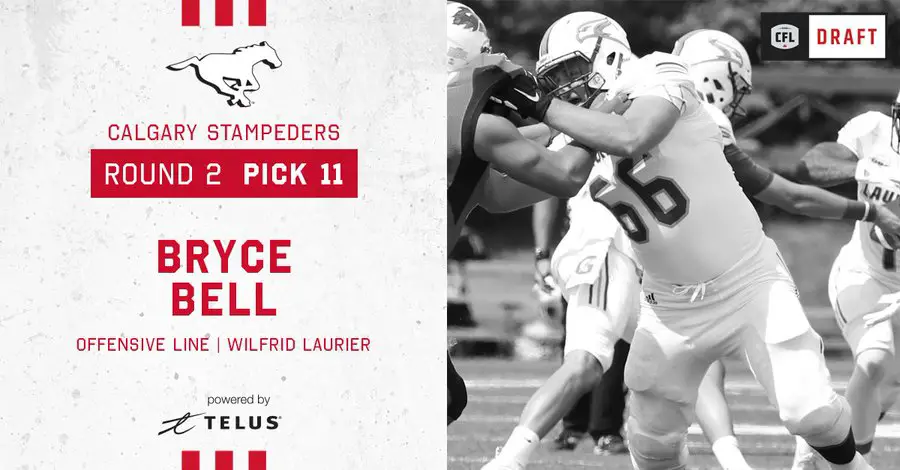 The Calgary Stampeders got their offensive lineman that they were looking for in this draft. Bryce Bell comes into the picture after successfully starting 24 games at Wilfrid Laurier. Bell was apart of one of the best offensive lines in OUA. Being at right tackle, not only was Bell an impactful pass protector, but was great blocking for the running backs as well. He created a buzz with scouts after performing well at a combine he attended this year.
Retirements to the Stampeders' offensive line has brought the team to the point of looking for help. Bell can come in on day one and help fill in a need for the line. Expect Bell to contribute right away whether that will be at right tackle or somewhere else. Calgary got a player who is going to get them more size on the line.
Round 3, Pick 26: Charlie Moore, LB, Calgary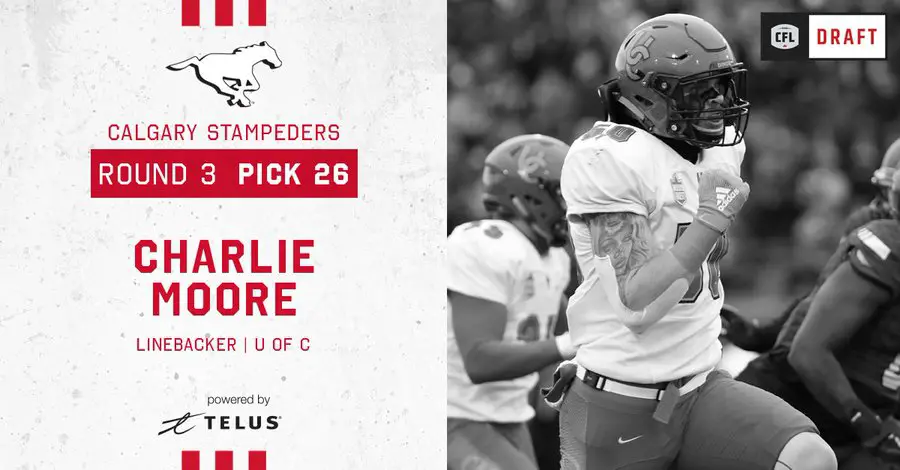 It appears Charlie Moore is going to be sticking around Calgary a little longer to play linebacker for the team. During his career at the University of Calgary, Moore racked up 77 tackles, 11.5 tackles for loss, three forced fumbles, three fumble recoveries, one interception, and one block. Another instinctive linebacker who has versatility and athleticism to his game. On film, he played well on special teams which will be a major plus for him with Calgary.
The Stampeders made it known in this draft that they wanted not only linebackers, but guys who can run down and make the tackle on special teams. Moore should be able to get some playing time for Calgary and help out right away on special teams. The social media team for Calgary has already taken a liking to Moore.
Round 4, Pick 29: Elliot Graham, LB, UBC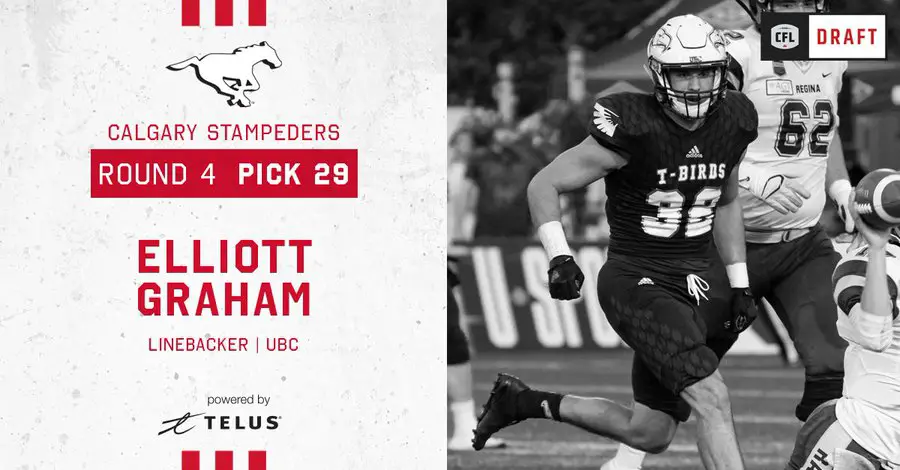 This T-Bird knows how to find the ball carrier and make some big hits. Elliot Graham recorded 87 tackles, four tackles for loss, five pass breakups, one forced fumble, and one sack in 23 career games in college. Graham was considered to be quick for being 240 pounds in college, but now has been recorded as 220 pounds which should make him even quicker. He's always been a reliable player for UBC to trust to make the tackle.
He's the third linebacker picked in the draft for Calgary which continues the conversation that they wanted depth at linebacker. Watch for Graham to start fast on special team and could be a rotational player on defense. While considered somewhat of a project, Graham has the skill set to be a solid starter in the CFL.
Round 5, Pick 43: Chuba Hubbard, RB, Oklahoma State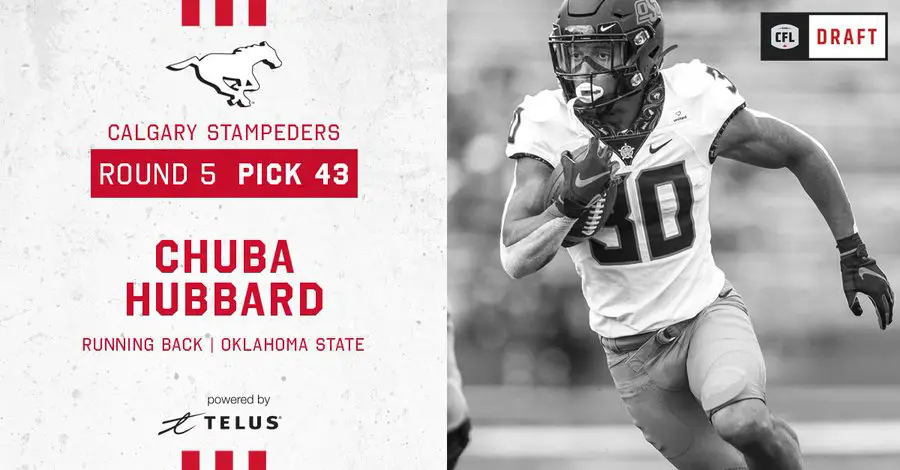 This pick will certainly get some attention. Former Oklahoma State running back Chuba Hubbard produced an outstanding college career that includes rushing for 2094 yards and 21 touchdowns in the 2019 season. Injuries hampered his senior season last year as he rushed for just 625 yards and five touchdowns. Hubbard is a speed back who can break off a huge run at anytime. He's got great instinct of finding running lanes and will be an impactful player early on.
The issues comes in the fact that he was drafted by the Carolina Panthers in the fourth round of the 2021 NFL Draft this past week. Hubbard thanked the Stampeders for picking him on Twitter last night, but made it know he'll be running behind Christian McCaffrey for awhile.
It's a great pick for Calgary as they get a running back who can start in the CFL right away. Unfortunately for the Stampeders, they might have to wait awhile since Hubbard will be pursuing his NFL dream. If he does end up coming back to the CFL in the next year or two, this could end up being their best pick of the draft.
Round 5, Pick 44: Luther Hakunavanhu, WR, York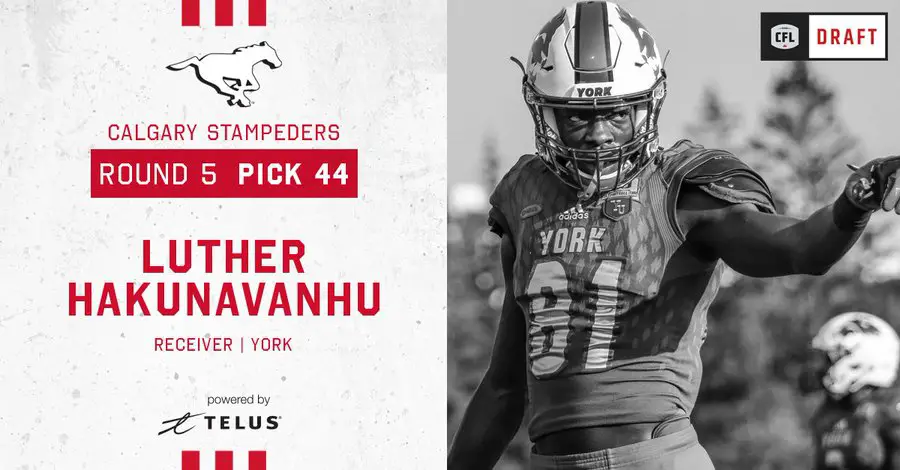 Quarterback Bo Levi Mitchell gets a new receiver to throw it to in Calgary. Luther Hakunavanhu posted solid numbers in college at York recording 26 catches for 329 yards and three touchdowns in 2018. 2019 was even better for the receiver after catching 29 passes for 470 yards and three touchdowns in eight games.
His height already makes him the tallest receiver on the Stampeders roster. Look for him to be a goal line target for Mitchell to go up and catch the ball. There is big play potential with Hakunavanhu. How he will fit into the receiver rotation remains to be seen, but there's no doubt that Calgary has a big target that help their passing offense out this upcoming season.
Subscribe to our
CFL News Hub YouTube Channel
. Get breaking news and the latest CFL news. Plus the CFL Week In Review Podcast.
---