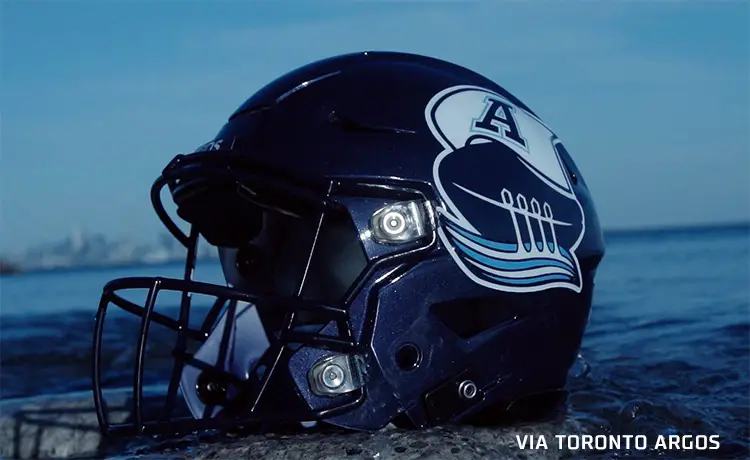 The Toronto Argonauts 2021 Regular Season mode has officially arrived. The new-look Argos announced their active and practice roster and made more significant roster moves ahead of their season opener in Calgary next Saturday.
The Boatmen Continue Making Waves With New Signings
The Boatmen continued to add to their revamped roster by announcing the signing of linebacker Vontae Diggs. Entering his second season in the CFL, Diggs was named Edmonton's Most Outstanding Rookie in 2019. The six-foot-three, 230-pound UConn standout recorded 84 total tackles, two sacks, one interception, and one forced fumble in Diggs's first year in the CFL. The surprising release by the Elks raised some eyebrows in CFL circles and obviously got the Argonauts' attention. The addition of Diggs should bolster an already star-studded Argos' linebacking corps featuring Henoc Muamba, Cameron Judge, and Dexter McCoil.
The Toronto Argonauts also added former XFL superstar wide receiver, Cam Phillips. The Virginia Tech standout, who has spent time in the NFL with the Buffalo Bills and Carolina Panthers, broke out in the XFL for the Houston Roughnecks, finishing the shortened five-game season with 31 receptions for a league-high 455 yards and 9 touchdowns. Phillips was most recently released at final cuts by the Hamilton Tiger-Cats on Thursday after spending training camp competing against one of the league's very best receiving stables. Per Mike Hogan of Argonauts.ca, Phillips will go on the teams suspended list as he goes through the quarantine process.
Complete List Of Toronto Argonauts Transactions
Released:
Canadian OL Maurice Simba
Canadian OL Ben Koczwara
American WR Rodney Smith
American DL Jhaustin Thomas
American DL Rickey Neal
American DB Tarvarus McFadden
American LB Jordan Moore
American QB Kelly Bryant
Suspended:
Disabled List:
Practice Roster:
Canadian LB Eric Mezzalira
Canadian OL Theren Churchill
Canadian WR Tommy Nield
Canadian DL Sam Acheampong
American WR Dres Anderson
American WR Damion Jeanpiere
American RB D.J. Foster
American LB Eli Mencer
American DB Jamal Peters
American LB Reshard Cliett
Global K Toshiki Sato
Global DB Tigie Sankoh
American LB Travis Feeney*
American DL Julian McCleod*
American OL Brandon Smith*
American WR Chandler Worthy*
Global RB Asnnel Robo*
This season, CFL Teams can opt to dress 43 or 44 players. A total of two of the players for opening week identified must be quarterbacks. A team can dress a third quarterback, but he must be listed at another position and follow the guidelines of that position. Rosters must consist of a minimum of 20 nationals and a maximum of 20 Americans, with two quarterbacks and one global.
There are some new rules and tweaks to CFL practice rosters. But the rules attached to the new five-player taxi squads for this season are the most intriguing.
Each club must carry five players broken down as follows: one American OL, one American DB or LB, one American REC or RB, one American DL, one specialist or Global.
If a claim is made for a player on this list, he must go to his new team (his existing club cannot keep him from going as they can on the regular PR).
If a team loses a player from its CFLPR, they must replace him within 7 days.
The original team has the option of recalling the player if he's no longer on a team's active roster; the original team also holds the player's rights beyond this season.
Same payment and benefits as the normal PR
The Argonauts have the option of adding players to their injured list up until 48 hours before their opening game.
The Toronto Argonauts roster is set for week one of the CFL regular season. It's been a long time coming.
Subscribe to our
CFL News Hub YouTube Channel
. Get breaking news and the latest CFL news. Plus the CFL Week In Review Podcast.
---