CFL week 2 running back rankings. Brady Oliveira takes the top spot after a massive day in week 1. BC rookie Taquan Mizzell Impressed.
These rankings can also help give you an edge in CFL fantasy football. Week 1 is over but It's not too late to start a CFL head-to-head fantasy football league with your friends and draft your teams to compete against each for the rest of the CFL season. Our friends at 110yards.ca are able to accommodate a CFL fantasy football league starting mid-season.
1. Brady Oliveira, Winnipeg Blue Bombers, Previous Ranking #RB4
Brady Oliveira had a monster performance in the Bombers' home opener against Hamilton. He was the only running back in week 1 to rush for over 100 yards as he had 113 yards on 22 carries (5.1 average) and 1 touchdown. He also added 2 receptions for 58 yards putting him 10th in receiving yards in week 1. From a fantasy perspective, Brady's value is extremely high based on the fact that he was the only running back to have any carries for Winnipeg. For the sake of durability, I would like to see Johnny Augustine get more touches. Runningback is a volatile position and 22 carries a night is going to take its toll over an 18-game season.
2. Ka'Deem Carey, Calgary Stampeders, Previous Ranking #RB1
**Update (6/14/2023): Ka'Deem Carey has been placed on the 6-game injured reserve on Wednesday. Dedrick Mills is getting the start at running back. In my previous ranking, I had Dedrick Mills as the second-highest-ranked backup running back. This is a big loss for Calgary losing the reigning CFL All-Star in Ka'Deem Carey, but they are still in good hands with Dedrick Mills.*
Ka'Deem Carey had the fewest amount of carries among starting running backs in week 1 but did have the 2nd highest yards per carry among running backs with more than 3 carries. He had 7 carries for 43 yards (6.1 average). Fantasy owners could be feeling a little concerned by his low volume of rushes in the opener. His backup, Peyton Logan had 3 carries (30% of the carries by runningbacks). Calgary's passing game really struggled in week 1 against BC and they were often chasing the game. Calgary fans will hope that the Stampeders can go back to their style of football which is being a run-heavy offense.
3. James Butler, Hamilton Tiger-Cats, Previous Ranking #RB2
James Butler had 11 carries for 66 yards (6.0 average) and 1 touchdown in Hamilton's loss to Winnipeg. He did 1 fumble that resulted in a turnover. Butler had 100% of the carries among runningbacks which is a strong indicator that he will be a significant cornerstone of Hamilton's offense.
4. Taquan Mizzell, BC Lions, Previous Ranking Unranked
Taquan Mizzell looked excellent in his first game in the CFL. The 29-year-old spent time on NFL teams primarily on practice squads from 2017 until he was released in 2021 following a hamstring injury. Mizzell had the 2nd most rushing yards in week 1 as he rushed 12 times for 81 yards. He also had the highest yards per carry among starters with 6.8. He also added 3 receptions for 12 yards.
5. Jamal Morrow, Saskatchewan Roughriders, Previous Ranking #RB5
Jamal Morrow was arguably the best part of Saskatchewan's offense in week 1. He had 14 carries for 80 yards (5.7 average) in a game where the passing game was struggling to get going. 
6. William Stanback, Montreal Alouettes, Previous Ranking #RB3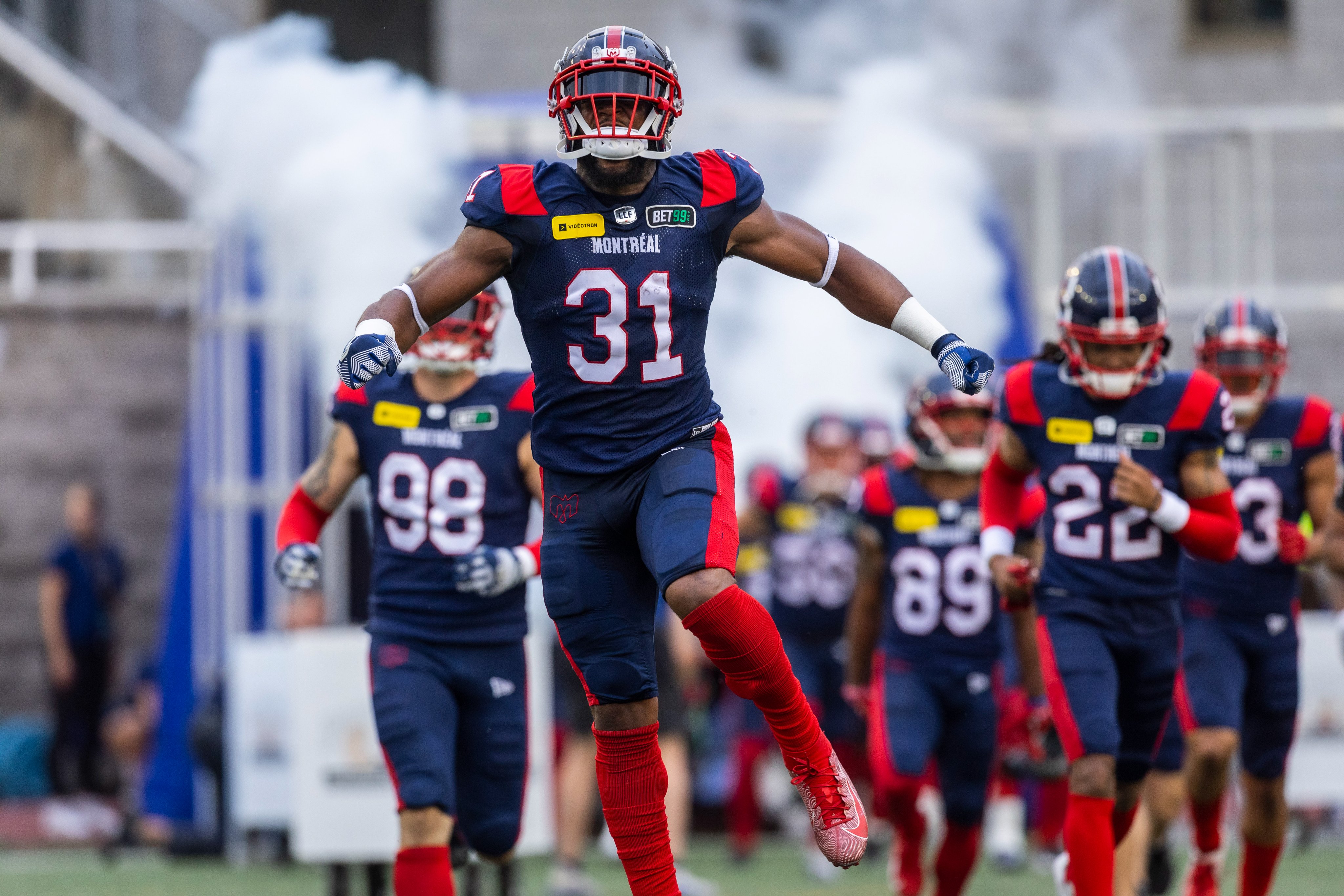 Montreal won the game against Ottawa but there are some possible red flags from this match. A major concern is the fact William Stanback was unable to get going as he ran 16 times for just 42 yards (2.6 average). Ottawa's defense was often winning the battle at the line of scrimmage in a game where Montreal gave up 6 sacks. Montreal had all of their starting offensive lineman return this year and even added an all-star in Justin Lawrence. It's far too early to press the panic button but Montreal will really want to avoid this becoming a pattern.
7. Kevin Brown, Edmonton Elks, Previous Ranking #RB6
Kevin Brown played well for Edmonton in his 11 carries he had 59 yards (5.4 average). He did have 1 fumble but it did not result in a turnover. Edmonton's offense really struggled to get going as Taylor Cornelius only completed 52% of his passes in week 1 so to have a running back still contribute a good rushing average is something to be appreciated.
8. Devonte Williams, Ottawa Redblacks, Previous Ranking #RB7
Devonte Williams had 11 carries for 36 yards (3.3 average) against Montreal. It was a game where both defenses were playing well and were often winning the battle at the line. Each team struggled to establish the run. Williams also contributed 4 catches for 15 yards.
9. Andrew Harris, Toronto Argonauts, Previous Ranking #RB9
10. A.J. Oullette, Toronto Argonauts, Previous Ranking #RB10
Andrew Harris and A.J. Oullette were both on the bye for week 1. The only reason I have them ranked 9 and 10 to begin the season is that Toronto is the team most likely to have a split backfield so it is unclear how many touches either one will get. This could shape up to be one of the scariest rushing offenses in the league. Harris is a 5 time CFL All-Star, Grey Cup MVP in 2019, and has won 3 straight Grey Cups. Oullette was an East Division All-Star last year.
You might also like:
CFL Fantasy Discount Deals, High-Value Players: Week 2 CFL Fantasy at Game Zone
CFL Fantasy Football Rankings article in which I summarize every player I ranked. I will also be posting updated positional rankings in the near future and will post an updated draft cheatsheet for those starting their leagues late.
Preseason All-Star Team article.
Mike Mitchell's Post-Week One Power Rankings
Follow me on Twitter @JonathanClink
Subscribe to our
CFL News Hub YouTube Channel
. Get breaking news and the latest CFL news. Plus the CFL Week In Review Podcast.
---