The Montreal Alouettes had a busy day of transactions Wednesday that saw them sign 10 players, 7 of which were drafted this year. Tuesday they released 2 players.
Kordell Rodgers, DB, Texas State
Kordell Rodgers played in 51 games for Texas State contributing 156 tackles (106 solo), 4 tackles for a loss, 7 interceptions, 25 passes defended, 1 sack, and a forced fumble
Rodgers played 9 games in his senior year during which he had 24 tackles (16 solo), 4 interceptions, 5 passes defended, and 1 tackle for a loss.
Alec Poirier, LB, Laval
Alec Poirier is signed as an undrafted free agent. In 2022 for Laval, he was an RSEQ Defensive All-Star and named to the Second All-Star Team in U Sports. He was the RSEQ Defensive Player of the Year in 2021.
Poirier did not participate in the invitational combine as he was unable to due to injury. In JC Abbott's 2023 draft linebacker position ranking, Poirier was listed as the 5th best linebacker in the draft. When he is able to get back to 100% this could be a tremendous signing for Montreal.
Tysen-Otis Copeland, DB, Montreal
Tysen-Otis Copeland was drafted by Montreal in 2022 in the 4th round (33rd overall). His hometown is Montreal, he played college for Montreal and now he gets to play professionally for his hometown team.
For the sake of this article, I am going to keep the descriptions brief for Montreal's 7 2023 draft pick signings. I wrote about these players more in-depth last week following the draft here.
Round 2, Selection #13: David Dallaire, FB, Laval
David Dallaire was an RSEQ Offensive All-Star in 2022 and 2021. He had 3 touchdowns in Laval's 4 post-season games that saw them win the Vanier Cup.
He measures 6'3 and 220 pounds.
Round 4, Selection #32: Theo Grant, OL, Queen's
Theo Grant was a Second Team U Sports All-Canadian playing at guard last season.
Measures 6'3, 280 pounds.
Round 5, Selection #39: Jacob Mason, FB, McMaster
Jacob Mason is regarded as a tough physical player who is good at pass protection. He had 12 carries last year for 101 yards averaging 8.4 yards per carry.
Measures 6'0 and 222 pounds.
Round 5, Selection #41: Shedler Fervius, WR, Saint Mary's
Shedler Fervius was academically ineligible to play last season and was limited to 4 games in 2021. Not a lot of tape on him in the last 3 years but in those 4 games he he had 19 catches for 142 yards. Will be exciting to see him play again this preseason.
Round 8, Selection #68, Maxym Lavallée, DB, Laval
Maxym Lavallée was an RSEQ Defensive All-Star in 2022. He started 4 years at Laval. Was the RSEQ Outstanding Defensive Rookie in 2018.
Measures 5'9, 190 pounds.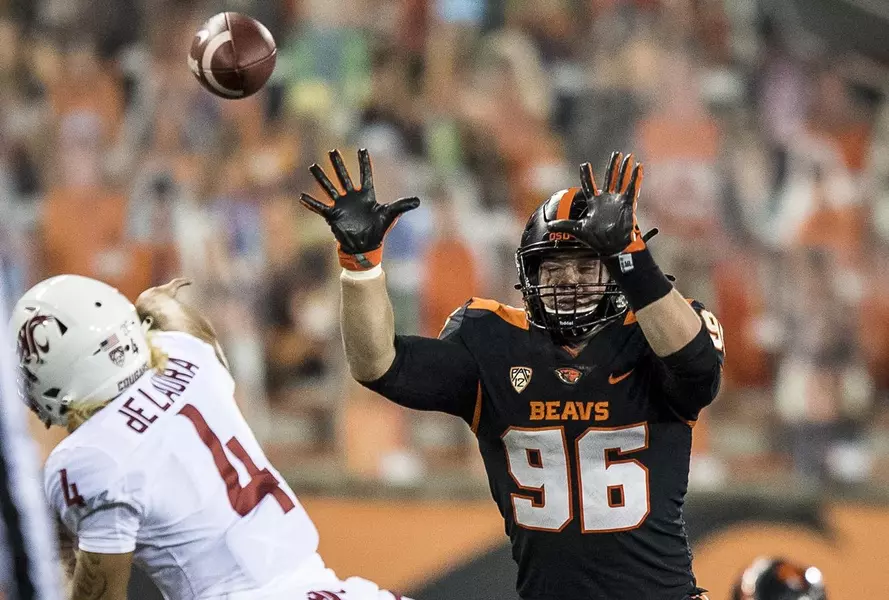 Global Round 1, Selection #5: Simon Lars Sandberg, DL, Oregon State
Simon Lars Sandberg was the 2nd defensive lineman taken in the draft. He started all 13 games last year at Oregon State where he was an All-Pac-12 Honorable Mention.
Global Round 2, Selection #14: Rhys Byrns, P, Louisiana
Rhys Burns was a First Team All-sun Belt player in 2022 and 2021 and a Second Team All-Sun Belt player in 2020 and 2019. He was the 4th Australian punter taken in the draft.
2 Players Released
The Alouettes also released Japanese runningback, Taku Lee, and Canadian offensive lineman, Jakub Szott. Taku Lee is currently a player in Japan's X League on the OBIC Seagulls in the highest X League division. 
Jakob Szott joined Montreal late in the season last year where he was a member of the practice roster for the final 4 games. He was drafted in the 4th round, 29th overall by Ottawa. In 2021 he started 12 games at left guard as a rookie. He was released by Ottawa in August 2022 after spending much of the year on the practice roster.
Follow me on Twitter: @JonathanClink
Subscribe to our
CFL News Hub YouTube Channel
. Get breaking news and the latest CFL news. Plus the CFL Week In Review Podcast.
---