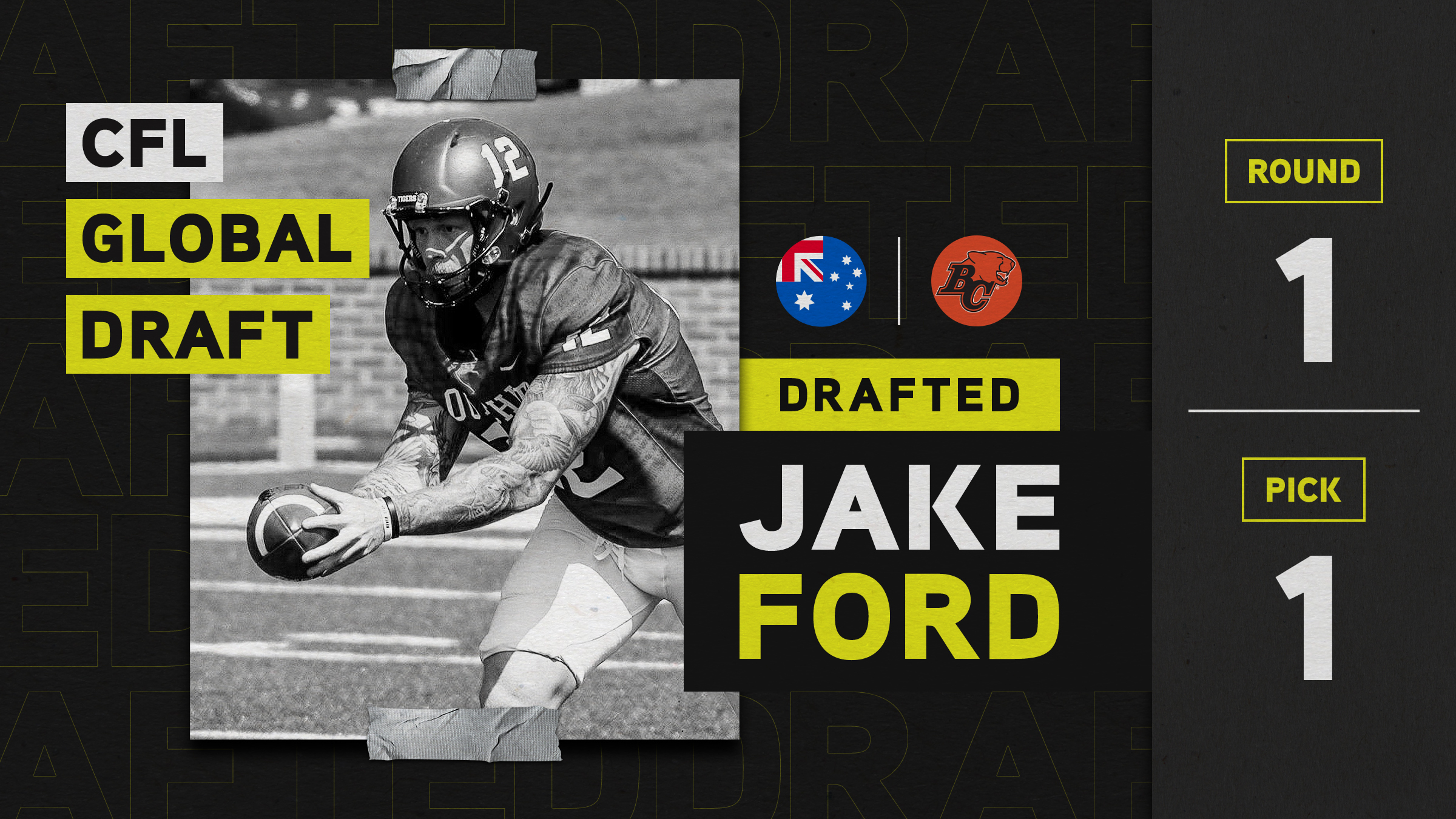 36 global players drafted from 18 different countries
Thursday, April 15, 2021 — TORONTO (April 15, 2021) — The Canadian Football League (CFL) is proud to welcome 36 global players into the league today, following the four round Global Draft. The BC Lions selected Australian punter/kicker Jake Ford with the first overall pick.
"I'm really excited to get back to the west coast," said Ford from his home in Arkansas.
"I visited Vancouver in 2016 and just fell in love with it. Talking with coach Campbell and coach Yanowsky and hearing what they have planned for me has me even more thrilled for the opportunity to wear Lions orange."
The Global Draft saw players drafted from 18 different countries. Below is the breakdown of drafted play by country:
7 – Australia
6 – Japan
4 – Germany
3 – Great Britain
2 – Finland and France
1 – Bahamas, Belgium, Chile, China, Denmark, Mexico, Netherlands, New Zealand, Nigeria, Norway, South Africa and Sweden
Below are the selections from each round.
FIRST ROUND SELECTIONS
No.
Team
Name
Position
Country
1
BC
Jake Ford
P/K
Australia
2
Edmonton
Steven Nielsen
OL
Denmark
3
Toronto
Tigie Sankoh
DB
Great Britain
4
Winnipeg
Les Maruo
LB
Japan
5
Saskatchewan
Christopher Ezeala
RB
Germany
6
Montreal
Joseph Zema
P
Australia
7
Calgary
Cody Grace    
P
Australia
8
Hamilton
Joel Whitford
P
Australia
9
Ottawa
Anthony Mahoungou
REC
France
SECOND ROUND SELECTIONS
No.
Team
Name
Position
Country
 
10
 Ottawa
Tyron Vrede
LB
Netherlands
 
11
Hamilton
Chris Mulumba
DL
Finland
 
12
Calgary
Franklin Agbasimere
DL
Nigeria
 
13
Montreal
Akio Yamagishi
LB
Japan
 
14
Saskatchewan
Kaare Vedvik
P
Norway
 
15
Winnipeg
Tomoya Machino
OL
Japan
 
16
Toronto
Toshiki Sato
K
Japan
 
17
Edmonton
Misiona Aiolupotea-Pei
DL
New Zealand
 
18
BC
Bo Qiao Li
DL
China
 
THIRD ROUND SELECTIONS
No.
Team
Name
Position
Country
 
19
BC
Takeru Yamasaki
K
Japan
 
20
Edmonton
Tibo Debaillie
DL
Belgium
 
21
Calgary via TOR
Aaron Donkor
LB
Germany
 
22
Winnipeg
Ayo Oyelola
LB
Great Britain
 
23
Saskatchewan
John Henry Nell
K
South Africa
 
24
Montreal
Taku Lee
RB
Japan
 
25
Calgary
Isaac Alarcon
OL
Mexico
 
26
Hamilton
David Izinyon
LB
Great Britain
 
27
Ottawa
Christopher Ferguson
OL
Bahamas
 
FOURTH ROUND SELECTIONS
No.
Team
Name
Position
Country
 
28
Ottawa
Tony Anderson
DB
France
 
29
Hamilton
Dominik Eberle
K
Germany
 
30
Toronto via CGY
Max Duffy
P
Australia
 
31
Montreal
William James
DB
Sweden
 
32
Saskatchewan
Sebastien Sagne
REC
Finland
 
33
Winnipeg
Arryn Siposs
P
Australia
 
34
Toronto
Sammis Reyes
REC
Chile
 
35
Edmonton
Matt Leo
DE
Australia
 
36
BC
Niklas Gustav
DL
Germany
 

CFL News Hub Channel Trailer – Your News Source For The Canadian Football League