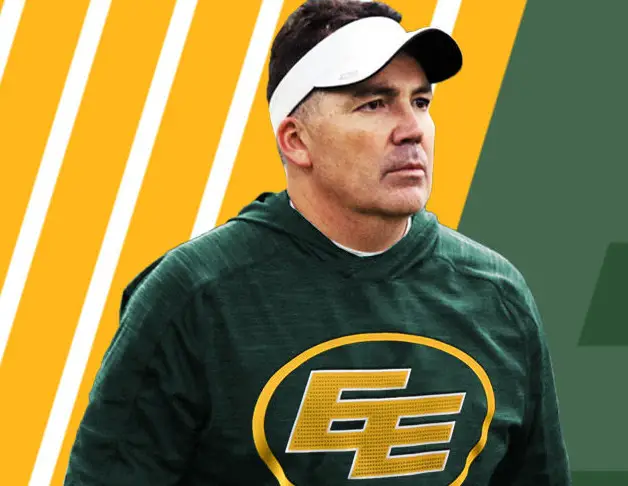 Elks new head coach Jaime Elizondo addressed the media on Sunday, July 11, to discuss the first day of training camp and how players have begun adjusting to getting back on the field after 18 months off.
When asked how he'd evaluate the group after the first day, Elizondo said
"I thought our team did a great job setting the tempo for what we want to be and how we want to practice, obviously there are mistakes in every part of practice, I thought the guys having been off for 18 months did a heck of a job."
Elizondo was asked about reuniting with quarterback Trevor Harris, and if he's noticed any differences in his play from when they last worked together, Elizondo responded,
"You don't gauge too much based off the first practice, but there's differences in how he see's the game, when we spend time in meetings and how he approaches things, I think he's much more comfortable in his own skin, in his own shoes, and comfortable being a leader, this is his team. I think those are the things that you see, but you know, it's kind of like seeing an old best friend when you haven't seen him and you just pick up right where you guys left off, and that's kind of what it's been for Trevor and I"
Regarding the recent trend of injuries across the league and if they have been forced to change any of their plans for camp to avoid similar issues, Elizondo responded,
"We are constantly evaluating our process from everything. How guys get water on the field, to how we're teaching, to how we're structuring practice. So we take the information from every practice and then we adjust, and I think that is very reflective of what you do in a game. What we are triyng to build is everything for coaches and players to be game-like in our practices."

Additionally he'd mention,

"We have a plan for ramping these guys up little by little, also involves hitting at the right time and those kinds of things, but when you haven't played this game for that long, I garentee you every player out there after that practice will be sore tomorrow, you just can't replicate that amount of load. It's something we'll tweak as we go."
Full Interview
Subscribe to our
CFL News Hub YouTube Channel
. Get breaking news and the latest CFL news. Plus the CFL Week In Review Podcast.
---