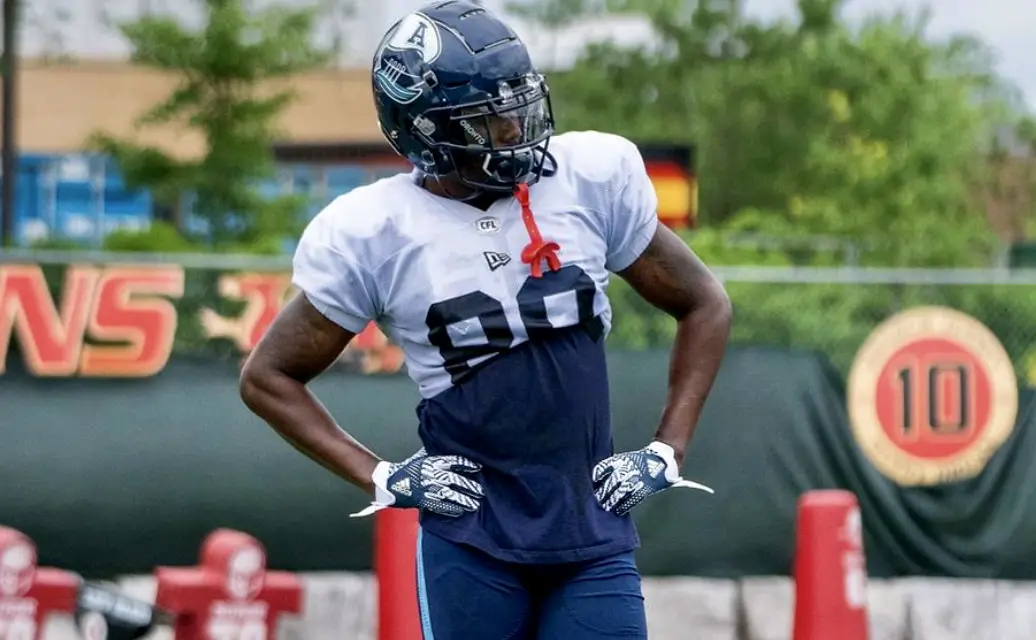 Only two days of training camp remain for the Toronto Argonauts after today's practice at Alumni Stadium. The team had projected starting quarterback Nick Arbuckle back out there practicing with them for the first time in over a week. The Argos are ten days away from kicking off their season in Calgary against the Stampeders.
On their day off from practice, The Boatmen started their final wave of roster cuts on Tuesday, releasing nine players. The Argos followed Tuesday's cuts, with six more players being let go on Wednesday. Toronto needs to get down to 45 players by Friday night.
TORONTO ARGONAUTS TRANSACTIONS – WEDNESDAY, JULY 28, 2021
The Toronto Argonauts announced the following transactions today:
Released:
Canadian OL Mojtaba Mehry
Canadian OL Eric Starczala
Canadian OL Quinn Smith
American WR Terrell Sinkfield
American DL Eli Howard
American DL Ronald Ollie
The team released three Canadian offensive linemen in Quinn Smith, Eric Starczala, and Mojtaba Mehry. Of the three, the veteran Quinn Smith is someone that many experts predicted could make the team. Based on his versatility to play multiple positions up front and his background as a defensive lineman. It's not out of the realm of possibility that Smith could be back down the road if injuries occur on the offensive line.
As deep as the Argos are on their defensive line, it's not surprising to see Americans Ronald Ollie and Eli Howard released. Ollie showed some promise in camp as a CFL rookie. Perhaps Toronto could revisit him as a possibility for their practice squad in the future, but the number of accomplished and talented players ahead of him on the depth chart proved to be daunting for the former Last Chance U star.
On the opposite side of the football, the Argos figure to have their most difficult decisions at receiver. And the release of CFL veteran Terrell Sinkfield is surprising but not a shocking outcome. With a loaded top-of-the-depth chart with several viable starting options and the emergence of Llevi Noel, Kurleigh Gittens Jr., and Dejon Brissett. Sinkfield's best hope of making the regular-season roster was on special teams. Sinkfield's release signifies that the team has faith in other players fulfilling return duties. At the moment, the best bets to assume that role are Chandler Worthy, Damon Jeanpiere, and Dejon Brissett.
The release of a proven veteran like Sinkfield suggests that the team is willing to go the younger route in finalizing their roster for the 2021 season.
Toronto Argonauts Training Camp Notes
Nick Arbuckle was back practicing today after nursing a Grade 1 hamstring inury the last several days. According to Ben Grant of Xs and Os. Arbuckle looked great, moving and throwing in the pocket. A positive sign as the team ramps up its preperation towards week one, where Arbuckle is projected to be starting against his former team.
The Argos may not have finalized their regular-season roster yet but the team is already in prep mode for the regular season. On Wednesday, the team practiced for nearly thirty minutes with piped in crowd noise at Alumni Stadium. The Boatmen are trying to simulate what things will be like when they face the Stamps in Calgary.
The Argonauts spent practice going through system and install on offence and defence. As recently as last week, Coach Dinwiddie has talked about ramping up the mental preperation apsects for his players. By working on game plan specifics for individual players and their assignements.
Toronto's offence used a lot of no-huddle and audibles during their practice session today.
The Argos special teams spent the majority of practice working on their return game. No Pinball this time. Perhaps a telltale sign of where things might be headed. Chandler Worthy was the teams main returner. Daniel Braverman, who has had a great camp, also spent time returning kicks. Starting running back John White spent time returning kicks as well with Worthy and was very effective.
The centre position for Toronto is still up in the air. With Cody Speller away from the team and on the suspended list. Rookie Peter Nicastro and Veteran Philip Blake shared reps on the pivot during practice. The decision on who will start may not come until next week.
Another area to monitor on the Argonauts offensive line is left tackle. With 2019 starter Isiah Cage nursing an undislosed injury. It's Dejon Allen, who has been taking snaps with the first-team on offence and not recently acquired tackle Terry Poole, who debuted a few days ago in practice. Allen, who is an extremely athletic player who has played mostly at guard in the pros, has held his own in camp, all things considered, protecting the blindside against formidable pass rushers like Charleston Hughes and company.
Former Clemson/Missouri Quarterback Kelly Bryant made his practice debut today for the Argos after completing quarantine. In many ways, the next few days of practice for him could be an addition to stick around on the teams practice roster when the season starts. Bryan looked well throwing the ball, especially considering it was his first day out there.
Recently released Argos quarterback Kenji Bahar was resigned today by the Baltimore Ravens. The Baltimore Native spent time with the Ravens earlier this year before signing on with Toronto. The Argos released Bahar on 7/20.
Be sure to join
Alt Football Reddit
and connect with other CFL and alt football fans.
---

CFL News Hub Channel Trailer – Your News Source For The Canadian Football League